Al Hamra Town Lahore – Location, Map, and Latest Updates 2023
by UPN
February 3, 2023
0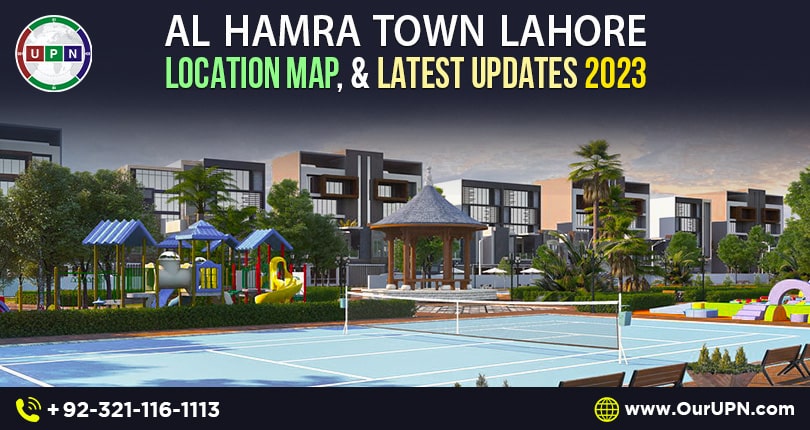 Al Hamra Town Lahore is an average housing society. Al Hamra Town is an old housing society that was established in 1980. This society is not fully developed. It covers an area of 917 kanals. It is an affordable project. Many families live in this housing society. This project is best for low-budget clients who want to live on Raiwind Road in Lahore.
In this blog, we will discuss the location, plots, and development of Al Hamra Town Lahore 2023.
Location
Al Hamra Town is located on Raiwind Road in Lahore. When we travel from Jan Muhammad Road to the Airline Society, it is located on the right side. It is also close to Basharat Chownk. The Thokar Niaz Baig is only 3 kilometers from this housing society when we travel from Canal Road.
Some nearby societies are:
Airline Housing Society
Nawab Town
Architect & Engineering Housing Society
River View Housing Society
Ali Town
Al Hamra Town Lahore Blocks
Al Hamra Town Lahore has average maintenance. Al Hamra Town is divided into two blocks. These blocks are:
Al Hamra Town Plots
Al Hamra Town contains many residential properties. These properties are best for low-budget clients. There are different sizes of residential plots. The prices of these plots depend on the locations. Prices may vary depending on the time and market value. These are the sizes:
5 Marla residential plot
10 Marla residential plot
1 Kanal residential plot
The 5 Marla plot in Al Hamra Town is available at the price of 50 lacs and goes up to 70 lacs.
The 10 Marla plot in Al Hamra Town is available at the price of 50 lacs and goes up to 70 lacs.
The 1 Kanal plot in Al Hamra Town is available at the price of 50 lacs and goes up to 70 lacs
Al Hamra Town Lahore Map
This is a small housing society on a small piece of land. The map of Al Hamra Town in Lahore shows only two blocks. It is intended for those who cannot afford to live in high society. This society is for people who belong to the middle class. There are also amenities such as electricity, water, commercial markets, mosques, clinics, pharmacies, and many more. There are also children's educational institutes. This location is close to numerous universities.
Features
Al Hamra Town is a middle-class housing society in Lahore that has some of the best features. This society is not on a high level, but they provide better facilities on a low budget. Some of the features are:
Well developed
Residential plots
Beneficial surrounding
Basic facilities available such as electricity and water
Educational facilities
Clinics and pharmacies
Mosques in both blocks
Commercial market
Developments
Al Hamra Town is a developed housing society with a large number of families. However, the development speed is slow. The street has no proper direction and electricity is not underground. There are many residential plots. Many families are already living in this housing society with numerous amenities. Some of the few developments in this society are:
Educational Institutes
Education is the best feature of Al Hamra Town Lahore. This housing society has a facility for education. Many children can get their education from these educational institutes. There are many schools and academies, which are:
National Cadet School
Laurel bank Public School
SYS Academy
Some educational institutes are located 1 kilometer from Al Hamra Town. The names of these educational institutes are:
Allied School
The City Model School on Jan Muhammad Road
UCP (University of Central Punjab)
Commercial Market in Blocks A and B
There are small commercial markets in block A and block B of Al Hmara Town Lahore. You can easily obtain daily necessities. The shops in the commercial market are as follows:
Grocery stores
General stores
Chicken and vegetable shop
Pharmacies and many others
Mosque
Al Hamra Town has two mosques, one in block A and the other in block B. These two mosques are sufficient for prayer in this small society. The names of these mosques are:
Jamiya Mosque in block A
Suleman Mosque in block B
This housing society is beneficial to those who work on Raiwind Road or in nearby locations. They can easily live close to their workplace. The prices in this average housing society are reasonable. In this society, people with limited financial resources can easily purchase property. If you are interested in Al Hamra Town, contact Universal Property Network. We will provide you with beneficial guidance about property in Lahore.
Please contact us through WhatsApp, Contact Us form, or visit our UPN Youtube Channel for further assistance.