10 Reasons to Invest in Lahore Smart City in 2023
by UPN
February 2, 2023
0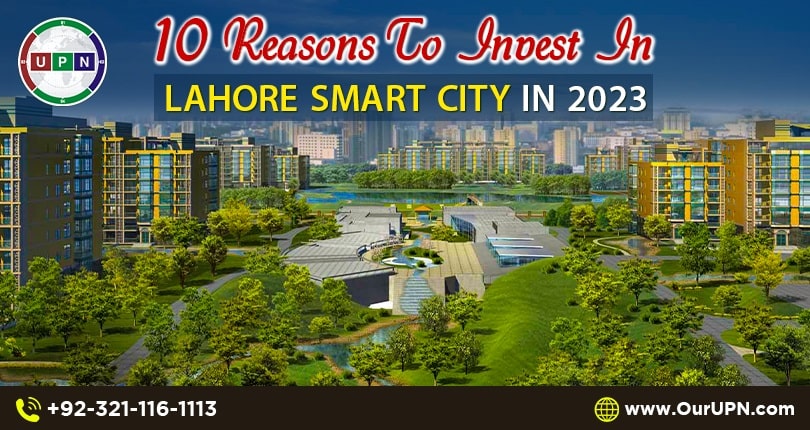 Looking for an investment opportunity in Lahore? Then invest in Lahore Smart City, a high-end housing society that offers a fantastic investment opportunity. Investing in Lahore Smart City will provide its residents with a sophisticated and glamorous lifestyle. Habib Rafique Pvt. Ltd. and Future Development Holding Pvt. Ltd. created this delightful project. It will be Pakistan's second smart city. Everything is smartly designed and planned, including smart living, a smart environment, modern infrastructure, smart development, and world-class amenities.
In this blog, we will discuss the reasons to invest in Lahore Smart City in 2023.
Reasons to Invest in Lahore Smart City
There are many reasons to invest in Lahore Smart City. Some of the main ten reasons are:
Excellent location with four entrances

NOC-Approved Society

Amenities in Lahore Smart City

24/7 security system

Grocery/shopping center/Markets/Malls/Marts

Planned Theme Park and Recreational Areas

Education District – Schools/Colleges/University

International level development in Lahore Smart City

Future of Lahore Smart City

High return expected – Invest in Lahore Smart City
Excellent Location with Four Entrances
Lahore Smart City has an excellent location with numerous advantages. The Lahore Smart City is situated on the Kala Shah Kuku interchange. This amazing society has four entrances: Entrances A–D.
Entrance A: One entrance is from the main GT Road.

Entrance B: The second entrance is from the Lahore Ring Road.

Entrance C: The third entrance is from the railway line.

Entrance D: The fourth entrance is from the Islamabad Motorway.
These unique entrances have increased the value of this housing society. If you invest in Lahore Smart City, it will provide you with beneficial surroundings such as grocery stores, shopping malls, hospitals, and other amenities.
Invest in Lahore Smart City – Approved Society
Before investing in any society, the NOC must be obtained. If a society is not approved by the LDA or TMA, it would be considered illegal.
You can safely invest in Lahore Smart City, as it is legally approved. Lahore Smart City is approved by the LDA (Lahore Development Authority). With a No Objection Certificate (NOC), a residential community can legally provide all amenities in this society. Due to LDA approval, the society has all basic facilities such as electricity, Sui Gas, and water.
Amenities in Lahore Smart City
Lahore Smart City has all of the amenities needed to live in the best housing society. Some of its characteristics include:
Gated communities and boundary walls

Wide carpeted roads

24/7 security system

Basic facilities are available, such as clean water, Sui gas, and electricity.

Modern infrastructure and development

Hospitals and educational institutes are available.

Business and job opportunities will be available.

Two grand mosques

Green parks and playgrounds

Gym and sports facilities

Sewerage systems

Load-shedding-free zone

Central traffic control system

Grid stations

Graveyard
24/7 Security System
The developer of Lahore Smart City has ensured the highest level of security. The society is secured by boundary walls and guards at the main gate entrance. The developer provided cutting-edge technology for home security. IoT will be introduced in Lahore Smart City, allowing you to control your home from a distance. CCTV cameras will be installed in this society. Every movement from the entrance to the exit will be tracked. Visitors will not be allowed in without the permission of management and security. This housing society is completely secure and safe.
Grocery/shopping center/Markets
Lahore Smart City is a high-end housing society with all the luxuries, like grocery stores, shopping centers, and markets. There is also a commercial market with many grocery stores, general stores, and supermarkets. You can get everything you need on a daily basis from these stores. In Lahore Smart City, various shopping centers will be available where you can purchase any goods you require.
If you want to buy a commercial shop, you have several options in Lahore Smart City. These commercial buildings are ideal for future investment in this high-quality project. Invest in Lahore Smart City, which is a profitable investment project for the future.
Planned Theme Park and Recreational Areas
In Lahore Smart City, a theme park will be built. Theme parks are the best concept for families' enjoyment. You can relax by spending time with your family. This theme park is inspired by the Disneyland theme park in Paris. There will be many rides for enjoyment, such as roller coasters, Farris wheels, and other thrill rides.
On 118 acres of land, there will also be a sports complex in Lahore Smart City. There will be many indoor and outdoor games, such as badminton, tennis, football, and many others. This sports complex will be established in the middle of 2023.
Education District- Schools/Colleges/University
Education is the most important factor in Pakistan. Everyone wants the best education for the best future. There will be a lot of international-level schools, libraries, and hostels. A medical complex will be introduced, where medical colleges will provide their services in education and training. Lahore Smart City will build five premier university campuses where students will receive the best education. In addition, an IT university will be established. The names of the universities for Lahore Smart City will be announced after they have been finalized.
International-level Development in Lahore Smart City
You will see international-level development by investing in Lahore Smart City. This society is being built with the intention of providing its residents with a modern and innovative way of life. Lahore Smart City has been balloted and is now in possession of some plots. Many families have started to build their own homes. Two grand mosques are being built. One mosque has a prayer capacity of over 12,000+ people and covers approximately 4 Kanal of land. This project will be finished in a few months. The road construction is also nearly finished, and street lights have been installed. Some future developments are also ready to build.
Future of Lahore Smart City
Invest in Lahore Smart City; this project is a golden investment opportunity due to its future development. The future of this project is bright and valuable. The future developments are:
Sports Complex: on 117 acres of land

Health District: clinics, hospitals, and laboratories on 20 acres of land

Education district: five internal-level universities

Medical Complex: This area contains schools and medical colleges.

Food Tech Valley: fresh fruits and vegetables that are soilless and free of pesticides.

Ravi Boulevard: Financial Square Business Towers

Central business district: three business towers in front of Ring Road

Sports district: international standard cricket stadium and football stadium

Office for designers and architects: with the name "Connection 1."

Silicon Valley: international offices

IOT (Internet of Things): an app that controls houses from a distance

Free Wi-Fi will be available in Lahore Smart City

IT hubs: towers for IT businesses or software houses

Theme Park: Inspired by Disney Land in Paris

Air purification system: Air will be purified through modern technology

Police Station: To keep the law and order

2,00,000+ Employment: jobs and business opportunities
These are the future developments of this society, which will start this year, in 2023. One of the biggest reasons to invest in Lahore Smart City is the outstanding planning. The facilities included in this society are commercial opportunities, parks, hospitals, banks, offices, shopping malls, hotels, restaurants, and many other things.
Lahore Smart City
High Return Expected
Lahore Smart City is the best housing society that will provide you with the best return. This project aims to establish a luxurious lifestyle in Lahore. The value of Lahore Smart City is increasing with each passing day. If you purchase a property now, you will get a significant return in the future. Lahore Smart City has various options for investment, such as residential plots, commercial plots, and many others. If you choose to live in this housing society, you will have an international-level lifestyle in Lahore. According to an investment point of view, this project would be the best decision you've ever made. So invest in Lahore Smart City to get a better return on your investment.
Please contact us through WhatsApp, Contact Us form, or visit our UPN Youtube Channel for further assistance.