Al Kabir Town Ali Block Balloting Done and Plot Numbers Allotted
by UPN
March 16, 2018
0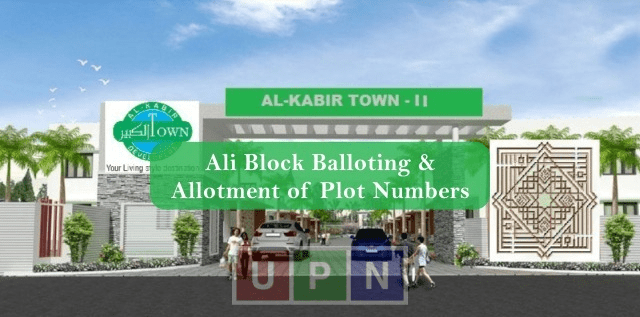 For past few months, Al Kabir Town management has been quite active and looking after matters with keen interest. From open form submission of Phase 2 blocks to its development, the activities are in full swing here. In last week, Ali Block balloting date was announced and now it is done. Standing by its words, Al Kabir Town has once again met its customers' expectations by fulfilling this commitment. The administration has shared a notice on its facebook page and website regarding Ali Block balloting update and future course.
Ali Block Balloting Done & Plot Numbers Alloted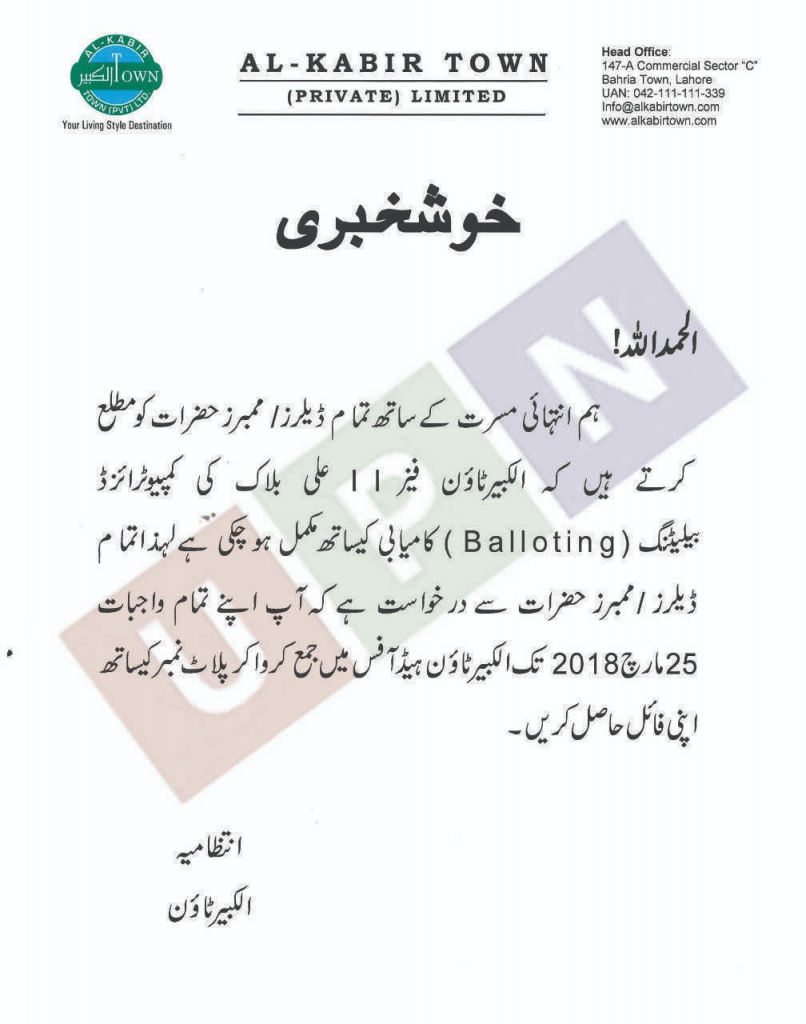 The administration has informed all the dealers and customers that Al Kabir Town Phase 2 Ali Block balloting has successfully taken place today, 15th March, 2018. The computerized balloting procedure was adapted to upheld transparency and plot numbers will be allotted to all files but not before the due payment.
Get Your Plot Number after Paying Dues
In the same notice, Al Kabir Town administration has directed all customers and dealers to submit their payable dues by 25th March, 2018. Plot numbers will only be allotted after submission of dues and there are no exceptions in this matter.
Ali Block Development
As per previous notice, Ali Block development was set to start from the day of balloting. We have to wait and see if the work on site starts in a day or two. Already development is being carried out at rapid speed in the neighboring Usman Block and E Block, so we can expect that this promise will be fulfilled as well. The development of Ali Block along with activities in above mentioned blocks will bring entire Phase 2 in to shape in the upcoming months.
Al Kabir Town Phase 1 Apartments
Apart from Phase 2, recently new booking of 2 bedroom apartments was launched in Phase 1 and now in process successfully. These 950 sq ft apartments are available at 5 years easy payment plan and an ideal opportunity for living.
The Phase 2 of Al Kabir Town will soon become fully developed for construction of homes. It is a great opportunity for buyers to get plot here now either for residency of for investment to gain reasonable profit in future.
For more updates and latest information, please keep visiting Universal Property Network (UPN).