Al Noor Orchard Lahore Answers to All Questions
by UPN
July 28, 2022
0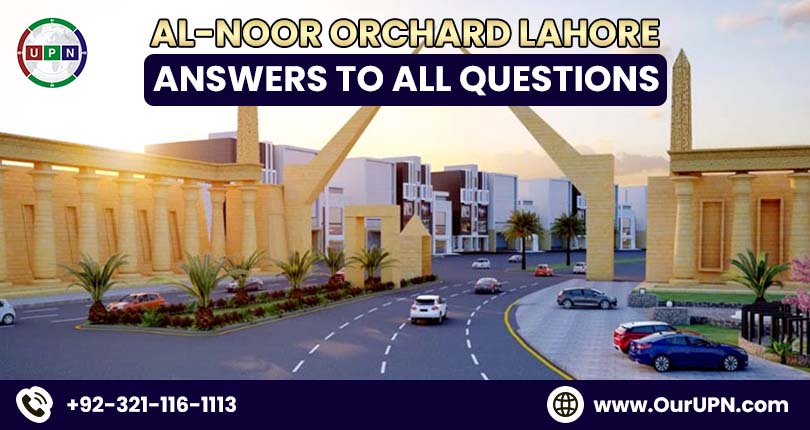 Al Noor Orchard Lahore is one of the most popular residential and commercial developments featuring uncountable attractions.  It's an LDA-approved housing society situated next to the Faizpur Interchange. The most renowned urbanist, Al- Jalil Developers, has designed and developed this project professionally. The residential community is built with top-notch infrastructure and advanced developments. For a calm and peaceful lifestyle, Al Noor Orchard provides the most luxurious and top-notch amenities. With such amazingly low pricing, it is located in the most desirable area of West Lahore.
Spreading over a large area of land, the master plan of this project features several blocks. All of its blocks are offering incredible investment and facilitated living opportunities.
Frequently Asked Questions
In this latest write-up, we will answer all your questions regarding this beautiful housing society one by one. Indeed, these details will be enough to make a profitable investment decision in Al-Noor Orchard Lahore.
Who are the Developers of Al-Noor Orchard?
Al-Jalil Developers, who are well-known in the real estate industry, are the owners and developers of Al Noor Orchard. Mr Chaudhry Nasuruallah Khan Warraich established the Al-Jalil business organization in 2002. They have the foresight to establish new standards in the real estate industry. They perfectly blended elegance, comfort, and safety with the economy to offer a high standard of living in budget-friendly rates. Undoubtedly, Al-Noor Orchard Lahore is a beautiful description of their brilliant and smart work.
Is the NOC of Al-Noor Orchard Lahore Approved?
Al-Noor Orchard is a completely approved housing society with 100% legal and verified land. The No Objection Certificate (NOC) for Al-Noor Orchard has been approved by the Lahore Development Authorities under #LDA/DMP1/SKP/913 (LDA). The NOC for this housing society was approved in October 2019. Buying in this society is totally secure, and chances of capital growth are high.
What is the Location of Al Noor Orchard Lahore?
Al Noor Orchard is strategically located within 3 km distance from the Faizpur Interchange, close to Al-Raziq Garden Lahore. This society is thoughtfully developed at a short distance from Al-Jalil Garden. According to the society's map, this project's actual location is Sharaqpur Sharif Road, which connects Lahore and Jaranwala. This impressive housing society is accessible from the following locations such as:
Faizpur Interchange is lying nearby.
M-2 Motorway is about an 8-minute drive away.
Lahore-Jaranwala Road is about a 7-minute drive away.
Sagian Walla Bypass Rd is about a 9-minute drive away.
Lahore – Sargodha Rd is around a 12-minute drive away.
M-3 Abdul Hakeem Motorway is about an 8-minute drive away from Society.
What do you know about the Masterplan of Al-Noor Orchard Lahore?
The Al-Jalil developers have expertly designed the master plan of Al Noor Lahore. The developers had a good experience in the real estate sector, which they smartly utilized in the making of this project. This state-of-the-art project spans over 40 acres of land and features many blocks where you will find a diverse range of residential and commercial properties.
How Many Blocks in Al Noor Orchard?
This marvellous project was first launched with only two to three blocks named alphabetically. But after speedy development and delivery, Al-Jalil Developers has announced several blocks in this society offering the best, heart-winning property deals. Following are the details for the blocks in Al-Noor Orchard Lahore:
A Block
B Block
C Block
D Block
West Marina Block
West Marina Executive Block
Marina Sports City
What types of Properties are Available in Al-Noor Orchard?
This graceful project offers the best residential and commercial properties for sale. Here you can also invest in ready-to-move villas and cottages, announced in one of the beautiful blocks. Following are the details of plots that await you:
3 Marla Residential Plots
5 Marla Residential Plots
10 Marla Residential Plots
1 Kanal Residential Plots
2 Kanal Residential Plots
2 Marla Commercial Plots
4 Marla Commercial Plots
Ground Floor Cottages
First Floor Cottages
Second Floor Cottages
5 Marla Luxury Villas
Are properties available in Society on lump sum payment only?
No, you can also buy your desired property on easy installments in Al-Noor Orchard Lahore. It offers plots and houses on cash in A Block, B Block, and C Block.
What to do know about the Al-Noor Orchard Lahore payment plan?
Al-Noor Orchard Lahore is not only popular among people for its state-of-the-art planning and development. But also, it's an affordable project where investors can easily buy property on easy installments. Almost all of its payment plans span over 4 – 5 years. However, the new deals of plots and villas in D Block, West Marina Block, West Marina Executive Block and Marina Sports City are available with flexible payment plans. Most importantly, the booking starts from 2 lacs only. The remaining amount will be payable in several monthly and quarterly installments.
What are the Main Facilities at Al-Noor Orchard?
Undoubtedly, it's a fully-facilitated housing project with all the latest amenities available. It offers you:
Gated community with beautiful and wide entrance gate and decorated spaces nearby
Grand Mosque and mosque in every block
Clean water availability
Ideal location and easy accessibility
24/7 security
Maintenance and proper management
Boundary Wall and street lights
Education facilities to ensure good quality
Electricity, water, as well as gas provision
Underground electrification system
Sewerage and waste disposal system
Sports complex with all the top-class sports facilities
Up to mark medical facilities
So, that's all about the iconic development Al-Noor Orchard Lahore. For prices and booking details in this society, you can contact us directly!
Please contact Universal Property Network For More Information or visit our Youtube channel for further assistance.