Marina Lake Residencia Lahore – Location Map, Payment Plan and Booking Details
by UPN
August 30, 2022
0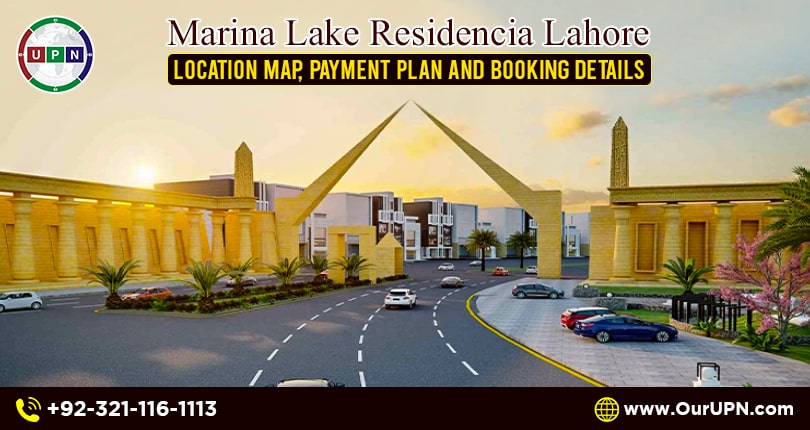 Making a profitable investment in the real estate sector is the heartiest desire of every buyer and investor. Lahore's property market is undoubtedly full of options and opportunities, but still, everyone remains in the search of something perfect in all terms. If you are also looking for the same, we have Marina Lake Residencia Lahore for you. It's an upcoming venture, designed smartly as per the latest trends and advanced modes. It's a project of Al-Jalil Developers, a well-known firm in the country.
Yes, after getting tremendous success in Al-Jalil Gardens, Al-Noor Orchard Lahore, and especially in Marina Sports City, these developers are stepping ahead with Marina Lake. It's a new, modern level project but it will have reasonable price properties to facilitate investors with the best. Further details are:
Marina Lake Residencia Lahore – About Project
It's a well-planned development, a complete residential and investment package launching soon. Marina Lake Residencia features all the high-standard attractions and modes, essential to choosing a project for investment. Launching soon at the prime location, it will be a great addition to the landscape of Lahore. Offering an incredibly beautiful and admirable environment for living, this place will have everything, you can desire. Brilliantly designed by its developers, this project is equally heart-winning for residence and investment growth.
Marina Lake Residencia Location
The location is the key factor when choosing any property. Marina Lake Residencia's location will play a vital role in making an investor ready to invest in. Al-Jalil Developers understands this factor very well. That's why they are presenting you with a masterpiece at the most strategic location in Lahore. Yes, this project location will be prime and easily accessible. Also, the surroundings are beneficial adding more charm and worth to it.
The actual details of the Project Location will be available soon. Surely, it will be an advanced level project with the graceful and profitable location in the town.
Marina Lake Residencia Map
Like the location and access, the overall Marina Lake Residencia Lahore map is outstanding. This project lies in between the most important places in Lahore. You will find it easily accessible from multiple routes. At the same time, access to high-level education, hospital, shopping, and commute facilities will be quick. Thus, this project's location and the map are planned to make this development valuable to both buyers and investors.
Plots for Sale
As it's an upcoming venture and will be a new addition to the chain of modern housing societies in Lahore, the details of the plots are yet to come. However, like all the previous ventures by Al-Jalil Developers, you will surely get the chance to book the best residential and commercial plots such as:
3 Marla Plots
5 Marla Plots
Also, there is news about the availability of 10 Marla plots.
Marina Lake Residencia Payment Plan
Excellent in all terms, this masterpiece also holds importance because of its launching prices. Yes, Marina Lake Residencia's payment plan is incredible. Not only the pre-launch/upcoming rates are affordable but the booking with few percentages and easy installments makes it shinier. You will surely get a chance to book your desired plot with a 10 – 15% down payment and the remaining amount will be payable in a 3 – 5 years flexible payment plan.
These new plots for sale in Lahore will be a profitable option for people desiring to upgrade their living standards within budget. Also, the investors want to maximize their profits with minimum investment. Stay connected to get the complete payment plan details!
Marina Lake Residencia Booking
The booking of plots in this state-of-the-art project will start soon. Once the Marina Lake Residencia booking starts, as expected by the next few weeks, we will update you with it. The booking forms of its plots will be available soon, and you can contact us to get further assistance.
About Developers
Marina Lake Residencia Lahore is a project by well-reputed Al-Jalil Developers. Needs no introduction as their work speaks out loud. Started their journey to the development of housing societies with Al-Jalil Gardens, these are also the developers of the iconic Al-Noor Orchard. They have successfully launched and worked on multiple projects including the recent Al-Baari Residencia and Marina Sports City.
Al-Jalil Developers is a group of experienced team leaders, engineers, architects, and hardworking laborers. They together put effort to design and develop a masterpiece. This time, they are stepping ahead with Marina Lake Residencia, a project with upgraded facilities and countless attractions.
Facilities You Will Get
No one ignores the project where all the first-class living amenities are available. If you are also searching for one with incredible facilities, this Marina Residencia will be a great choice. Here you will get the following amenities:
Secure Gated Community
Boundary Wall
Beautiful and Wide Entrance
Lush Green Parks and Landscapes
Underground Electrification
Provision of Basic Amenities
24/7 CCTV Monitoring and Security Guards
Access to Healthcare Facilities and Education
Nearby Shopping Amenities
Proper Sewerage System
Clean Water Supply and Much More
So, what else can be better than booking one of the best properties in Lahore at such reasonable rates? Be ready for it. Yes, keep your investments ready to get the ideal options in Marina Lake Residencia once launched.
Frequently Asked Questions
Here are the answers to the commonly asked questions:
Is Marina Lake Residencia LDA Approved?
It's an upcoming venture, the details will be available soon. However, as per the previous track record of the Al-Jalil Developers project, we expect the launch of this project after complete approval.
When Booking will Begin?
The official booking of plots in Marina Lake Residencia will start in the next couple of weeks. UPN will surely update you will further detail!
Is this Project Ideal to Invest in?
Yes, buying property in this upcoming project is 100% profitable for both residence and investment gains. Your investment will be secure and the chances of growth are high.
Please contact Universal Property Network. Visit our Youtube channel for further assistance.