Al Rehmat Project – Al Rehmat Project Map – Plot Prices and Development Update
by UPN
November 8, 2017
0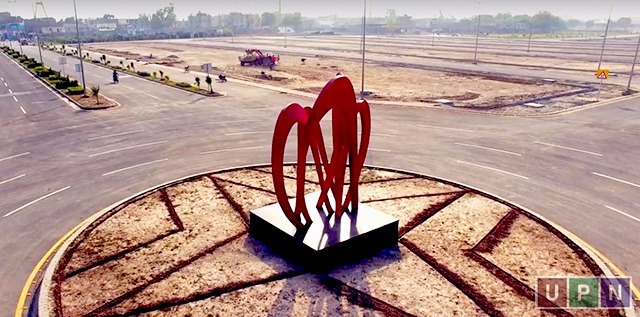 The 2nd revised layout plan of Bahira Town's Al Rehmat Project has been approved by Lahore Development Authority (LDA). The developer has got NOC from LDA earlier but there were some issues regarding its building plan in accordance with LDA proposed laws. But now it has been settled down after layout plan of the scheme has been amended twice. LDA has notified this approval through an ad published recently in a leading daily.

Al Rehmat Project Housing Scheme
This semi commercial project is titled as 'Al-Rehmat Housing Scheme' and registered in the name of Al-Rehmat Metal Works (Pvt) Limited. Spanning around 82 acre (661.34 Kanal) area in Mouza Kot Lakhpat on Kacha Jail Road, Al-Rehmat Scheme's new layout plan is detailed as under.
Residential Plots & Apartments
According to this second revised plan, the number of residential plots has been reduced to 687 of different cuttings ranging from 2 Marla to 15.23 Marla. Earlier, in the first revision, 815 plots of 4 Marla cutting were planned to be developed in this project.
The apartment site remains unchanged as first revised plan with 17.75 Kanal of Land dedicated for this purpose as a whole.
Commercial Plots
Now Al-Rehmat Project will have a total number of 254 commercial plots of different cuttings ranging from 2.5 Marla to 65.94 Marla. The plot numbers have been increased as compared to first revised plan adding 37 different-sized commercial plots which were undefined then.
The Residential-Commercial Balance
With the approval of this 2nd revised plan, this project is now ideally balanced with residential and commercial parity. Thought first it had to be a pure commercial project, the residential aspect will favor it further and create more appeal for the genuine buyers.
Current Openings
At present, only limited numbers of commercial and semi commercial plots of 4 Marla and 5 Marla are available for booking.
Future Prospects of Al Rehmat Project
The ideal location at Peco Road and completion of Kacha Jail Road Flyover for direct access to Cantt area are very positive indicators for this project. In the upcoming days, it will definitely be a highlight of Lahore's real estate for being close to Model Town, Township, Faisal Town, Johar Town, Green Town areas. The apartment living and residential plots will have huge public demand in Al-Rehmat Housing Scheme which is highly suitable for commercial activities as well.
We will keep your posted about latest updates of Al-Rehmat Project. For further assistance, contact our realtors who will answer all your queries.