Anika Heights Bahria Town Karachi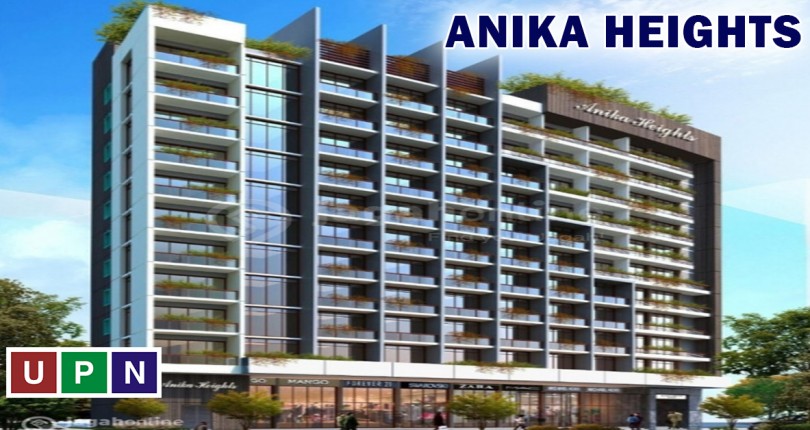 Anika Heights is a new residential apartments' project launched at the prime location of Bahria Town Karachi. It is a new real estate development by the well-known developers of Bahria Town. Facing Theme Park, it's an international standards, high-rise building project offering luxurious living spaces. Apartments for sale in Anika Heights are available in several sizes at reasonable prices. Full of amenities, the location of this project is prime. Moreover, an installment plan of 24 months is available.

Further details are:
Anika Heights – Developers
It is a project by GM/Diamond Homes. These are one of the top developers of Bahria Town Karachi working on several projects. They are the developer of Liberty Clock Tower 1, Liberty Clock Tower 2, GM ICON 1, 2, and 3. All their projects are ideally located and offering the latest-day facilities. Additionally, the prices for the properties in GM Developers' projects are affordable and comes with installments. Undoubtedly, they are working more professionally in the case in Anika Heights. It is the most recent development with advanced features and amenities.
Anika Heights – Location
Location is the key factor in every real estate project. Similarly, the location of Anika Height's is a game-changer. It's a Theme Park Facing project where all the apartments are facing theme park. The distance of this project from Bahria Town's main entrance is only a few kilometres. Some of the top developments in the surroundings of Anika Heights are:
Theme Park at the Front
Imtiaz Super Market at the Back
Bahria Hospital and Petrol Pump in the Proximity
The location of this project is outstanding that will surely give it an unbelievable success.
Anika Heights – Project Overview
It's a high-rise building project comprising ground + 12 floors. Anika Heights is a state-of-the-art modern real estate development featuring residential apartments. Moreover, the apartments for sale in this project comes in the sizes of 1 bed, and 2 beds. However, the 2-bedroom apartments come in two different categories and sizes. The sizes of the apartments are:
1-bedroom apartment size is 600 sq ft
2-bedrooms apartment size is 1020 sq ft
2-bedrooms apartments size is 1090 sq ft
Also, all the two-bed apartments are at the corners while one-bed apartments are in the middle.
Anika Heights Karachi – Payment Plan
The prices of the apartments are different as per location and sizes. However, the booking of the apartments in Anika Heights starts with 11.52 lacs only. The remaining amount will be payable in equal 24 installments. Following are the further details:
| | | | | | | |
| --- | --- | --- | --- | --- | --- | --- |
| Type | Size | Price | On Booking | On Digging | Installment Plan | Possessions |
| A 2Beds | 1090 sq ft | 10,464,000 | 2,100,000 | 1,050,000 | 275000 x 24 | 714,000 |
| B 2 Beds | 1020 sq ft | 9,800,000 | 1,960,000 | 980,000 | 260000 x 24 | 620,000 |
| C 1 Beds | 600 sq ft | 5,760,000 | 1,152,000 | 576,000 | 150000 x 24 | 432,000 |
Buying in Anika Heights Bahria Town Karachi is good for living and investment prospects. This project is currently at its initial stages. However, once the development begins and completes, the demand and prices will increase. These are the modern living spaces with all the latest amenities. Moreover, the investment will be profitable, even rental gains will be high.
Contact us for further assistance.
Please contact Universal Property Network  For More Information click here or visit our youtube channel further assistance