Aqib Garden Housing Scheme Lahore – Location & Payment Plan
by UPN
December 3, 2022
0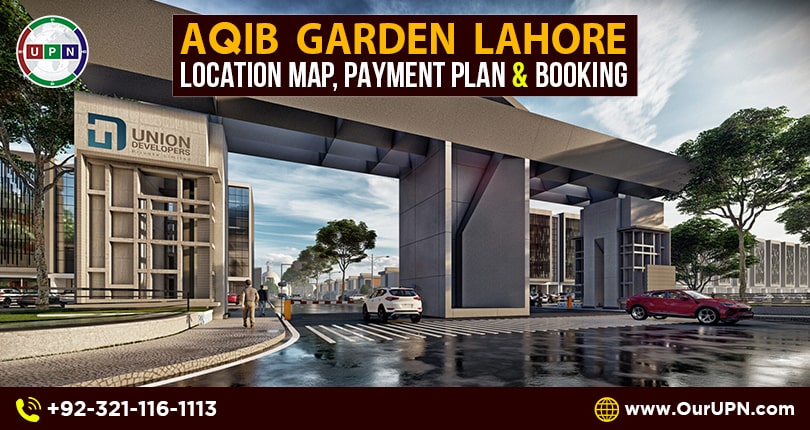 Aqib Garden Housing Scheme Lahore is a new, modern, and high-standard project at a prime location in the city. It's an innovatively planned, LDA-approved society that offers top-class living to people full of comforts and joys. It's a place to enjoy a safe and facilitated lifestyle with matchless facilities. Aqib Garden Lahore is among the best housing ventures in Lahore where you will find a lush green environment, sustainable community design, and all the latest-day facilities within your budget. Planned at an attractive location, it will be an advanced development where the potential is high. Further details are:
Aqib Garden Housing Scheme Lahore – A New Project by Union Developers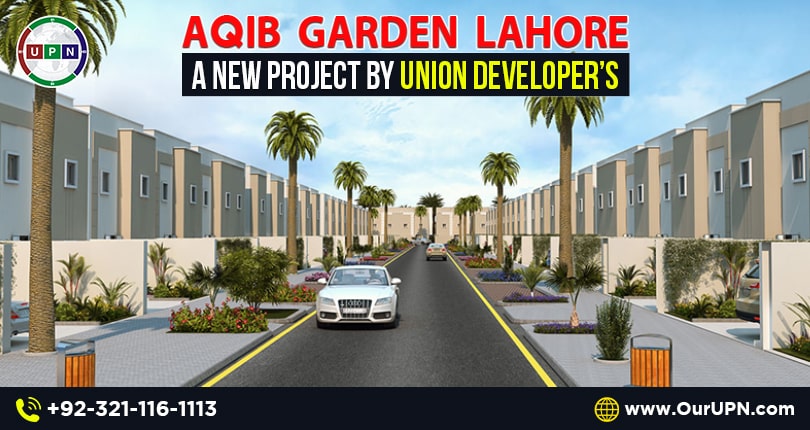 After getting huge success in Liberty Lands Lahore, Union Developers are now launching Aqib Garden Lahore. It's a new, upscale housing venture with top-notch amenities available in one place. Offering a wide range of residential and commercial opportunities, it is a completely approved project by the authorities. Coming in the heart of Lahore on Raiwind Road, this project is bringing incredibly attractive and beneficial investment chances for everyone. Union Developers which are already popular for their previous developments and work in Etihad Town and Liberty Lands are now heading forward with another masterpiece.
Aqib Garden Lahore On-Ground Plots NEW DEAL Launched
Aqib Garden Housing Scheme Lahore is something ideal where one can confidently invest to meet his property needs. Planned smartly, it will be developed with advanced technologies and up to mark infrastructure. The excellence of the developers will be clear from the work especially the master plan of this society.
Aqib Garden NOC Approval
It is a legal housing society in Lahore that gained its approval from LDA before its launch. Yes, as per the market updates, Union Developers are launching Aqib Garden society after getting it completely approved by LDA. So, indeed, this society is planned according to the laws and regulations defined by Lahore Development Authority. It holds valid NOC which is very important for the development of a complete housing community. Also, it will be a safe and secure investment opportunity with guaranteed future returns. Its LDA-approved status is standing it out among others. You can consider this space for the profitable investment that you always dream of.
Soon, we will share the NOC number and further details with you.
Aqib Garden Lahore Location
Aqib Garden Lahore location is ideal in all terms. It is ideally located at Main Raiwind Road Lahore near Al-Kabir Town Lahore and Lake City. Many of the other housing societies are in its proximity. Most importantly, you will find it opposite to OPF Housing Scheme. The entire area in the surroundings is developed and has good inhabitation. In other words, this new housing venture is set at the prime location of Lahore, making it ideal for living and the best for investment.
The location of this Aqib Garden by Union Developers is easily accessible from multiple routes. Especially, this area is easily approachable from Thokar Niaz Baig Adda Plot Interchange. Surely, the residents of this society can enjoy safe and facilitated living. All the basic and advanced amenities are close to this location such as high-standard educational institutes, hospitals, commercial markets, and shopping areas. Already Raiwind Road Lahore is popular as the hub of modern housing societies where residents find their dream facilities at their doorsteps.
The prices of property will surely increase high there. Even at the current time, the prices are high and continuously increasing. The investors will gain high returns on their investment in Aqib Garden Housing Scheme. This place will be equally good for residence as your lifestyle will be up to mark as per your expectations. All the basic to advanced amenities are available there.
DHA Lahore and Bahria Town Lahore are also at a short distance. Even, you can reach Allama Iqbal International Airport with a few minutes car drive. Overall, you can invest in this premium project that is located perfectly to gain huge investment benefits. It is easily approachable, has good connectivity and the future of this location is bright.
Aqib Garden Plots for Sale
This latest housing society is attractive for living and a perfect investment place. Aqib Garden plots for sale include multiple sizes providing freedom to choose the best suitable as per the requirements. It's a project with around 600 – 700 plots, including residential and commercial. Currently, here you can invest in the following sizes of plots:
5 Marla Residential Plots
10 Marla Residential Plots
More sizes of plots are expected to launch soon. Moreover, you will also find houses on installments in this society. All these properties of Aqib Garden Rawind Road Lahore are exceptional as it comes with all the top-notch amenities and attractions.
Aqib Garden Payment Plan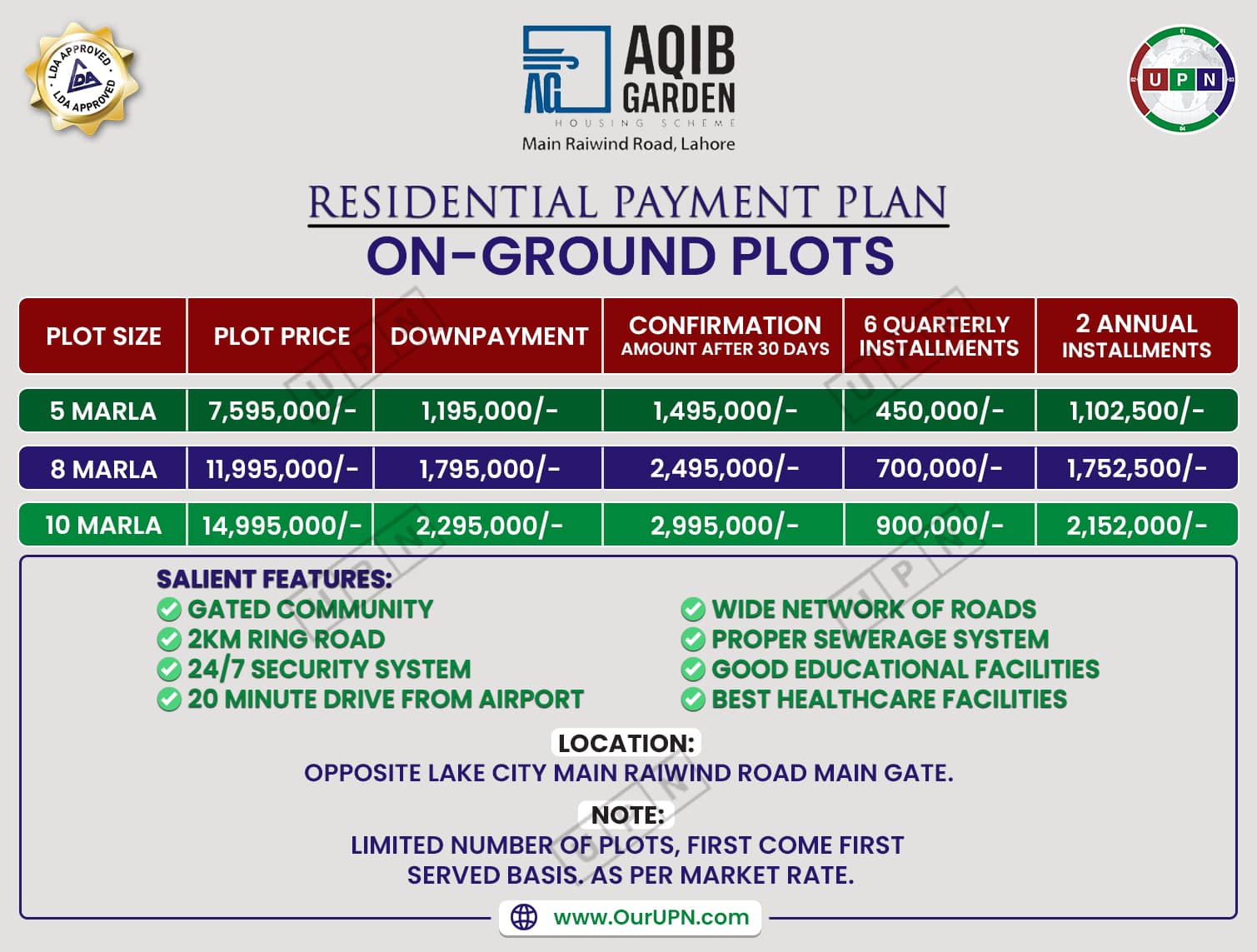 Launched recently, the Aqib Garden payment plan is adding this project to the list of the most affordable housing schemes in Lahore. By investing in it, you will not only get investment benefits in the future but also your present will be beautiful. Plots are available at reasonable prices allowing you to have your space within your budget. Not only the prices are kept low but also it offers a conveniently designed, attractive payment plan for the ease of investors.
Indeed, this project is designed to provide people with a chance to upgrade their living standards. Booking of plots starts with a reasonable down payment. The remaining amount will be payable in the flexible payment plan of 2 years. Further details are:
5 Marla Plots for Sale in Aqib Garden
These residential plots are launched at the price of 75.95 lacs. Booking starts with a certain amount of down payment i.e., 12 lacs. The amount payable after 45 days is 16 lacs. The remaining amount can be easily payable in 2 years installments. It will feature quarterly installments.
10 Marla Plots for Sale in Aqib Garden
These 10 Marla plots are available at a price of around 1.52 crores. Booking starts from 24 lacs and the remaining will be payable in 2 years installments. The amount payable after 45 days is 32 lacs.
Date of Possession
As Aqib Garden Housing Scheme is a new project currently in its initial stages. It is hard to give an exact time or date for the possession of the plot. However, there is news in the markets that plots possession will be handover within a couple of months after booking. Please note: all these new deal plots are on-ground available with plot numbers.
Development Status
Aqib Garden Lahore is coming to an already developed area. This society's infrastructural development is progressing speedily. Most importantly, the plots available are on-ground.
Significant Features
Aqib Garden Housing Scheme is a masterplan housing project with premium features. It is launching in the hub of modern housing societies where the best amenities are already available. However, still it has some attractive features making it stands out among others such as:
Gated Community with Secure Boundary Wall
Secure and Safe Investment
100% Security as CCTV Cameras Installed and Guards
Modern Infrastructure and Advanced Development
Wide Network of Roads and Green Belts
Ideal Location and Easy Accessibility
24/7 Provision of Basic to Advanced Facilities
Proper Sewerage System
2KM from Ring Road Lahore and 20 Minutes from Airport
Good Educational Facilities
Best Healthcare Facilities
Shopping Malls and Proper Commercial Markets
Entertainment Facilities and Sports Complex
Booking in Aqib Garden Housing Scheme Lahore
Booking in this premium society is easy and a convenient process is introduced. You can easily book your plot with a certain amount of down payment. Even, there is an option to book your desired category without visiting the UPN office physically. You will need the following documents:
CNIC Copy of Buyer
CNIC Copy of Nominee
Two Passport Size Pictures
Down Payment of Desired Plot
Aqib Garden plots are limited in numbers. You will be served on a first-come-first-served basis.
Conclusion
Aqib Garden Housing Scheme Lahore is a masterpiece in the making. It's a smartly planned venture where you will find everything inside. This unique society brings ideal investment opportunities for everyone. People will find it a suitable destination for residence as well as for capital growth. Your investment there will be beneficial in all the terms. You will surely earn desirable profits in the coming time. So, don't miss this profitable chance of property investment in Lahore. Hurry up!
Frequently Asked Questions
Here are the answers to the commonly asked questions about this upcoming society Aqib Garden Housing Scheme Lahore:
When Aqib Garden Lahore is Launching?
It is officially launching in a couple of days, however, the booking of plots already started.
Who are the developers of the Aqib Garden Housing Scheme?
It's a top-class project by Union Developers.
What are the plot categories in Aqib Garden?
Currently, you can buy the best 5 Marla and 10 Marla residential plots with 2 years payment plan.
What is the location of Aqib Garden by Union Developers?
This society is located ideally on Raiwind Road Lahore opposite Lake City Lahore and near Al-Kabir Town Lahore.
Please contact us through WhatsApp, the Contact Us form, or visit our UPN Youtube Channel for further assistance.