Installment Plots Canal Road Lahore
by UPN
December 6, 2022
0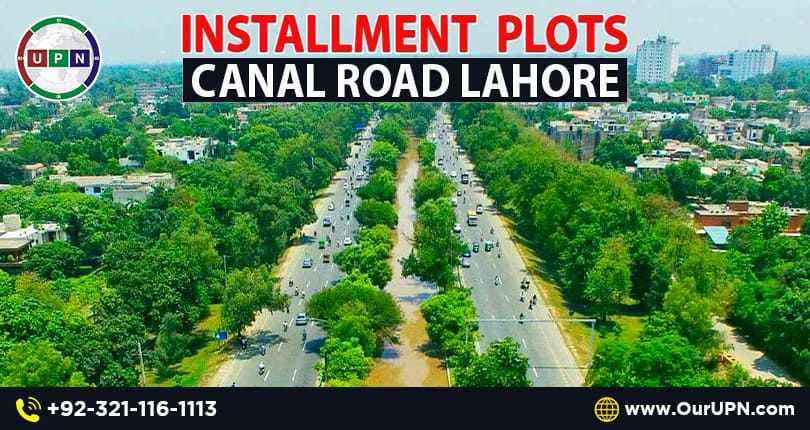 Canal Road Lahore is one of the major arteries of the city. In the last few years, this road has experienced lots of development as many of the best housing societies launched and developed there. A large number of options are available in these projects. However, many investors still search for installment plots Canal Road Lahore. These plots are both commercial and residential and can be purchased in different sizes.
Most importantly, these plots come with bundles of facilities, making them perfect for investing in property. Booking these options with a certain amount of down payment and the remaining in equal installments is beneficial for residence and investment gains. Also, investment there is secure as LDA approves these societies and is provided with valid NOC.
Installment Plots Canal Road Lahore
In this blog, we will share the details of housing societies located ideally on Canal Road Lahore and offering plots with payment plans. These projects ideal to consider are:
New Lahore City
New Lahore City is a premium-level project with state-of-the-art planning. It is an advanced development with a wide range of plots for sale. It offers iconic facilities and has all the attractions of the modern lifestyle. New Lahore City comprises four phases and all of its phases are good to choose from. However, these days, Phase 4 is very much popular. It holds significant importance because offering the best installments plots Canal Road Lahore.
It's a project by Zaitoon Group who had brilliantly designed this project with the most profitable properties in Lahore.
Plots for Sale in New Lahore City
NLC spreads over a large area of land and features several blocks where you will find residential plots in the following sizes:
3 Marla
5 Marla
7 Marla
10 Marla
1 Kanal
2 Kanal
All these plot sizes are attractive to invest in. However, if you are looking for installments plots in fresh booking, we suggest buying in Smart Living Block. It offers:
Booking of these plots starts from 2.70 lacs whereas the remaining will be payable in 3.5 years.
Following is the complete payment plan:
| | | | |
| --- | --- | --- | --- |
| Plot Size | Plot Cost | Down Payment | Payable in 3.5 Years |
| 3 Marla | Rs:27,00,000/- | Rs:270,000/- | Rs:24,30,000/- |
| 5 Marla | Rs:45,00,000/- | Rs:450,000/- | Rs:40,50,000/- |
| 8 Marla | Rs:72,00,000/- | Rs:720,000/- | Rs:64,80,000/- |
New Lahore City Location
This society is located close to Canal Bank Road new Bahria Town Lahore. NLC also has good connectivity with the Sector F of Bahria Town. The most interesting feature of this project is the access to multiple routes. You can approach it from the N-5 National Highway, Lahore Ring Road, Multan Road, Thokar Niaz Baig, NFC Phase-2, and Sundar Road. The housing societies nearby are DHA Lahore, Bahria Town Lahore, and LDA Avenue.
Why You Should Invest?
Here these are:
LDA Approved Project
Ideal Location
Top Facilities
Low Prices and Easy Installments
High Returns on Investment
These installment plots Canal Road Lahore are highly profitable to invest in.
 Victoria City Lahore
Another attractive option to invest on Canal Road is Victoria City Lahore. It is a modern housing society designed with up-to-date amenities and heart-winning attractions. Victoria City is a graceful living and profitable investment place where you will find the best investment. It's a premium development especially for the people looking to invest on Canal Road Lahore.
It's a project by Sheranwala Group, which had perfectly planned this top-class project. It's a peaceful and advanced development where you will find everything available at your doorstep. The plots for sale in Victoria City Lahore are wide in the range so that you can choose the best suitable option.
Most importantly, this society enjoys a valid NOC. It is completely approved by Lahore Development Authority. This NOC approval is giving investors more confidence to invest and gain huge returns. This legal clearance of Victoria City is indeed making this society stand out among other societies on Canal Road.
So, if you are in search of installment plots Canal Road Lahore, can be the fully preferred option.
The investment options available in Victoria City Lahore are:
2 Marla Commercial Plots
5 Marla Commercial Plots
8 Marla Commercial Plots
3 Marla Residential Plots
5 Marla Residential Plots
10 Marla Residential Plots
1 Kanal Residential Plots
2 Kanal Residential Plots
One of the biggest benefits of buying in this society is the availability of plots at pre-launch prices. Also, booking starts from 2.50 lacs only. The remaining will be payable in easy installments. Prices of these plots will surely increase to double and triple in the coming time.
So, don't miss out on the chance of profitable investment in New Lahore City and Victoria City Lahore especially if you are searching for installment plots on Canal Road.
Stay in touch with UPN for further details and information. We are here to serve you with the best, and most profitable plots deal. So, whether you are an investor or a buyer, your investment will be safe and benefit you a lot.
FAQs
Which is the best society to buy property on Canal Road Lahore?
Canal Road Lahore is full of options when it comes to buying property. However, if you are looking for the best plots on installments, we suggest buying in New Lahore City and Victoria City Lahore.
Is buying secure in New Lahore City?
Yes, it is a premium housing society by the well-known Zaitoon Group. The infrastructure and facilities in this society are competing with Bahria Town. You will surely find this place attractive and full of comfort.
What are Victoria City Lahore NOC updates?
It is approved by LDA. The official announcement has been made by the Sheranwala Group.
Which plots are available on installments on Canal Road Lahore?
The installments options available are both residential and commercial. You can confidently buy your desired category and size by paying a certain amount of down payment.
Which society is more attractive Victoria City Lahore or New Lahore City?
Both these societies hold significant importance. Their location is good and the developers are well-known. The properties available are also low-cost. However, choosing one project over another completely depends on clients' preferences.
Please contact us through WhatsApp, the Contact Us form, or visit our UPN Youtube Channel for further assistance.