ARY Residencia Villas Bahria Town Karachi
by UPN
December 18, 2021
0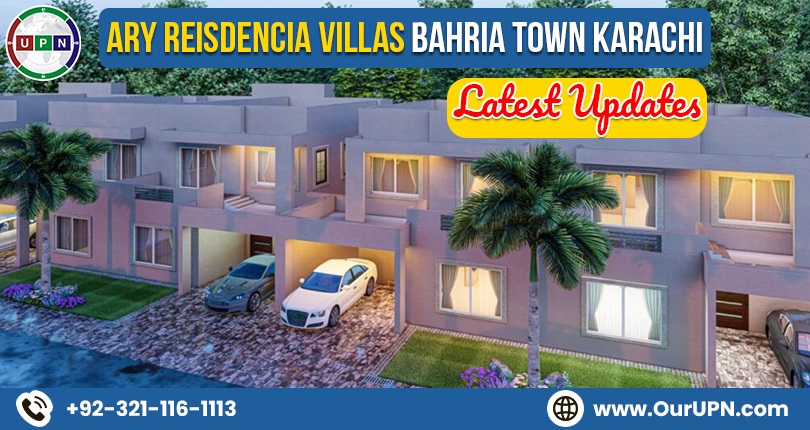 Bahria Town Karachi is a home to dream living; it's a place full of luxuries and top-class facilities. Featuring attractive residential options, Bahria Town is an ideal place to buy plots of your desires. At the same time, it's a popular destination to invest in ready to move villas. Bahria Town Karachi villas are wide in range. It comes in different sizes, is located in different precincts, and the prices vary. Some of its top villa's projects are situated in Precinct 2, Precinct 10A, Precinct 11A and Bahria Sports City. But all of these villas are completely developed and available on lump-sum amounts only. So, what to do if you are looking for villas in installments? Then, buy ARY Residencia Villas.
These are the brilliantly designed luxurious villas for sale in Bahria Town Karachi. Located at an easily accessible location, it is one of the prominent villa's projects. Further details are:
ARY Residencia Villas
Launched in 2018, this project comprises around 300 villas thoughtfully planned and developed on the latest trends. It's a project by ARY Group which already have a good reputation. This group is also behind the iconic projects ARY Laguna Karachi, ARY Laguna Gujranwala, etc.
Size and Layout Plan
ARY Residencia Villas feature 200 sq yards of double-storey houses with three-bedroom accommodations.  The overall planning of these villas, their designing, standards of developments even the layout plan is quite similar to the 200 sq yards villas by Bahria Town.
ARY Villas Ground Floor Details
These villas have one bedroom with an independent bathroom, a beautiful drawing room, attractive lounge area, spacious kitchen, lush green front lawn, and car porch.
ARY Villas First Floor Details
The first floor of ARY Residencia Villas has two beautiful bedrooms with attached bathrooms, a lounge area, a spacious store, a terrace, and a servant room.
ARY Residencia Villas Location
The eye-catching ARY Villas are impressively developing in Precinct 23. This precinct is a part of Old BTK. The location of these villas is close to Rafi Cricket Stadium, which is the top attraction of Bahria Sports City. ARY Residencia Villas have 125 sq yards plots in the surroundings. These are the only 200 sq yards villas in that locality. Precinct 27 offers 235 sq yards villas and Precinct 31 also. But these are the perfect villas to live and enjoy high-standard residing in Bahria Town.
ARY Villas Prices and Payment Plan
The launching price of ARY Villas was 1.55 crores. But the latest prices are reasonable. Booking of villas starts with 10% while remaining will be payable 3 years flexible payment plan. Possession of villas will be available within/before the completion of the payment plan.
Development Updates
ARY Villas launched a long time ago, but the development work began only a 1 year ago. At the first stage, the construction of around 100 villas is started. Now the grey structure of more than 100 villas is complete. Moreover, the finishing work will begin soon, and it will be completed at the fastest pace. Hopefully, these villas will be soon ready to live place.
Investment in ARY Residencia Villas
The impressive ARY Villas feature several attractions. Their project planning, location, and facilities all are outstanding. However, the availability of grey structure villas on booking and installments is the most prominent thing. All Bahria Town villas are only available in total cash. There are only a few villas' options available by Private Builders if we look around. But again, one can question their credibility. Here in the case of ARY Villas, everyone knows about ARY Group.
Buying in these beautiful villas of Precinct 23 is 100% beneficial for residence and investment point of view.
Other Villas Options
If you are looking for more options for investment in villas, you can choose from:
Precinct 27 Villas and Precinct 31 Villas
These are 235 sq yards villas available at attractive rates. Their development work is complete and features good ratio of inhabitation. Moreover, all the living facilities are available. The surroundings of these villas are also good and plays a vital role in the success of these luxury living spaces.
Contact Universal Property Network for further details and information. We are here to guide you about the best properties in Bahria Town Karachi.
Please contact Universal Property Network For More Information click here or visit our youtube channel further assistance