Bahria Orchard House for Sale – Latest Opportunity
by UPN
April 16, 2022
0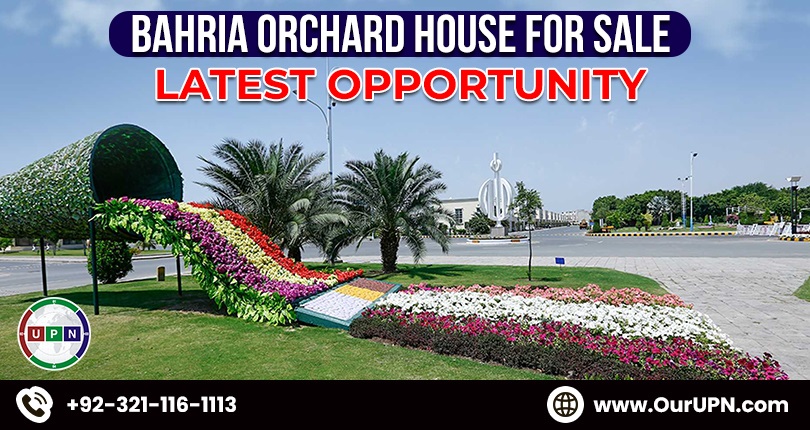 Everyone desires to get the best residence option in Lahore. This largest city of Punjab is beautifully developed with a wide range of housing societies but there is no comparison of Bahria Town. Buying property in Bahria Town project is something both buyers and investors love. The best developers of Asia have developed their several projects in Lahore among which Bahria Orchard holds significant importance. This society is perfectly planned and have all the top-class facilities and trademark features of Bahria Town. But still, it's a budget-friendly option. Bahria Orchard house for sale in one of the most prominent deal/property people are looking to invest in.
Bahria Orchard Lahore have four phases and several extensions. All of its have prime location on Main Raiwin Road and features heart-winning development. However, Phase 4 has become the favorite choice of investors from the last 1-5 – 2 years. One of the main reasons behind it's popularity is the launch of different exciting property deals including the launch of villas projects, homes and apartments.
Bahria Orchard House for Sale
If you are also planning to get your house in Bahria Orchard Phase 4, we have some top-class options available for you such as:
Jasmine Villas
It was the first villas project by Q-Links Developers launched almost 2 years ago. Located at the graceful location of Bahria Orchard Phase 4, these are independent villas of 5 Marla. Featuring ground + 1 floor, Jasmine Villas are the 3-bedroom accommodation, luxury villas. The actual location of these villas is Overseas Enclave (G5 Block). The launching prices of these beautiful villas was around 70 lacs and 3 years installments plan. Currently, you can purchase them by paying the profit amount.
Development Status
Jasmine Villas by Q-Links is a perfectly developing project. The construction work of these villas was started so far. All these villas are now ready in grey structures. One can easily see the speedy development on the site from a quite distance. Moreover, the work on other construction is also satisfying. Hopefully, these villas will soon shape into a ready to live place. The possession of Jasmine Villas Bahria Orchard Lahore Phase 4 is expected with 1 year.
Buying in Jasmine Villas
Bahria Orchard house for sale are still available with on-going payment plan. One desire to buy these, can confidently invest by paying the paid amount/installments.
Safari Homes
It's another appealing option to buy a house for sale on Raiwind Road Lahore. These are the beautiful villas by the same Q-Links Developers. Launched almost 1.5 years ago, these are also 5 Marla double-storey villas. These Safari Homes are ideal to get 3-bedroom accommodation house with state-of-the-art development. These luxury villas are attractive for several reasons. One of the top and significant features is the ideal location.
Safari Homes is ideally located in G6 Block of Bahria Orchard Phase 4. This block is also easily accessible from Bahria Orchard Phase 3. Furthermore, one can also approach it from Phase 1 and Phase 2.
Safari Homes launching prices was also reasonable and have 3 years installment plan. Currently, there is some profit amount on the purchase of these beautiful homes.
Development Updates
Similar to Jasmine Villas, Safari Homes is also developing at the fastest pace. Their construction work was started in August 2021. Currently, some of these homes are ready in the grey structures. However, many of these houses have development on the ground floor. Safari Homes development work is also satisfactory. Hopefully, these villas will be ready to live and have possession by the next 1 -1.5 years.
Investment in Safari Homes
If you desire to get Bahria Orchard house for sale such as Safari Homes, then, you can easily buy them by paying the already paid amount. These are still low-price affordable houses one can confidently choose for residence and investment gains.
Buying in both of these beautiful houses Jasmine Villas and Safari Homes is beneficial for buyers and investors. However, considering one project over another completely depends on your choice. We Universal Property Network recommend investment in the projects of Q-Links as it's a reliable name in the real estate sector of Pakistan.
For the latest prices of these houses, further details, and assistance, Please Contact Universal Property Network  For More Information click here or visit our youtube channel for further assistance