Bahria Orchard Lahore – Mosque, Parks, Education Facilities and More
by UPN
October 24, 2020
0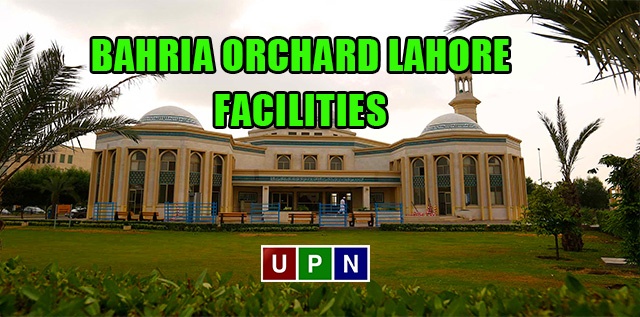 Bahria Orchard Lahore is known as the budget-friendly housing project of Bahria Town because it is as affordable that even a common man can afford. Its  ideal location makes it more convincing as one can easily approach it on Main Rawind Road. It's a mega housing society comprised of a total of four phases. Each phase of this society is brilliantly developed with a wide range of attractive properties. Moreover, they provided basic and top-notch facilities like the art mosques, beautiful parks, and educational institutes that attracted more attention.
Almost all the blocks of Bahria Orchard Lahore are smartly designed that no one remains away from such facilities. But today, in this latest blog, we will discuss the complete details of the blocks that feature the best mosques, educational facilities, and parks.
Bahria Orchard Lahore – Mosques
All the phases of Bahria Orchard feature state of the art, eye-catching mosques. The top three completely developed, operational, and highly attractive mosques are:
The very first and the impressively beautiful mosque in Bahria Orchard Phase 1 is Masjid Al- Rasheed. It is developed over the land of 10.61 Kanal and is located adjacent to a well-maintained park. Moreover, Bahria International Standard Hospital is situated at its back.
Another state of the art mosque, Jamia Mosque Ahsan, is located in Block C of Bahria Orchard Phase 2. It is covering a land of 6.91 Kanal. A well-maintained park is attached to it. It's a beautifully developed mosque surrounded by so many other attractions.
Also, an eye-catching mosque is situated  in G Block Bahria Orchard Phase 2. This mosque is named as Jamia Masjid Samiullah. This masjid Is spanning over the area of 4.66 Kanal and is surrounded by beautiful green belts. Jamia Masjid Samiullah is mostly visited by the residents of J and H Blocks.
Bahria Orchard Lahore – Schools
Bahria Town Schools are designed to be developed in almost all the phases of Bahria Orchard Lahore. But currently, only one campus is operational in the Central Block of Bahria Orchard Phase 1. This school offers pre-school, junior, middle, and secondary levels of education.
Moreover, three schools and three colleges are planned in Bahria Orchard Phase 4. Among them, one state of the art school project is developing in G3 Block. It is spanning over 34.37 Kanal of land. This school is developing at the fastest speed and hopefully ready in the next six months.
Bahria Orchard Lahore – Parks
Bahria Town housing societies attract many buyers because of their fresh, clean, and green environment. Similarly, Bahria Orchard Lahore features some of the heart-winning parks where you will love to spend your time. Many parks are completely developed, while a few of them are still visible on the map only.
Bahria Orchard Phase 1 parks are among the best parks of all the phases. These parks are very well-maintained and have beautiful swings and slides in them. Phase 2 parks are also satisfying while Phase 4 is developed with one of the best parks know Topiary Garden. Covering a large area of land, it's an eye-catching development in Phase 4.