Bahria Orchard Lahore Phase 5 – Launch, Plots, Location, Features and Access
by UPN
November 5, 2020
0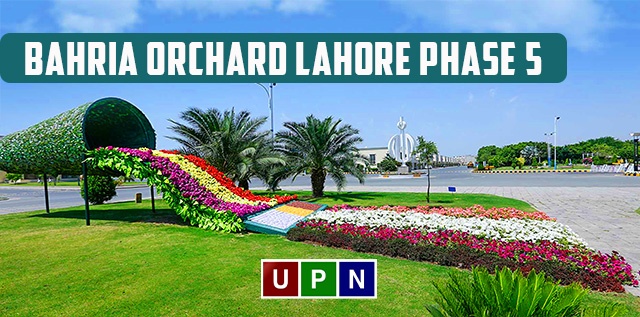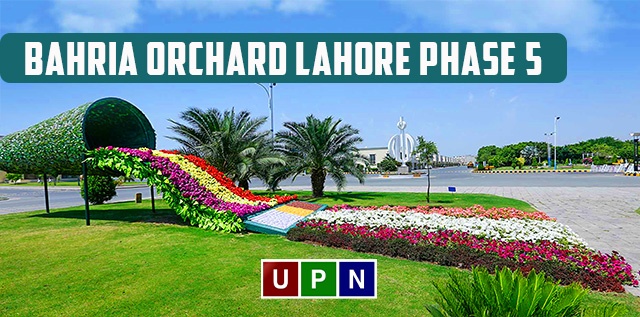 Bahria Orchard Phase 5 is the new and exceptional real estate development where unique lifestyle awaits you. Planned close to already populated societies, Phase 5 of Bahria Orchard is easily accessible on Raiwind Road. Excellent town planning, road links, numerous properties, and living opportunities will perfectly meet people's needs in Bahria Orchard Lahore Phase 5. Designed brilliantly, this phase of the budget-friendly project of Bahria Town is specially planned to meet buyers' and investors' increasing property needs.
The first four phases of Bahria Orchard Lahore has gained massive success. Undoubtedly, these societies are still among the top-choices in Lahore. But, Bahria Orchard Lahore Phase 5 will hold significant value and importance for its updated facilities, new developments, and properties on installments.
About Developers
Bahria Town Limited has proudly presented Bahria Orchard Lahore and has gained tremendous response in all its four phases. Bahria Town is a name of excellence. The company is owned by the top property tycoon of Asia, Malik Riaz, who is serving the nation since the late 90s. Bahria Town has presented several successful residential and commercial projects. Not only are their projects appreciated in Pakistan, but Bahria Town has won many awards on International Platforms.
Potential buyers and investors attract to Bahria Orchard for its state of the art development, location in the hub of modern societies, and budget-friendly properties along with all the best facilities.
Phase 5 of Bahria Orchard Lahore is planned appealingly because it will be the best housing society on the landscape of Lahore. You will find Bahria Orchard Phase 5 the real illustration of quality, class, luxury, and excellence.
Launching Date of Bahria Orchard Lahore Phase 5
Launching soon, Bahria Orchard Phase 5 has so much to offer. Either you are looking to invest in Lahore real estate or planning to build your dream home: you will find Phase 5 the ideal community for both.
Master Plan of Bahria Orchard Phase 5
Bahria Orchard is a project by the top developers and a well-known name Bahria Town Private Limited. So, the master plan for this project is designed with exclusive construction ideas and high standards of development.
The potential buyers and investors will encounter enormous opportunities as Bahria Town Phase 5 will offer the best residential and commercial properties for sale. Investment in this society will return you will profit, and this will be the right place to live.
Spanning over a large land area, Bahria Orchard Phase 5 is a house to some of the best residential and investment opportunities. It's a decent housing society with many blocks that are crafted carefully.
The infrastructural development of this society is started and will soon be ready to live place. Bahria Town has acquired a large land area for its development, while more land will be added soon.
Properties for Sale in Bahria Orchard Lahore Phase 5
Different categories and sizes of properties are available in Bahria Orchard Phase 5.  It features residential and commercial plots while you will also find the best ready to move properties in it. These constructed properties will include apartments, villas, and apartment homes.
The details for residential plots are available in the following sizes:
5 Marla
8 Marla
10 Marla
1 Kanal
Commercial plots are launching soon in 4 Marla and 8 Marla sizes.
Moreover, the constructed properties such as 5 Marla double-storey homes on installments will be available in it.
These plots for sale in Bahria Orchard Phase 5 will allow you to enjoy a stunning and exclusive lifestyle packed with all the heart-winning amenities.
Location of Bahria Orchard Lahore Phase 5
Bahria Orchard Lahore Phase 5 is ideally located on Raiwind Road Lahore.  This new, upcoming society lies between the C Block and D Block of Bahria Orchard Phase 2 Lahore. It is easily accessible from an 80 ft wide road which runs between these two mentioned blocks. Moreover, once the development completes, this road will Phase 5 accessible from Jati Umra near Sharif Medical Complex.
Also, there is some news that Phase 5 of Bahria Orchard will directly connect to Sector F of Bahria Town Lahore. However, this is not the official news.
The new and easy access to society will facilitate its residents and benefit the residents of Bahria Orchard's other phases. This society's main boulevard will connect to Jati Umrah, will decrease the distance of travelling for the people.
Bahria Orchard Phase 5 is where highly innovative living is waiting for you. This society will offer you access to all the world-class features and amenities available at your doorsteps.
New Deal of Plots
A new deal of 5 Marla, 8 Marla, and 10 Marla plots is launching soon in Bahria Orchard Phase 5. These will be the plots on easy installments.
Facilities and Features
Bahria Orchard Phase 5 is a housing society full of all kinds of attractive amenities. This society will offer you everything desires to lead a convenient and facilitated lifestyle. Bahria Town is all set to launch this project to improve people's lifestyles without disturbing their budget. Everything in the society manages excellently to make it one of the successful real estate developments by Bahria Town.
From residential, social, and basic features to recreational options, Bahria Orchard Phase 5 has all. Surely, you will get more than your expectations. Also, all the basic utilities and world-class facilities will be available to add more value and charm to your living in Bahria Orchard Lahore Phase 5.
Some of these facilities are:
Advanced Security System
Gated Community with Boundary Wall
Standard Educational Facilities
Best Healthcare Facilities
Commercial Areas as well as Shopping Centers
Community Centers
Playground and Parks
Electricity, Gas, as well as Water Supply
Carpeted Roads and Green Belts
Bahria Orchard Phase 5 is the best living and investment option in Lahore. Starting from ideal living facilities to profitable investment opportunities, perfect location, exclusive amenities, and this society wins hearts in every term.
So, what are you waiting for? Be ready to buy the best properties for sale in Bahria Orchard Lahore!
For further details, contact Universal Property Network!