Bahria Orchard Phase 4 – Right Time For Investment – Latest Development & Prices
by UPN
April 23, 2019
0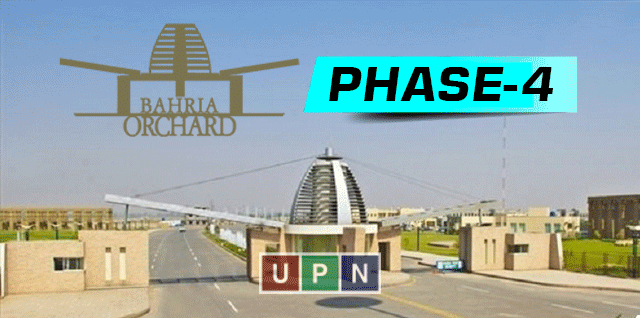 After the roaring success of Bahria Orchard Phase 1, 2 and 3, Bahria Developers has launched Phase 4. In a very short period of its inception, the project has won the heart of investors and buyers with its brilliantly designed master plan, unique features top facilities, and latest development status.
Bahria Orchard Phase 4 is located across Phase 1 and Phase 2 on the Main Raiwind Road. It's an attractive location also the biggest reason for the popularity of this project.  It's an outclass opportunity for builders and buyers to avail the chance of buying the plot in Bahria Orchard Phase 4 and to get the guaranteed profit with a secure investment.
Project Plan & Available Plots
Bahria Orchard Phase 4 is divided into 6 blocks; the name of G1, G2, G3, G4, G5, and G6. Currently, there are two categories of residential plots are available in Phase 4. Block G1 & G2 are designed with fully-developed and possession plots of 1 Kanal and the plots cuttings of 10 Marla are available in the remaining 4 Blocks.
Latest Prices of Plots
The residential plots cuttings of10 Marla and 1 Kanal are available in Bahria Orchard Phase 4. Both 10 Marla and 1 Kanal residential plot are available with possession. The starting price of 10 Marla residential plots is 40 lacs to 55 lacs depending on location. However, the residential plots of 1 Kanal are available at the price of 75 lacs to 1 crore.
The prices of the plots are reasonable for investment but as the prices of the plots are increasing day by day, so, it is highly- recommended to invest in 1 Kanal & 10 Marla plots before it's too late.
Development Status & Possession Update
The development of Bahria Orchard Phase 4 is started so far. As the project is consisting of 6 Block, so consists there is about 95% of the development work is completed in the first 4 blocks. While the development is under process in the two remaining blocks mainly G5 and G6. The development is moving at a steady pace. Road infrastructure, street lights, sewerage, and water line work is already completed and possession of plots is available.
Right Time for Buying
By keeping the current market situations, UPN highly recommends to make the investment in Bahria Orchard Phase 4.This is the buying time not selling. We suggest buying plots in this top project of Bahria Town and hold this plot for the next 7 to 8 months to earn a desirable profit. It is also suggested to investors who have waited for long, to just wait for the next few months and your investment will definitely return you with a handsome profit.
Some Salient Features Are:
Medical Complex
Education Complex
Orchard Mall
Saudi German Hospital
Day & Night Safari
Shopping Zone
Food Courts
Departmental Stores & Branded Stores
Golf Course & Tennis Courts
4 Parks & Zoo
To book your plot or further details and information, feel free to contact Universal Property Network Team. You can also get the latest updates on our UPN website.