Bahria Orchard Phase 5 Lahore – New Deals on Installments
by UPN
December 21, 2020
0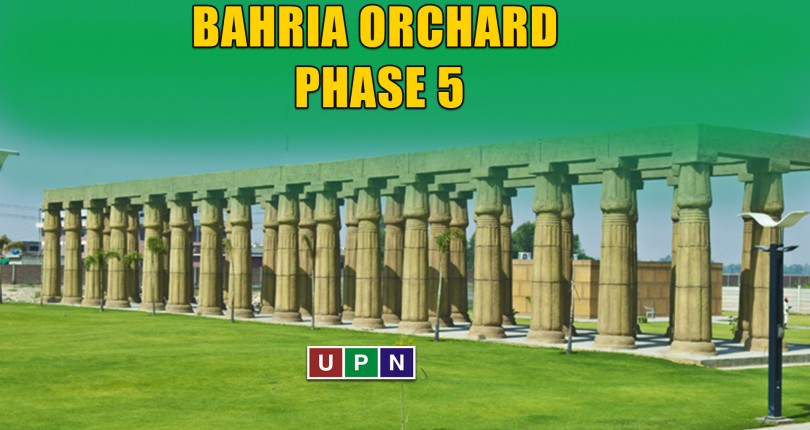 Bahria Orchard Phase 5 is an upcoming Phase of this marvelously developed, budget-friendly housing society in Lahore. Planned to be launched in the next few days, many new deals on installments will be soon available. The location of Bahria Orchard Phase 5 is in the proximity of Bahria Orchard Phase 2. Featuring the same high-standard facilities, this phase of Bahria Orchard Lahore is still more attractive in many terms. Soon the properties for sale in installments, especially the new deal of residential plots, is launching. So, let's know more about this project!
Plots on Installments in Bahria Orchard Phase 5 Lahore
Undoubtedly, Bahria Orchard is among the most popular housing societies in Lahore, where you can confidently buy different properties. The first four phases of Bahria Orchard Lahore are full of investment opportunities and featuring the best residential properties. However, this time, Bahria Town Pvt. Ltd. is bringing something very special for its valuable investors.
Bahria Orchard Phase 5 will provide you with the best 3 Marla residential plots. Yes, it is happening for the first time in the history of Bahria Town in Lahore that the developers are all set to launch 3 Marla plots.
3 Marla residential plots will be launched in the new deal of plots coming soon in Bahria Orchard Phase 5. Other residential plot categories available soon are 5 Marla, 8 Marla, and 10 Marla. All these plots will come along with a flexible payment plan of 1 or 1.5 years.
Facilities like standard education, the best healthcare, parks, mosque, and entertainment spots will also be available in Bahria Orchard Phase 5.
Location of Bahria Orchard Phase 5 Lahore
This latest and the most attractive addition in the phases of Bahria Orchard Lahore will be located on Main Raiwind Road. But most importantly, it will have two main entrances, one from the C and D Block of Bahria Orchard Phase 2, while the main entrance will be on Jati Umrah Road.
Easily accessible from Adda Plot Interchange, Bahria Orchard Phase 5 is developing in the proximity of:
Al- Kabir Town Lahore Phase 2
Kings Town Lahore
Lake City Lahore
Fazaia Housing Scheme Lahore
Icon Valley Lahore
New Residential Plots Deals in Bahria Orchard Lahore
With the launch of this attractive Bahria Orchard Lahore Phase 5, the Bahria administration will offer the new plots deal after a long gap. It is true! No new residential plots in Bahria Orchard Lahore is launched in the last six months. However, Q-Links Developers, which is a well-known name, has offered several deals of constructed homes on installments in Lahore. These houses for sale by Q-Links Developers are located in Phase 1 and Phase 4 of Bahria Orchard Lahore.
Investment in Bahria Orchard Phase 5
Buying property on booking prices in Bahria Orchard Phase 5 is highly beneficial. The best property to buy in Phase 5 is 3 Marla residential plots. However, buying in any of the plots' category will be only profitable when booked at the right time. Many investors will make multiple investments just after the launch of new deals. And most of the time, things got sold outs within the first week of its launch.
So, making the right time decision is very important. We advise you to keep your budget ready for investment in Bahria Orchard Phase 5 Lahore. Also, you can book your desired property by reserving it with a token amount.
For further details,
Contact Universal Property Network  For More Information click here or visit our youtube channel further assistance  .