Bahria Takes Over Escorts Bank – Housing Finance will be Available
by UPN
January 9, 2018
8 Comments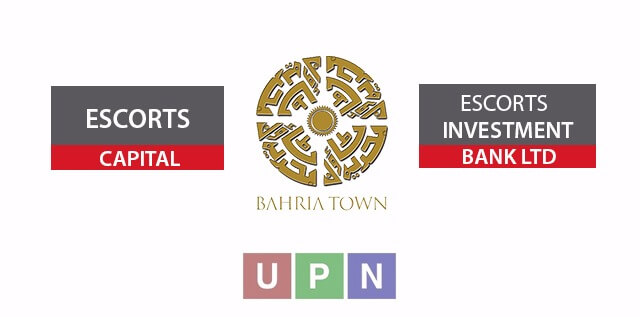 Bahria Town (Pvt.) Ltd is soon expected to launch the facility of housing finance for its future clients through Escorts Bank Bahria Town. The real estate giant now formally holds majority shares and management rights in Escorts Investment Bank and Escorts Capital Ltd. Bahria Town owns 76.254% shares in Escorts Investment Bank whereas 100% shares of the sister brokerage firm, Escorts Capital Ltd. The Investment Bank has diversified portfolio of investment products and a range of finance lines. For now, it seems that Bahria Town Group will use the expertise of the investment bank to launch house financing products for its future clients.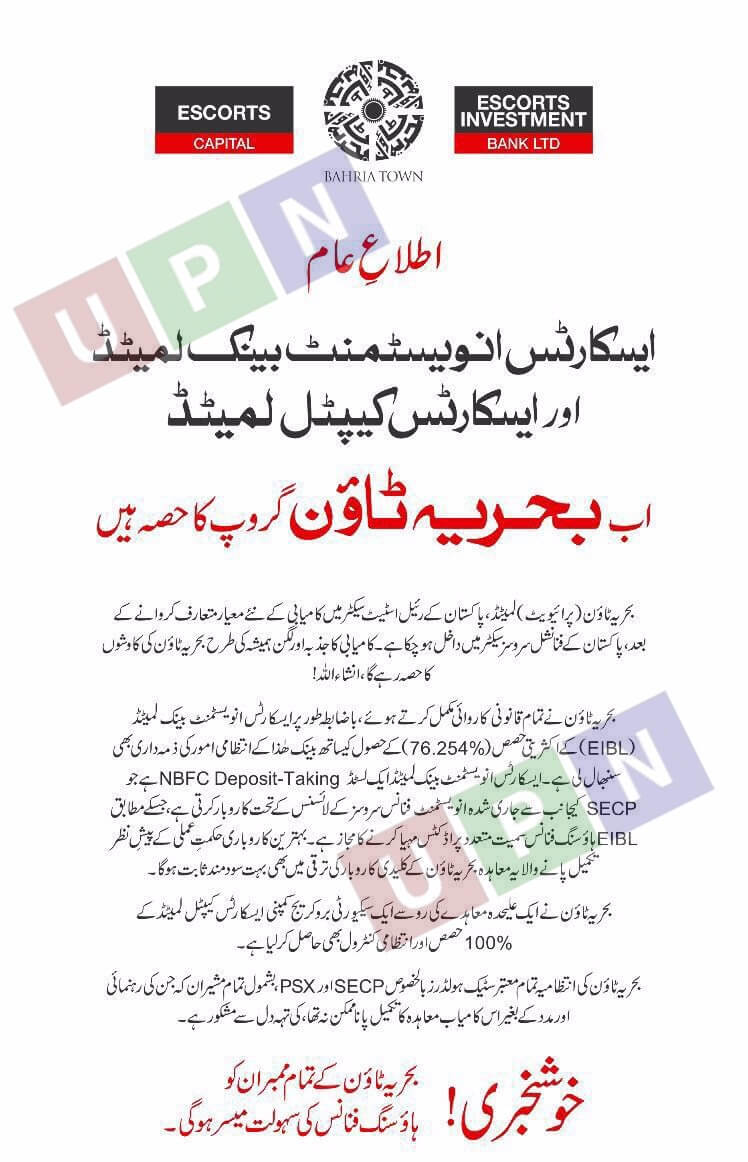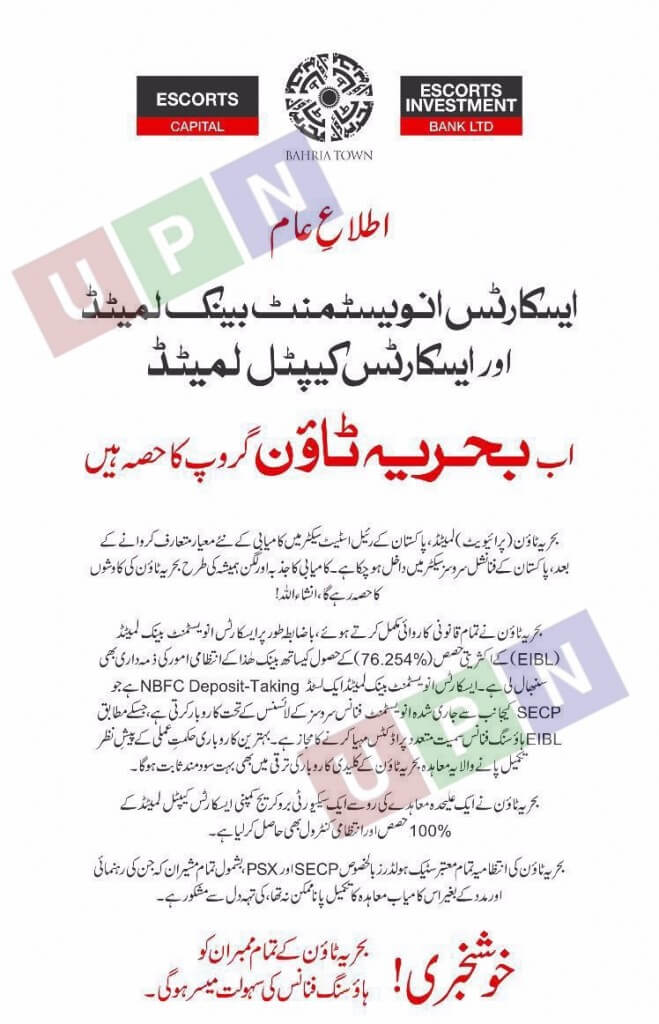 Escorts Bank Bahria Town History
Escorts Investment Bank was formed in 1996 with its headquarters located on 26- Davis Road Lahore. Although its name might suggest that it is a usual commercial bank, but actually, it functions as a non-banking finance company. Securities Exchange Commission of Pakistan (SECP) is the regulating authority for the company unlike other commercial banks for whom State Bank of Pakistan (SBP) functions as regulator. The Bank is not authorized to receive monetary deposits from general public.
Escorts Bank Bahria Town Operations
Like a typical investment bank, Escorts Investment Bank deals mostly with corporate sector, takes part in shares trading in stock market, money market activities, invests in government securities and also provides advisory services for investors. Escorts Investment Bank is also offering financing services like Home Financing, structured finance, project financing and share margin financing in addition to certificates of investment.
With Bahria Town Group taking over the management role of the investment bank, it is highly probable that it will be offering home finance services for its various Bahria Town projects. Not only that, but the group will be utilizing the financing portfolio of Investment Bank to provide capital for development of new projects.
Escorts Bank Bahria Town has its current Head Office in Lahore with branch offices in Karachi and Islamabad. Brokerage branches of the bank are located within Stock exchange buildings situated in Lahore and Karachi.
Escorts Bank Bahria Town Buyout Details
According to Sales Purchase Agreement submitted in Pakistan Stock Exchange (PSX), Bahria Town made a cash deposit of worth Rs. 65 million in an escrow account. It was second effort from Bahria Town Group to buy majority shares of a financial institution. Earlier in 2016, it tried to buy Burj Bank but State Bank of Pakistan vetoed the move for unknown reasons. Burj Bank later merged into Al Baraka Bank (Pakistan).
A new board of Directors for Escorts Investment Bank has also assumed office since January 8, 2018. The New board consists of Mr. UmairRafiqueVadria, Mr. Karim Hatim Mr. Zain Malik, Mr. Naveed Amin, Mr. Rashid Ahmed and Mr. Tahir Saeed Effendi. Mr. Zain Malik will work as CEO of Escorts Bank Bahria Town.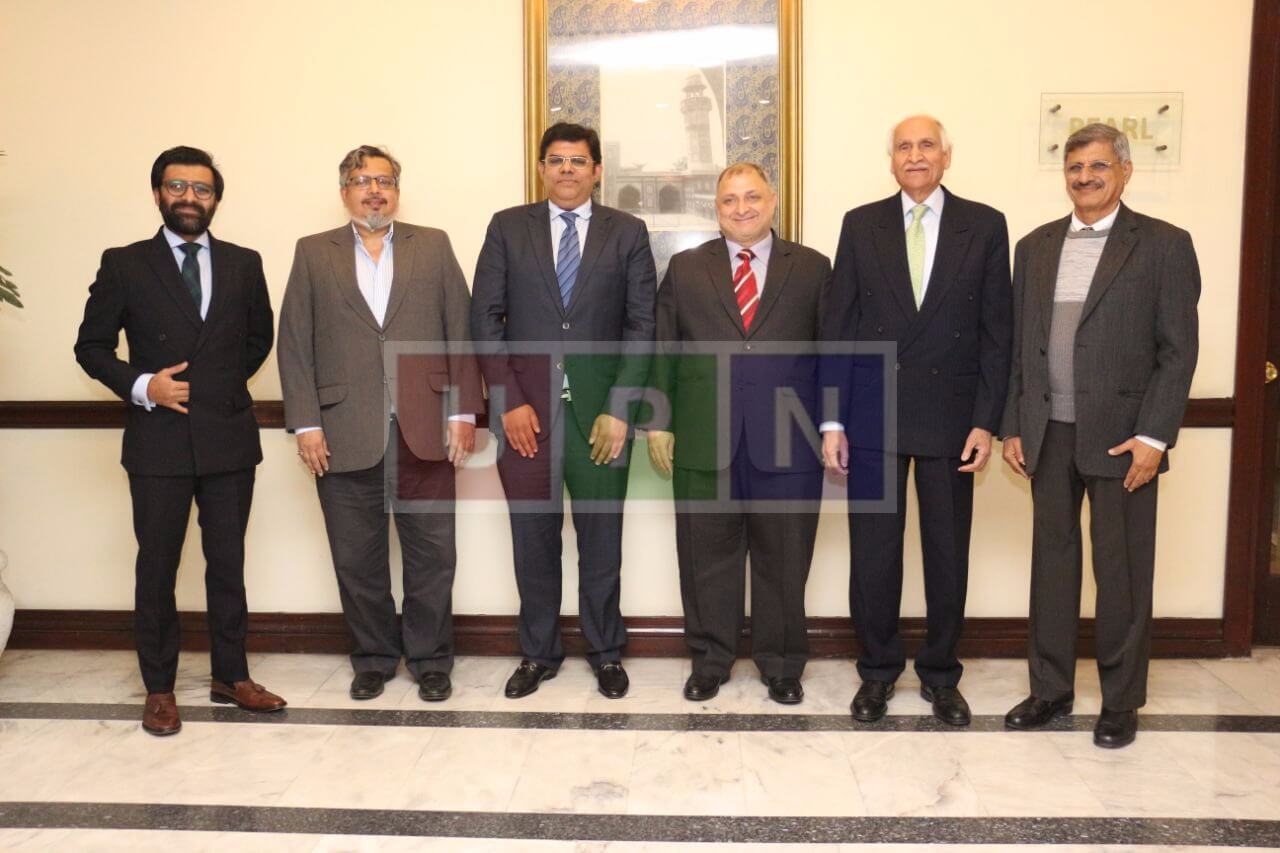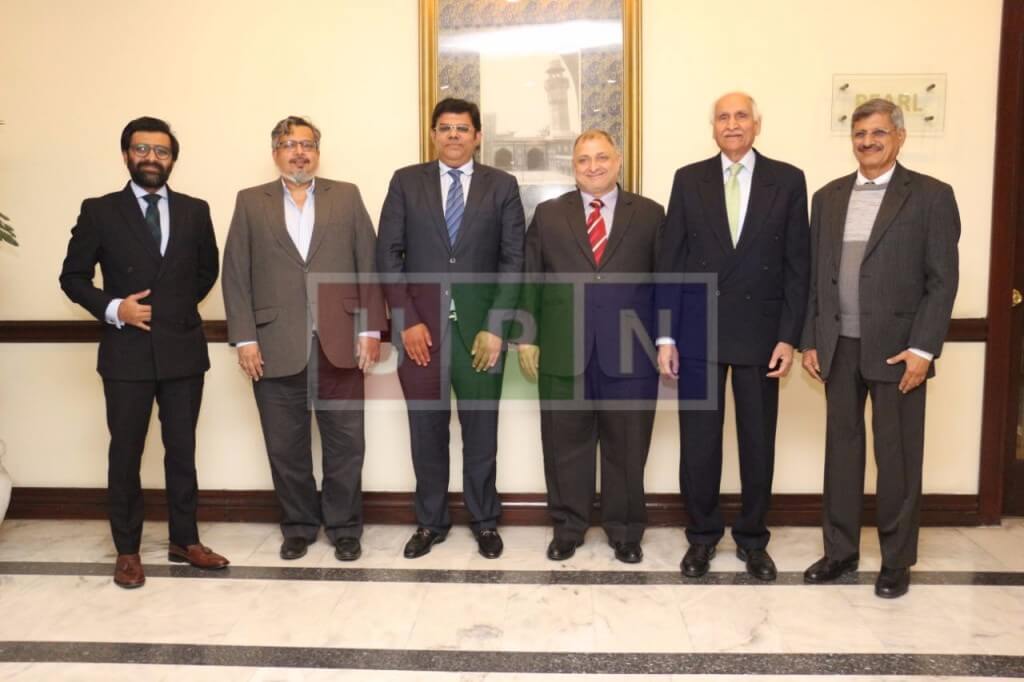 Escorts Bank Bahria Town Financial Details
According to quarterly report released for first quarter of FY 2017-18 by Escorts Investment Bank, current assets of the bank stand in excess of Rs. 401 Million and its total assets are worth more than Rs. 584 Million.
For any further updates regarding real estate sector of Pakistan, sign up for our free newsletter.