Bahria Town Karachi New Deals 2022
by UPN
April 20, 2022
0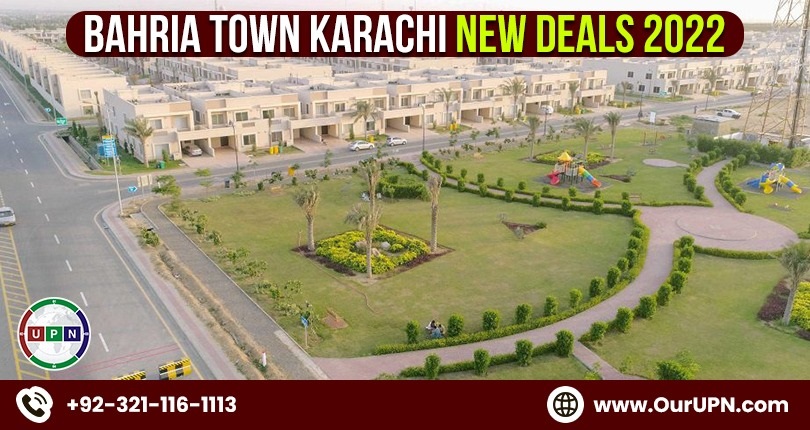 Bahria Town Karachi is home to opportunities. It's a place with numerous options for residential and commercial properties. Undoubtedly, it's the largest housing society in Pakistan. Even though it would be nothing wrong to say that it is the complete city within the city, this place is perfectly planned with heart-winning facilities and attractions, making it the right option for residents. At the same time, this venture offers incredible investment profits; that's why every investor wishes to invest in it. In other words, the demands are increasing with every passing day. To facilitate its customers with the best Bahria Town Karachi new deals have been launched recently.
Bahria Town Karachi New Deals
These are the new and exciting property deals of 2022, bringing a chance for safe and profitable investment for everyone. So, without any further delay, let us explore the details of these new deals:
Precinct 7 Commercial Plots Deal
The first deal we have top of the list is the commercial plots launched in Precinct 7. This precinct is located ideally at the heart-winning location of Bahria Town. It is at the drive of 4 – 5 minutes from the main gate. Moreover, it is close to Grand Jamia Mosque and lying-in front of Bahria Heights.  The new deal features Liberty Commercial plots of 266 sq yards.
The launching price of these plots is 7 crores. Booking starts with a 50% down payment. The remaining amount will be payable within 2 – 3 months. Society's management allows the construction of ground + 8 floors on a single plot. On the other hand, you can construct ground + 10 floors by joining two plots.
The price of these commercials may seem high. But believe that the rates are completely justified because of the prime location, high demand, and huge investment returns. At the same time, it's an opportunity to grow your business, do profitable construction or earn handsome rental gains. The choice is completely yours.
Bahria Central Park Apartments New Deal
Thoughtfully planned, Bahria Central Park Apartments has launched almost 1.5 – 2 years ago. These are perfectly located apartments in this mega venture. The actual location of these apartments is Bahria Paradise Precinct 54. As the name depicts, these are Central Park facing high-rise buildings. This project comprises around 10 towers. Almost 8 of these towers are developing at the fastest pace. According to the updates, around 4 – 5 floors of each tower are ready in grey structures. The speedy development and construction of Bahria Central Park Apartments are visible from a far distance now. The launching price of 2 beds apartments was 74 lacs. However, Bahria Town Karachi new deals also include the new deal of apartments.
It provides you the chance to book your 2-bed Central Park Apartment with a 2-year flexible payment plan. The total price of these apartments in the new deal 2022 is 90 lacs. Also, booking starts with 30 lacs. The remaining amount will be payable in 8 quarterly installments (7.5 lacs each).
These are the ideal apartments to call "home," as the amenities planned in them are simply amazing. Undoubtedly, Central Park Apartments offers comfortable living spaces with the flexibility of easy installments.
Villas New Deal in Bahria Town Karachi
If you are still confused between the Bahria Town Karachi new deals of commercial and apartments, then be happy as we have another option for you.
It is 3 beds villa. Yes, a new deal of Safari Villas is launched in Bahria Greens Karachi. It's a project by Q-Links Developers, a private but one of the trusted names in the real estate sector. These luxury villas are ground + 2 floors and are available on the easy payment plan of 3 years. All these villas are perfectly planned as per the latest trends and ideas.
Moreover, buying these luxury villas is 100% suitable for residence and investment gains. The prices of Bahria Greens villas are surprisingly affordable. We highly recommend buying them.
All these new deals are equally suitable for secure, profitable investment growth. Also, you will find them the best to meet your residential needs. Contact to know more!
Please Contact Universal Property Network  For More Information click here or visit our youtube channel for further assistance