Bahria Town Lahore and Lahore Ring Road SL-3 Crossover – The Impact
by UPN
August 21, 2018
0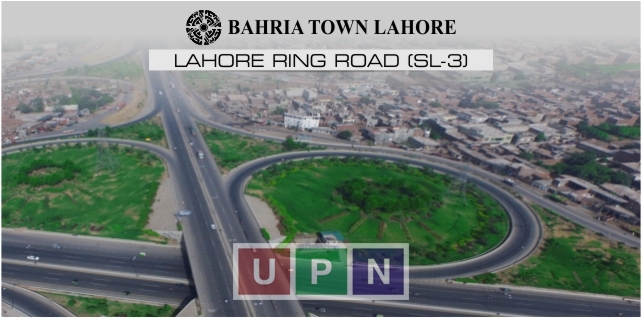 Lahore Ring Road Southern Loop 3 (SL-3) construction is about to begin soon and it will pass through Bahria Town Lahore. A number of residents and property holders of Bahria Town Lahore are looking forward to the future possibilities after this crossover. The impact post said development is being discussed by and large and it is based on mixed sort of assumptions. The market experts are looking over both sides of the picture either positive of negative for a complete overview. What will be the advantages of this route and will Bahria Town compensate those who will be affected by this crossover, let's highlight these points in detail.
The Route of Lahore Ring Road SL-3 in Bahria Town Lahore
As per proposed plan, Lahore Ring Road SL-3 in Bahria Town Lahore will start from Golf View Residencia (GVR) Phase 1 to Phase 4. Then it will move towards Jinnah Block and onwards Rafi Block and after this it will head to Jenifer Block. At last it will go through back side of Talha Block towards NFC Phase 2 where an interchange will be developed.
Impact on Bahria Town Lahore Properties
The market value of Bahria Town Lahore plots and built properties may get a boost up with this Ring Road impact. We have observed it in LRR SL-2 where property rates in neighboring societies like Lake City, Al-Kabir Town and Bahria Orchard have increased by this factors. So we can expect good times in future with respect to prices and market of the properties.
Plot/Properties In Between to Be Compensated
Definitely, some plots and properties are coming in between this proposed route of Lahore Ring Road SL-3. Be it commercial and residential, Bahria Town Lahore is compensating the affectees as per current prices or given alternatives.
Will LRR Cross Bahria Town Lahore via Flyover?
The question which arises in everyone's mind that how will this loop of Lahore Ring Road cross Bahria Town Lahore? Will there be a flyover or underpass, the official approval is still pending and most likely it will be a flyover. Bahria Town Lahore design and structure won't be affected by this and plots worth would be either remain stable or increase instantly. The addition of LRR SL-3 would further enhance the beauty of Bahria Town Lahore.
Bahria Town Lahore as Visiting Destination
Not only this route will give an easy access to residents towards distant places but will also increase visitors' footfall. Bahria Town Lahore for having major attractions like Grand Jamia Masjid and Eiffel Tower is visited by a number of people on daily basis. The Rind Road approach will increase this count further.
For more information and updates, keep visiting Universal Property Network (UPN).