Bahria Town Lahore Ghazi Block – Reasons Why It is Worth Investing
by UPN
August 30, 2018
0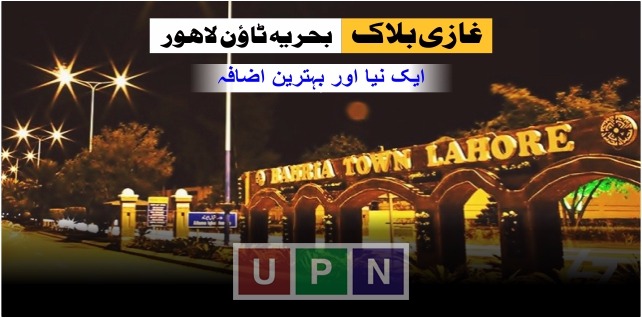 Bahria Town Lahore Sector F has been in the limelight for development activities and launch of some new deals and blocks. Ghazi Block is the new entrant in this sector and getting popular among investors for its plots cuttings available. Sector F does have a pretty good approach overall and the iconic Eiffel Tower stands tall in its premises. This combined up with few other factors and features add more value to Ghazi Block plots. Generally buyers are inclined towards those areas which can give good return on investment and equally suitable for living. Ghazi Block is said to have these features which is the reason why it is worth investing.
Outstanding Location
The location of the Ghazi Block is outstanding in the vicinity of commercial area of Ghaznavi Block. In days to come it is going to be one of the most visited areas of Bahria Town Lahore. The multiplex cinema, Ghaznavi Block commercial and its food court are so close to this block. Near the hub of commercial activities, it will emerge as an ideal residential opportunity.
Ease of Access to Lahore Ring Road
Lahore Ring Road Southern Loop (SL3) will have to pass through Bahria Town Lahore and there will be an interchange at NFC Phase 2. The residents of Ghazi Block will have easy access to this road in just a couple of minute.
Most Economical 10 Marla Plots
At the moment, Ghazi Block 10 Marla plots are the most economical plots in this cutting falling in price bracket of Rs. 47 to Rs. 55 Lacs. 10 Marla plots at this price range is not available anywhere else in Bahria Town Lahore.
Ongoing Development
The development work has been started on the site and some of the plots are now about to come on ground. Soon all plots will be on ground and the development pace will increase the prices of its plots rapidly. Ghazi Block map has already been launched.
Living Facilities and Possession
With commercials, food court and masjid available in the area of Ghaznavi Block, inhabitation in Ghazi Block will start after possession. Other living facilities and amenities will be available in this block soon and possession will be handed over after completion of development.
For local and overseas clients, it is the best option for investment. Feel free to contact our realtors for investing in any block of Bahria Town Lahore. Stay connected with Universal Property Network (UPN).