Bahria Town Lahore Ghazi Block Map Launched and Development Started
by UPN
July 27, 2018
0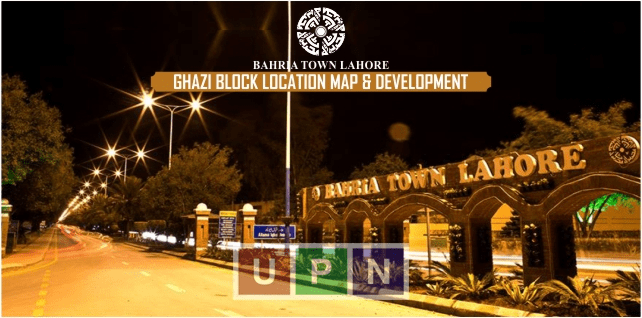 In Bahria Town Lahore, the launch of the upcoming Ghazi Block was expected and there were different opinions about it in the market. More often Bahria Town brings up with new cuttings and blocks as the development continues in some areas. Sector F still has plenty of room for development and induction of such new blocks. Earlier the updates of Ghazi Block were based on calculated assumptions but now everything about this particular block is clear and certain. Finally Bahria Town Lahore has pinpointed its location on the official map and development has been kick started on the actual site.
Ghazi Block Location Map – Sector F Bahria Town Lahore
Bahria Town Lahore has officially located Ghazi Block in its map which can tell you where exactly it is located in Sector F. Ghazi Block is ideally positioned near to food court and cinema whereas from the other side, it is close to Alamgir Block. One of the biggest attractions of Sector F Eiffel Tower is at a short distance from this block.
Ghazi Block Development
As we have already mentioned in the previous update of Ghazi Block that development is about to commence here soon. Now it has proved true as machinery has been moved to the site and working will be underway. However it depends on the pace of development activities that how quickly they wrap up the work to turn it into developed plots.
10 Marla & 1 Kanal Plots for Sector F Affectees
As Sector F affectees still have to be accommodated, Bahria Town Lahore has come up with this Ghazi Block. It will comprise of 10 Marla and 1 Kanal plots mainly and the map with respect to plot cuttings and plot positioning will be released later on.
Ideal Opportunity for Investment
At such an amazing location close to Cinema, Food Court and Eiffel Tower, Ghazi Block plots are ideal investment opportunity. In case of fully developed plots, its market value will increase further. For those looking to buy a plot in Bahria Town Lahore at reasonable price, this can be their choice.
For more information and updates, please keep visiting Universal Property Network (UPN).