Bahria Town Lahore Sector A – Best Residential Plots of 10 Marla, 1 Kanal & 2 Kanal Are Available
by UPN
May 2, 2019
0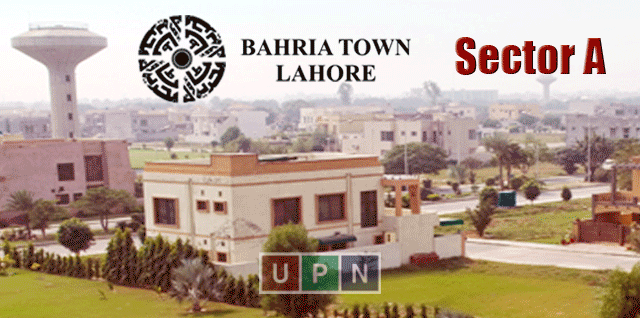 Sector A Bahria Town Lahore is one of the most attractive sectors that catches the attention of buyers for its ultimate beauty and all the world-class facilities. No doubt, Bahria Town Lahore as a whole a dream destination but most of the buyers prefers Sector A to live a luxurious life with having all the top-notch amenities at their doorstep. The easy approach to this sector, availability of attractive residential plots of 3 different categories and the beautifully constructed modern houses makes this Sector the very first choice of buyers. So let's check out some of the unique points and attractive features that make these 10 Marla, 1 Kanal and 2 Kanal residential plots ideal for residence.
Ideal Location Of  Sector A
Sector A is attractive for so many purposes among which the one is the ideal location of this sector. This sector grabs the attention of investors with its most attractive location. You can easily approach this sector by making an entrance in Bahria Town from Shahqan Chowk, Sector A is located just on the right side.
Completely Developed & The Basic Development Model
Sector A is the very first and the oldest sector of Bahria Town Lahore. It is a completely developed sector where the ratio of population is more than any other sector of Bahria Town.
Due to its beautiful development and attractive planning, Sector A simply represents the basic development model of Bahria Town; integrated development. Underground electricity, water, gas and communication supplies make this sector the best choice. Sector A is also known as the "The Garden" of Bahria Town for the abundance of "Green Gardens" in this sector.
Residential Plots & Latest Prices
Sector A is the fully developed and populated sector of Bahria Town and only limited numbers of plots are available in it as all are already sold out. This is beautifully planned with residential plots of 10 Marla, 1 Kanal, & 2 Kanal.
2 Kanal residential plots are available at the price ranges from 2.70 crores to 3.50 crore. Residential plots of 1 Kanal are available at the starting price of 1.35 crore. to 1.70 crores. However, the prices of 10 Marla residential plots started from 90 lacs to 1.10 crore.
Not only residential plots but the beautifully constructed houses of three different categories and unique styles are also available in this Sector. These houses are beautifully constructed by builders and now they are selling it at the attractive prices.
Provision Of  World- Class Amenities & Best Option for Residence
Sector A is a well-planned and beautifully developed sector of Bahria Town where all the world-class amenities and unique features of this great project as already provided to its residents. There is a well-designed Zoo and Bird Sanctuary and at the same time, there is an international standard of school for kids. The sector has its own mosque, hospital facilities, and fully-operational commercial area. The provision of all these facilities definitely makes Sector A, the best option for residence.
If you are looking to buy or sell any property in Bahria Town Lahore, just contact Universal Property Network.