Why To Invest In Bahria Town Lahore? Facts That Makes it Preferred Option
by UPN
April 15, 2019
0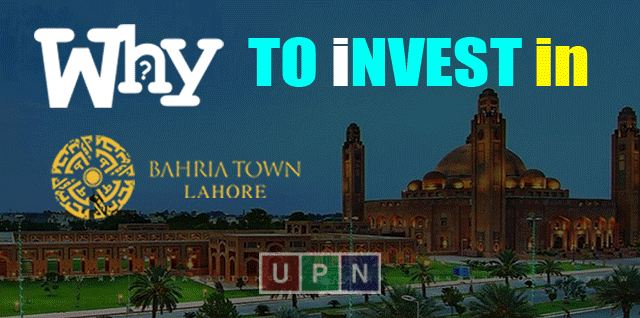 Whenever we plan to invest in real estate sector of Pakistan, especially in Lahore, Bahria Town Lahore always remain tops the list. Investors with huge sum reserved for investment always prefer to invest in Bahria Town Lahore. No doubt, DHA Lahore is a star option but Bahria Town Lahore attracts equal numbers of investors and buyers for the top-notch amenities and unique features.
Bahria Town Lahore offers the world-class and finest facilities in it. And the world-class infrastructure also attracts more numbers of investors to it. These are the only reason that in only a few years of its launch, it has become a top choice for luxurious residence and profitable investment. But if you are still confused to make the investment in Bahria Town Lahore and looking for more details, let's check out the facts that make its preferred option for investment.
A City within City
It is one of the most revolutionary developments in Lahore, as it is also known to be a city within the city because Bahria Town provides all the world-class amenities and finest facilities within the project. Adding more, the international standard services and appealing infrastructure also makes it unique for residence. Bahria Town Private Limited blends modern developments, high-rise buildings with green vast lands to give and to keep the project modern touch alive. It would be nothing wrong to say that Bahria Town Lahore is providing everything that is needed for a well-balanced lifestyle including all commercial, recreational, and infrastructural facilities in it.
Multiple Options At Affordable Rates
This attractive housing community is catering to the large numbers of property investors in Pakistan. But in opposite to many posh residential projects, Bahria Town Lahore has won the heart of investors and catches their attention with its affordable housing options and state of the art facilities. Different sizes of residential plots are available with easy installment plan and they have also introduced a low-cost affordable plan "Awami Villas" that is also a big reason for its popularity among buyers.
Uninterrupted Electricity Supply
Everyone knows that the load shedding of electricity is the biggest problem in our country and that becomes intolerable during the summer season. However, Bahria Town Private Limited has left no stone unturned to save the residents of Bahria Town Lahore from this suffering and installed its own Grid Station to produce electricity.
100% Secure Investment
The investment in real estate market delivers with the satisfaction of security along with promising profit, which is enough to persuade people to invest in Bahria Town.  This fantastic housing project is divided into various blocks that induce everyone to invest in homes, flats, and plots no matters; you belong to the middle class, elite class or an overseas Pakistani. More and more investors invest in Bahria Town Lahore not just to build their homes but to gain benefits in terms of high return on investment.
Top Amenities & Modern Lifestyle
Bahria Town Lahore is located on at the ideal location of the city and designed with all the top-class facilities that are needed to enjoy a modern lifestyle.  Bahria Town has its check-post at the entrance, own security system with guards, and modern patrol cars. All the modern-day facilities including shopping center, well-designed commercial zone, different branches of banks, well-equipped gym, modern spas and salons, well-maintained parks, clean and quality bakeries and confectioneries, own hospital and clinics and different entertainment venues are available for Bahria Town Lahore.
For best consultancy services, contact Universal Property Network.