Bahria Town Lahore Sector H – Location Map, Payment Plan, and Complete Details
by UPN
October 1, 2022
0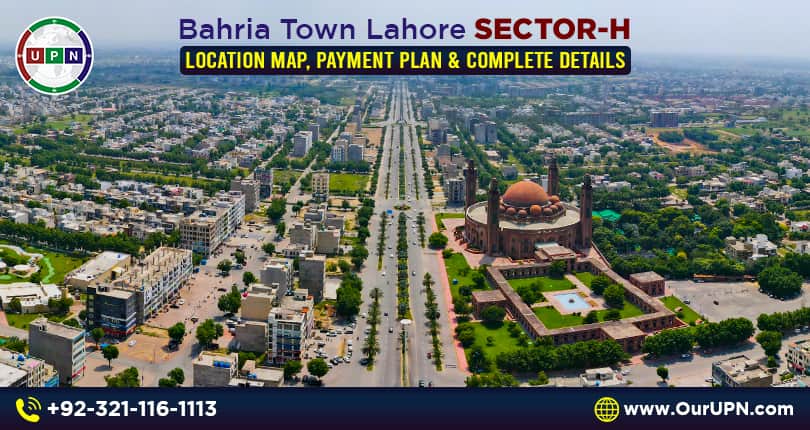 Are you looking for incredibly beneficial investment opportunities in Lahore? Searching for something exceptional? Invest in Bahria Town Lahore Sector H! It's a new sector launching soon. Yes, the top real estate developers, the champions of modern housing societies, and Bahria Town have officially confirmed it. The launch of Sector H Bahria Town is one of the biggest announcements made in the last few days.
Like all the previous sectors of Bahria Town Lahore, this sector will have all the incredible amenities and attractions. Even, it will have advanced and more attractive developments, designed as per the latest standards. This Sector H will indeed be a complete residential package for its residents. Here people will have access to every top-class amenity which they can dream and desire in any society. Moreover, it will also facilitate people looking to grow their investments smartly. So, let's have an overview of this project, the details that will surely help you in making the right investment decision.
Sector H Bahria Town Lahore Plots for Sale
This beautiful sector of this appealing society, Sector H will have the best plots for sale. It will offer a wide range of residential and commercial properties. As it's a new sector with new opportunities, it is currently offering the following categories of plots:
5 Marla Residential Plots
8 Marla Residential Plots
5 Marla Commercial Plots
These plots are available in general and with category. You can confidently choose the best, suitable option as per your requirements.
Bahria Town Lahore Sector H Location
The location of Sector H Bahria Town Lahore is prime and easily accessible from multiple routes. Indeed, it's a new sector but has already won the hearts of investors with its significant location. This sector is ideally located adjacent to Sector G and has the main entrance on Jati Umrah Road. Its actual location is the front of Bahria Orchard Gate no 6. This location is around 3 – 4 KM away from the Thokar Niaz Baig Adda Plot. Moreover, this Bahria Town Lahore Sector H is a short distance from Sharif Medical Complex. The surroundings of this project are impressive, well-developed, and have a good approach.
Sector H Map
Bahria Town management has also revealed the official map of this sector. Yes, Bahria Town Lahore Sector H Map is officially launched. The land of Sector H spreads over 300 Kanal while it will further comprise different blocks. All of these blocks will be fully facilitated and offers the best plots.
Sector H Payment Plan
As per the market details, the plots in Sector H Bahria Town Lahore will be available for booking. One can confidently book it with a 50% down payment and 50% will be payable after 3 months. Bahria Town management will soon reveal the complete payment plan for Sector H plots.
Expected Prices
The actual details of prices will be available in the next couple of days. However, as per the updates we have, you will be able to buy Sector H plots at the following prices:
5 Marla Plots for Sale in Sector H will cost you in the price bracket of 65 lacs
8 Marla Plots for Sale in Sector H Bahria Town are available in the price range of 85 lacs.
Some of these plots will be category paid while others will cost you 10% extra.
The official rates with the complete payment plan will be shared soon.
Buying in Sector H
Bahria Town is always a top-class option for residential and commercial investment in Lahore. This society offers the hard to find amenities within its axis. That's why people blindly trusts it and find it's a suitable option. If you are also in the search of something beneficial within reasonable price investment, this Sector H is an exceptional choice. Your investment will be secure and grow high.
Frequently Asked Questions
Here are the answers to some commonly asked questions about Bahria Town Lahore Sector H.
Is Sector H Bahria Town Lahore LDA Approved?
The management of Bahria Town has already purchased the complete land for the development of Sector H. However, its application will be soon submitted for official approval from LDA.
What is the Official Launch Date of Sector H?
This incredibly beautiful sector is officially launching in a couple of days. You will be soon able to book your plot.
What are the Benefits of Investment in Sector H Bahria Town?
Sector H plots for sale will be among the top hot properties in the real estate sector of Lahore. Your buying in this project will highly benefit you for both residential and investment purposes.
So, what are you waiting for? Get prepared to make the most profitable investment of the year 2022 by investing in Bahria Town Lahore Sector H.
Please contact Universal Property Network or visit our Youtube channel for further assistance