Iqbal Block Bahria Town Lahore New Deal
by UPN
September 3, 2022
0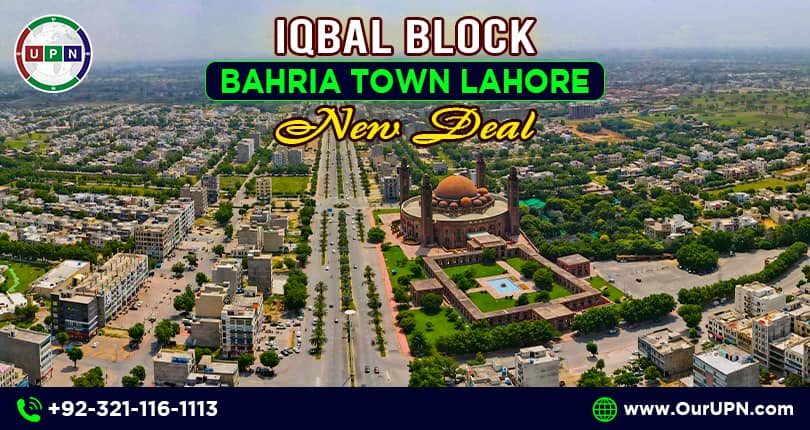 Bahria Town Lahore is an iconic development, a premium housing venture in the heart of Lahore. Launched many years, it's a perfectly developed society with state-of-the-art amenities. Previously, this project was featuring total of six sectors but now it has seven sectors as Sector G is the recent addition to it. But today, we will discuss Iqbal Block Bahria Town Lahore new deal. It's a beautiful block located at the prime location of Sector E. Also, you will find new and beneficial investment opportunities in Sector G. Further details are:
Bahria Town Lahore New Deal
The new deal of plots is launched at the graceful location of Sector E in Iqbal Block. These are 5 Marla and 10 Marla residential plots. Launched in the proximity of complete developed and inhabited houses, these plots are available in general and special categories. Most importantly, these Bahria Town Lahore new deal plots are announced with open forms. It means no transfer will be charged to you and you will be the first owner of your property.
The launching prices of these plots are:
5 Marla Residential Plots in Iqbal Block New Deal:  85 Lacs
10 Marla Residential Plots in Iqbal Block New Deal: 145 lacs to 155 lacs (both general and category are available).
Current Development Status of Iqbal Block New Deal
Iqbal Block is one of the most beautiful and perfectly developed blocks of Bahria Town Lahore. It features complete development and has a good inhabitation ratio. A large number of families are living there and enjoying good health. The living amenities provided there are of top quality. People find it a suitable place for residence. Also, several builders are working there and offering ready houses for sale. Access to Bahria Town's main attractions is easy. Especially people have quick access to educational and healthcare facilities.
Bahria Town Lahore New Deal Development Update
The new deal plots of Iqbal Block are launched after demolishing the boundary wall. The entire land in its proximity is purchased by Bahria Town. It is now 100% legal and verified land of Bahria Town Pvt. Ltd. Thus, the new deal plots of 10 Marla and 5 Marla are offered to its residents. Currently, the work on land leveling is started. Soon, you will see the development of plots on the site. These developers are always very quick and well-reputed in completing the development work of new deals. Hopefully, the possession of these plots will be handover within the 6 months of booking start.
Any Other Attractive Plots Deal in Bahria Town Lahore?
Like we always claim that Bahria Town is a place where you will find countless opportunities. This society holds significant importance in the heart of investors and buyers. Currently, it is offering incredibly valuable residential plots in Sector G. These are 5 Marla, 10 Marla, and 1 Kanal plots. The rates for these plots are low while booking starts with a reasonable amount of down payment. Also, there I the availability of 5 Marla commercial plots which further boosts the worth of this place.
Reasons to Invest
There can be several reasons to invest in the Bahria Town Lahore new deal plots. But the most significant features of these plots are:
Ideal Location and Easy Access
Reasonable Price Plots
Available on Open Form, Means No Transfer Fees
On-Site Development Work Started
Availability of all the Latest Amenities
Perfect for Construction and Residence
Impressive Opportunity for Investment Growth
So, whatever your reason for investing in these new plots is, you should make the right time decision. These are 100% valuable plots offering beneficial opportunities to everyone.
Frequently Asked Question
Here are the answers to common questions about Bahria Town's new plots:
What is the location of new deal plots?
You will find them located in Iqbal Block Sector E and Sector G located adjacent to Sector F.
What is the biggest benefit of investment in these new plots?
Buying is beneficial because of reasonable rates and availability on open forms.
Is investment secure?
Yes, your capital in Bahria Town Lahore plots will be secure and you will get handsome returns.
Contact UPN for further assistance and details of new deals in Bahria Town Lahore.
Please contact Universal Property Network. Visit our Youtube channel for further assistance.