Bahria Town New Year Eve Celebrations on Its Way
by UPN
December 31, 2022
0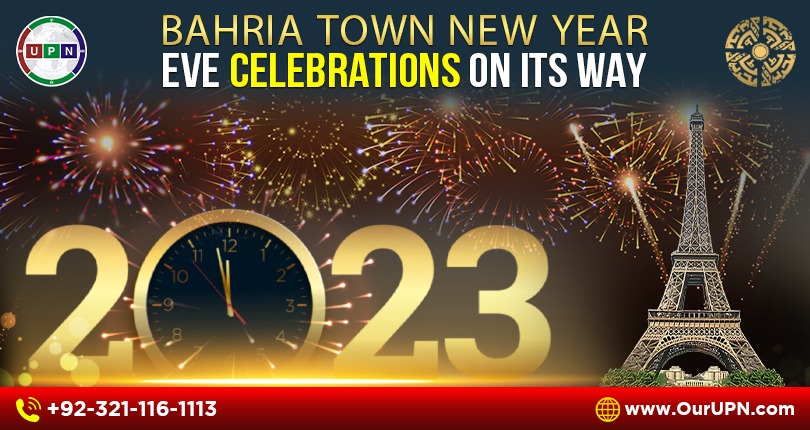 Every country celebrates New Year Eve as New Year brings hope, happiness, and new opportunities. But Bahria Town has a tradition to welcome every New Year with grand celebrations turning it into the biggest party. New Year 2023 is around the corner, preparations have already begun especially in the big cities of Lahore, Karachi, and Islamabad.
Eiffel Tower Bahria Town Lahore Fireworks | New Year Night 2023
This time, New Year's Eve will be marked on the Weekend, which is a good refreshment for workers, students, and families. Every year Bahria Town celebrates the New Year. As per the traditions, this year too, the New Year events are going to be accompanied by huge fanfare and grand festivities. The style of Bahria Town's celebration will be the same but this time the festivities and the celebrations are going to be grander, more exciting, and more joyful. These celebrations will also contain the good news of the great grand launch of Bahria Town Karachi 2. Planned to provide an excellent and innovative living environment, BTK 2 will truly define class, quality, and a luxurious lifestyle.
New Year 2023 Celebrations at Bahria Town
Like every year, this New Year Eve will also be celebrated in Bahria Town Style throughout Bahria Town Lahore, Rawalpindi/ Islamabad, and Karachi. Let's prepare for the most-awaiting, heart-warming event of the year. These Bahria Town's New Year Events will be a reason for families' cheers and joys with their loved ones.
Bahria Town will host the most spectacular fireworks displays on New Year's Eve 2023. There will be a lit laser show, grand fireworks and food stalls, games, music concerts, and much more. Overall, Pakistanis will welcome this Happy New Year 2023 with lots of fun, mastic, maza, and music.
New Year Celebrations Lahore
Bahria Town management is also arranging the mesmerizing New Year Eve event at Bahria Town Lahore.
All eyes will be on the Eiffel Tower as Bahria Town promises a massive fireworks display. It will be grand New Year Celebrations where thousands of people will gather and experience the unmatchable joy and happiness. Following its tradition to celebrate the coming year in full swing by lighting up the sky as the clock ticked midnight. Also, people will able to take part in various games and quizzes, there will be food stalls, live music and more.
New Year Night Celebrations at Eiffel Tower - Bahria Town Lahore Fireworks Update 2023
Venue: Bahria Town Lahore Eiffel Tower
New Year Eve Celebrations will Begin 7 Pm Onwards.
New Year Celebrations Karachi
The New Year 2023 festivities and celebrations in Karachi will be grander, more delightful, and more spectacular. This time, Bahria Town is arranging the grand New Year Event in Bahria Town Karachi 2. The event is going to take place on 31st of December and will start at 7 pm sharp onwards. These celebrations will have grand fireworks, a magnificent laser show, food stalls, and above all a live music concert by Atif Aslam and other performers.
Happy New Year Celebrations 2023 Fireworks in Bahria Town Karachi - New Year Eve
Venue: 25°07'59.0″N 67°37'11.2″E
New Year Celebrations Islamabad/Rawalpindi
When everyone in Lahore and Karachi is ready to celebrate New Year Eve 2023, then why are the people of Rawalpindi and Islamabad left behind? Don't worry! The people of the twin cities will also experience great New Year Celebrations as Bahria Town will arrange a grand party, food fest, music concert, and much more. These grand festivities will take place at Bahria Enclave Islamabad.
Venue: Trafalgar Square Bahria Enclave Islamabad
New Year 2023 Celebrations will start at 7 PM Onwards.
No Tickets or Entry Fees
The most fascinating aspect of all these New Year events is that there are NO TICKETS required, which means Free Entry. Bahria Town welcomes all the families to attend this grand event and have a fantastic time. So, set reminders and don't miss out on this chance of mesmerizing hangouts and happy moments as you will surely have Quality Time. Come and join Bahria Town to enjoy a night filled with loads of fun!
Happy New Year 2023 from Universal Property Network
Universal Property Network wishes you a Happy New Year 2023. May this New Year bring new hopes and pleasure into your life. We wish that this year proves to be a successful and luckiest one for you. Wishing you a joyous 2023.
Please contact us through WhatsApp, the Contact Us form, or visit our UPN Youtube Channel for further assistance.