Bahria Town Office Opened in Al-Rehmat Project – Latest Update
by UPN
April 30, 2018
6 Comments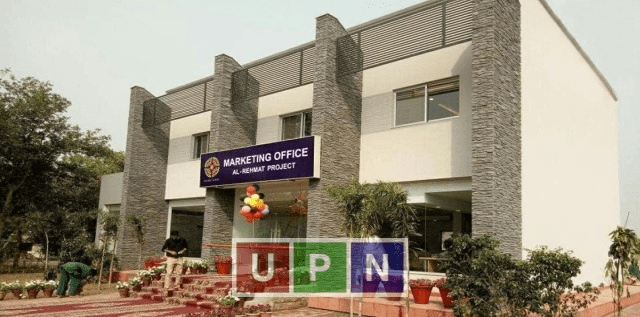 Al-Rehmat Project registered as Al-Rehmat Housing Scheme a semi commercial venture of Bahria Town Private Limited in Lahore. Known as Old Ittefaq Foundary Commercial, it is located on Peco Road in the vicinity of the top residential areas of the city. Al-Rehmat Project layout plan got LDA approval after a couple of revisions which put its marketing on hold. But now after the said development Bahria Town is focused to properly market this project for the next stage. It could not happen without a sales and marketing office of Bahria Town on site of Al-Rehmat project to serve buyers (investors).
Bahria Town Marketing Office Opened in Al-Rehmat Project
After quite some time, Bahria Town has taken the right step which was needed for this project. Bahria Town Marketing Office has been opened in Al-Rehmat Project for facilitation of concerned dealers and investors (buyers). Country Head Bahria Town Karachi Mr. Shahid Qureshi did the honors for inauguration and all authorized dealers were present at the occasion. Addressing to the attendees, Mr. Qureshi vowed that Al-Rehamat Project will lead by example among all semi commercial projects of the city. Bahria Town has always fulfilled all its commitment and we will have to wait and see the progress of this project.
Al-Rehmat Project Investment Prospects
Initially, it was supposed to have only 4 Marla and 5 Marla commercial and semi commercial plots. But after the revised layout, project owners will have to create a balance between residential and commercial divide. We can expect new opening other than already existed cuttings. The overall location is highly suitable for a project of this kind as areas in the surrounding are densely populated and developed. For students and families who have moved to Lahore, it would be great investment options for them for living purpose.
Still lot of details to be unfolded and we will update you on time about any development of this project. Please keep visiting Universal Property Network (UPN).