Bahria Town Phase 8 Extension – Latest Updates
by UPN
March 30, 2022
0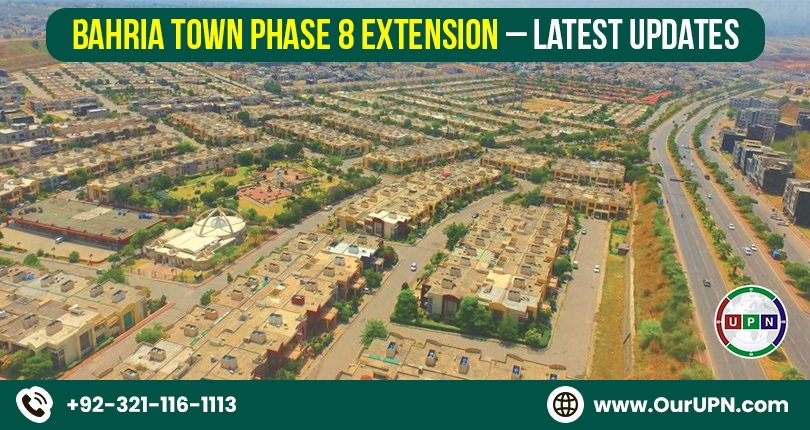 Bahria Town Phase 8 Extension is one of the biggest phases of this society in Islamabad. Located ideally in the proximity of Awami Villas Sector 3, this project offers a range of residential properties for sale. Designed thoughtfully as per the latest standards and demands of investors, this Phase 8 Extension is a gateway to unlimited opportunities. Buying property in this society is beneficial for those looking to gain handsome returns. At the same time, buyers planning to build their dream houses in the next few years will surely find it a suitable option.
Having ongoing development and perfect planning, this Phase 8 Extension is growing as the top commercial hub of Asia. A large number of top-class projects are launched in it where investment will return you more than your expectations. Further details are:
Bahria Town Phase 8 Extension Project Plan
Covering a large area of land, Bahria Town Phase 8 Extension is divided into six precincts. All of these precincts are the true description of the class, luxury, style, and facilities. Its precincts are developing rapidly. However, the completion of development work will take around 4 – 5 years. The plots sizes available for sale in this appealing project are:
5 Marla
8 Marla
10 Marla
1 Kanal
Despite all of these impressive features and the trademark amenities of Bahria Town housing societies, this extension offers the lowest prices for plots.
There would be nothing wrong to say that Phase 8 Extension is the most affordable investment option in any of the Bahria Town projects in Islamabad. Before sharing the block-wise development details and the prices of plots, let's have an overview of this project's location.
Location of Bahria Town Phase 8 Ext
This beautiful residential scheme is located ideally on the Adiala Road-Rawat Road Link adjacent to Phase N of Bahria Town Phase 8 Awami Villas Sector 3 is also located in the vicinity of this project. Several top-class developments are lying nearby. Moreover, its Rose Block has a direct connection to Ring Road New Extension. Yes, it's the most significant feature of this project. This Phase 8 Extension is the nearest project to the developing Rawalpindi Ring Road new patch. So, surely it will get more benefits once this mega project gets operational.
Prices and Plot for Sale
The plots prices are affordable, providing a chance for safe, sound, and profitable investment in twin cities. Below, we are sharing the minimum to maximum prices of residential plots:
5 Marla plots for sale in Bahria Town Phase 8 Extension are available at the starting prices of 25 lacs to 35 lacs. Similarly, 8 Marla plots will cost you between 40 lacs to 45 lacs. On the other hand, 10 Marla residential plots are available in the price bracket of 50 lacs to 60 lacs. The residential plots of 1 Kanal are priced between 85 lacs to 90 lacs.
Prices Six Months Ago
The current prices of plots are still reasonable. But only six months ago, the same plots were available in the range of 9 lacs to 13 lacs (5 Marla). The prices for 8 Marla plots were 25 lacs to 30 lacs. 10 Marla and 1 Kanal were also available at the lowest rates. This rapid increase in the prices is because of the speedy development on the site and the final approval of the Ring Road Rawalpindi map. Also, the increasing demands are the major reason behind the increasing rates.
Development Updates 2022
The development work on the site of Phase 8 extension Bahria Town Rawalpindi is going on smoothly. The first precinct after the entrance is Precinct 6 while the remaining comes next to it. The development work of this entire extension is carried out in patches. For example, some of its areas are developing while the development work will soon begin in the remaining areas.
Phase 8 Extension have six precincts which are developing as:
Precinct 1 is going through speedy development. Its Precinct 2 also has impressive development as the earthwork is complete and roads infrastructural work is in the process. Precinct 3 and Precinct 4 are also developing rapidly. On the other hand, Precinct 6 features partial development. Also, some of the development can be seen on the site of Precinct 5.
Investment in Bahria Town Phase 8 Ext.
One of the biggest reasons to choose this project for investment is the affordable rates. The ROI in this extension is high. The nearby location to RRR indeed increases its worth. People who desire to make a long-term investment of 3 – 4 years can earn maximum benefits with the right time investment. Plots prices are increasing every month. So, please don't wait and invest today by contacting us directly! Contact us for Bahria town phase 8 extension current prices.
Please Contact Universal Property Network  For More Information click here or visit our youtube channel for further assistance