New Tax Rates in Bahria Town Projects
by UPN
August 25, 2022
0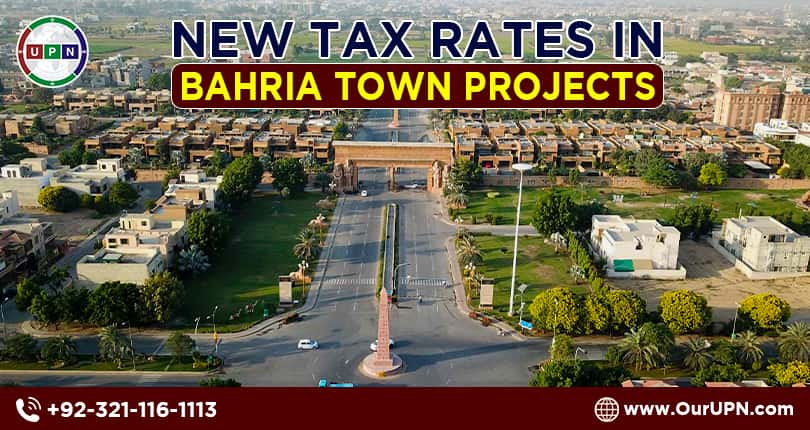 Real estate is one of the most important and popular investment platforms in Pakistan. A large number of people are connected with it and making thousands of transactions daily. Recently, FBR has implemented some new property taxes on non-approved areas and blocks of housing societies. That's why both buyers and investors are curious about the new tax rates in Bahria Town projects. Bahria Town housing societies appear prominent in the property sector, especially in Lahore. These new taxes and implementation by government bodies will surely affect the properties available for sale in Bahria Town.
In this latest write-up, we will discuss the new rates of taxes imposed in different areas of these appealing residential ventures.
Tax Rates in Bahria Town Lahore
Bahria Town Lahore features a total of six sectors where you will find 100% development and the best properties for sale. The amenities available there are unmatchable and enough to provide a peaceful and comfortable lifestyle to its residents. Four of these sectors are 100% LDA approved i.e., Sector A, Sector B, Sector C, and Sector D.
The taxes on property transactions in these LDA-approved sectors are TMA Tax, Stamp Duty, Advance Income Tax, and Capital Gain Tax. Both buyers and sellers are bound to pay these taxes. However, previously the property transactions in non-approved areas were free of all such taxes and investors only pays the transfer fees.
Recently, the federal government has made some amendments. FBR has implemented some new taxes on non-approved areas of societies including the Sector E and F of Bahria Town. As per government policies, now the investors will have to pay Advance Income Tax on all purchasing and selling of properties. This rule will be applicable to all the blocks and areas of Bahria Town Lahore's non-approved sectors i.e., Sector E and Sector F.
These new tax rates in Bahria Town will be calculated as:
2% on filer at the time of purchasing property and 5% on selling property
Similarly, a non-filer will have to pay 4% on buying property and 7% on selling property.
The same rule will be applicable to all Bahria Town projects such as:
Bahria Town Lahore, Bahria Orchard Lahore, Bahria Nasheman Lahore, Bahria EMC, and Al-Rehmat Housing Society.
Why You Should Do?
Well, the new tax rates in Bahria Town projects are adding a burden, but still, they have to pay. However, it is advisable that if you are a non-filer and going to do a property transaction, please get yourself registered first. Registering yourself on a tax platform will make you able to save a handsome amount from advance income tax. Becoming a filer is not only beneficial for you in the real estate sector but will also benefit you in different fields.
Is It Still Good to Invest in Bahria Town Lahore
The new tax rates in Bahria Town projects will increase the prices of residential and commercial properties. However, it is still a good chance to get your desired property in Bahria Town Lahore and other projects. You will only have to pay advance income tax rather than paying stamp duty, capital gain tax, etc, which must be paid in LDA approved sectors.
The rates of plots and houses in Sector E and Sector F Bahria Town Lahore are reasonable. These are ideal to get your dream residential property. These options are giving you the opportunity to make a profitable investment at the right time. You will surely earn handsome returns.
Bahria Town Housing Societies are full of options. You can get the property of your desires as per your budget. Not only Bahria Town Lahore but Bahria Orchard, Al-Rehmat Housing Society, and Bahria EMC are the best choices for buyers and investors. These are fully-facilitated residential ventures where your living will be like enjoying in the womb of amenities. On the other hand, it will be the most beneficial real estate investment in terms of profits.
You can confidently contact our experts at UPN to get the details of the latest opportunities. These options are ideal for residence and investments in these projects.
Frequently Asked Questions:
Is there any new taxes in Bahria Town Properties?
Yes, FBR has imposed some percentages of advance income tax on non-approved areas. This rule is applicable on all the housing societies in Lahore.
Is buying still worth in Sector E and Sector F?
Your investment will be safe and surely grow. These new tax rates are still reasonable to make a profitable buying in Bahria Town Sector E and Sector F.
Please contact Universal Property Network For More Information or visit our Youtube channel for further assistance.