Best Four Blocks in Bahria Orchard Lahore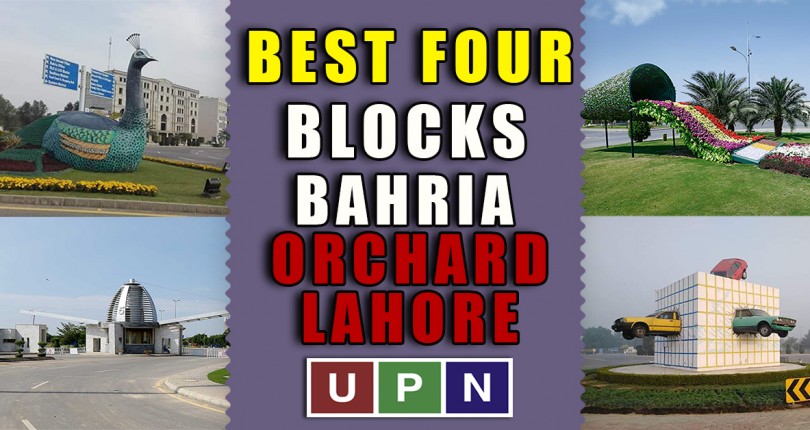 Whenever an investor plans to invest in Bahria Orchard Lahore, he prefers to choose the best of the best options for it. Every investor prefers to invest in the ideally located property, which has easy access to all the facilities, including the commercial markets. Also, an investor desire to invest in a property which is equally best for residence and investment point of view. So, if you are investing for the first time in Bahria Orchard Lahore, you must want to know about the four best blocks and investment options in it. Today, we are here with the complete details of these best properties that will surely help you make the wise decision.
Best Block in Bahria Orchard Phase 1
Central Block with maximum facilities. All the other blocks have different attractive facilities. But Central Block is the best one among them. This block has all the facilities like school, mosque, commercial markets, petrol pump and parks. Indeed, it is a block where you will be facilitated in every walk of life.
You cannot consider this block for investment because the prices of residential plots are already at peak. Plots of 10 Marla are available in it where you can confidently start construction.
However, it is important to mention here that all the other blocks of Phase 1 also have many attractions. You can easily choose the one suitable option as per your requirements.
Best Block in Bahria Orchard Phase 2
This phase of Bahria Orchard also has many blocks where buying is suggested. However, C Block is one of the best blocks for residence. It is a centrally located block of Bahria Orchard Phase 2. This block is developed with an operational mosque and a standard restaurant. Bahria Head Office, a zoo, and Trafalgar Square are also located in C Block.
Plots of two different sizes are available where the prices are reasonable. Buying in them is good for construction as well as to meet your investment needs.
Best Block in Bahria Orchard Phase 3
Phase 3 of Bahria Orchard Lahore is not divided into further blocks. This phase is offering the best plots of 8 Marla. All the plots are on-ground and available with possession. The two main attractions of this society are its direct access to Phase 4. Also, it enjoys a direct approach from Main Raiwind Road. Moreover, the development of Broadway Heights in proximity also positively impacts the 8 Marla plots of it.
Best Block in Bahria Orchard Phase 4
Bahria Orchard Phase 4 have a total of six blocks in it. However, the very first block, G1 Block, is known to be the best block among them. The main attraction of this block is Rose Garden which is a 105 Kanal beautiful park. Developing at a satisfactory pace, this park will be ready soon. Moreover, there is a mosque near completion in G1 Block. Also, an attractive development of Times Square and Residency, a multi-purpose project is developing in this block. Plots of 1 Kanal are available in G1 Block which is simply heart-winning for residence and investment.
Conclusion
While summing up this information, we can say that all the above-mentioned blocks of Bahria Orchard Lahore are best for residence and investment. However, the other blocks like Eastern Block, Eastern Extension, OLC B Block, G5 and G6 Block are also good to generate huge investment potential. Liking and disliking of a block totally depend on an investor choice. If you are looking to buy any property in any of Bahria Orchard Lahore blocks, Contact Universal Property Network  For More Information click here or visit our youtube channel further assistance.  We will definitely provide you with a property deal of your dreams!