Best Rental Income Opportunities in Bahria Town Karachi
by UPN
April 28, 2021
0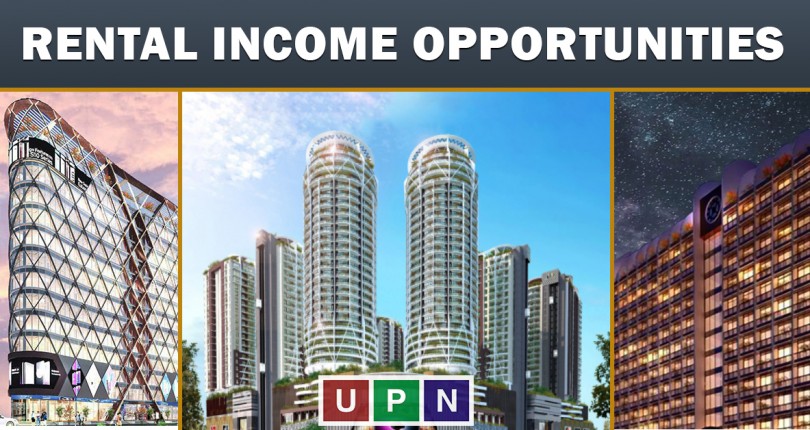 Bahria Town Karachi, the investor's paradise, is home to opportunities. It's a secure, gated community, offering heart-winning living spaces. These residential plots and constructed properties come with the best facilities desired to live comfortably. Also, it features a wide range of commercial properties for business and investment gains. However, Bahria Town Karachi also offering you the best rental income opportunities in it. These opportunities are available in both residential properties as well as in commercial properties. But here the question is "which one is the best?" Let's find the answer below:
Bahria Town Karachi Rental Income Opportunities
Investing in the properties for sale in Bahria Town for rental returns is very much beneficial. Here you can invest in plots, villas and residential apartments. However, after analyzing the overall market of Bahria Town Karachi, we conclude that the rental gains in commercials are high.
By only investing an amount of 1.5 crores in a commercial property like shops and offices for sale in Midway Commercials, Liberty Commercials, Theme Park Commercials, you can start earning 80-90 thousand rent. On the other hand, the rental income after investing 2 crores in Quaid Villas is 70 thousand.
Similarly, if you can invest in 10A Villas, you can earn around 30-40 thousand. Also, the rental income after investing in Precinct 19 apartments is around 25 -35 thousand.
But if we discuss the rental returns by investing in the commercials developing in high-rise projects, it can provide you with more than 90 thousand on the ground floor. Even the rental income can exceed up to 1.5 lacs in some cases. Some of the high-rise commercial projects where investment is recommended are:
Liberty Clock Tower
Dominion Grand Mall
Dominion Food Street and Apartments
Abul Qasim Super Market
Tech Mall
Doctors Plaza
Also, there are several high-standard projects by the well-known private builders such as:
Abul Qasim Real Estate and Developers
Dominion Developers
Most importantly, many of the shops and offices available in the above-mentioned projects are available in installments.
Buying in developing commercial projects is secure and beneficial. So, if you are searching for an excellent investment opportunity in commercial properties for sale in Bahria Town Karachi, please contact us. We will surely provide you with the deal of your dreams!
Please contact Universal Property Network  For More Information click here or visit our youtube channel further assistance