500 Sq Yards Plots Options in Bahria Town Karachi
by UPN
April 28, 2021
0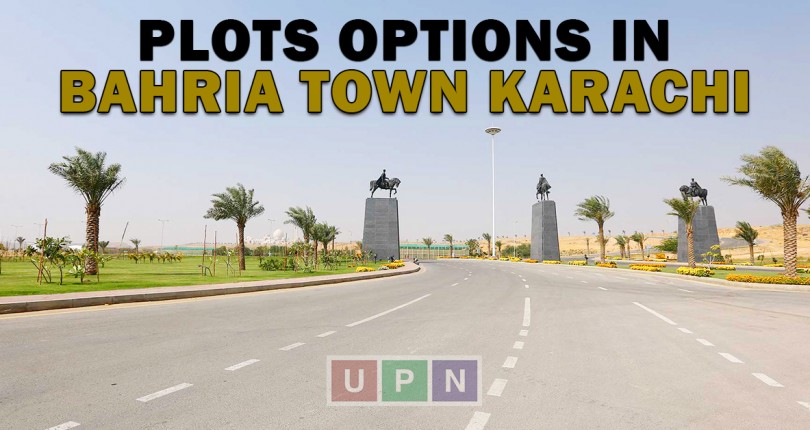 A home to opportunities, Bahria Town Karachi is the first choice of investors and buyers when investing in Karachi. It's a mega-development in Karachi, more than a housing society where the demand for plots is very high. It features several sizes of plots. However, those who desire to build spacious dream homes consider buying in 500 sq yards. Also, this category of plots a good to make a profitable investment but location and prices matter a lot.
As described earlier, there is an abundance of 500 sq yards plots for sale in Bahria Town Karachi. You can buy these plots in Old Bahria Town precincts, Bahria Golf City, Bahria Paradise and Bahria Sports City. The prices for these plots are different as per location and development. But today, we will only discuss the best 500 sq yards plots available in Old BTK Precincts.
Availability of 500 Sq Yards Plots in Old BTK
The plots of 500 sq yards in the precincts of Old Bahria Town Karachi are available for sale in:
Precinct 4
Bahria Hills, Precinct 9
Precinct 17 and 27A
Precinct 29 and Precinct 33
Bahria Golf City
Here we are sharing the overall prices of plots in these precincts and the details where investment is recommended.
Precinct 4 and Precinct 9 Bahria Hills Plots
Bahria Town Karachi features the best 500 sq yards plots in two of its best precincts, Precinct 4 and Precinct 9. The development work of these precincts is completed, and the construction of houses can be seen on the site. Both these precincts have a good construction. The prices for the plots in both these precincts are almost the same. However, some unique/ideally-located plots will cost you high. The average prices of plots in Precinct 4 and Precinct 9 500 sq yards plots start from 1.45 crores to 2 crores. These are the best precincts where buying plots is recommended for construction purposes.
Precinct 17 Plots of 500 Sq Yards
The construction status and facilities are good in Precinct 17. However, the buying and selling are less. The prices for the plots are also reasonable. Moreover, the distance of this precinct from the major attractions of Bahria Town Karachi is also less.
Precinct 27A and Precinct 29
Both these precincts are located close to Bahria Golf City and offering affordable price plots for sale. The development status of these precincts is impressive. Moreover, their ideal location close to London Bridge and Avenue 17, one of the major arteries of Bahria Town Karachi, increases their worth. The latest prices of 500 sq yards plots in Precinct 27A and 29 are 70 lacs to 90 lacs. There was a time when the prices were low and available in the bracket of 40 to 60 lacs. But now the prices are increased along with the demands.
Precinct 33 Plots of 500 Sq Yards
This precinct is another good option for those who desire to buy budget-friendly plots of 500 sq yards in old BTK. The development work of this precinct is completed. Also, the commercial facilities are available as a shopping gallery is completed nearby.
Bahria Golf City 500 Sq Yards Plots
Bahria Golf City is a secure gated community inside Bahria Town Karachi. It features the heart-winning gold facing 500 sq yards plots. However, there are large numbers of normal plots launched at the price of 85 lacs. Currently, these plots are available at good prices, but still, there are some options available at minus prices.
Buying in the plots of Precinct 27A and Precinct 29 plots is good to get fruitful investment returns. You can also choose Bahria Golf City plots, but the prices for its normal plots are the same as the ideally-located plots of Precinct 27A and Precinct 29. However, again, the choice is yours!
Please contact Universal Property Network  For More Information click here or visit our youtube channel further assistance