Best Residential Plots in Ghaznavi Block Extension Bahria Town Lahore
by UPN
January 10, 2019
0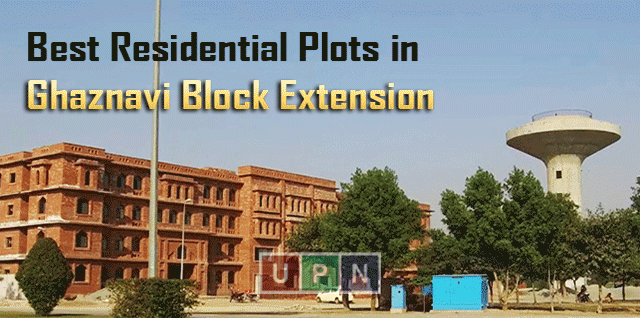 Bahria Town Lahore is a place where the demand for best deals of residential plots is increasing more and more. No doubt, that Sector F has been getting the attention of buyers and investor for different categories of residential plots in it. Especially, the recently launched new deals in Ghaznavi Block Ext. are the most exciting ones for investors.
Basically, the plots cuttings of 5 Marla, 10 Marla, and 1 Kanal are available in Ghaznavi Block Ext. but the high on demand is the 10 Marla residential plots. Ghaznavi Block Ext.is the new participant in housing communities and it is specially designed to facilitate the affectees of Sector F. The ideal location and so many attractions such as Eiffel Tower, Bahria International School is making it the right place to buy the residential plots to build your dream residence.
Ghaznavi Block Ext – Location Overview & Attractions
Ghaznavi Block Ext. is ideally located on the Main Boulevard of Sector F near to Bahria International School. If you move from the main Boulevard of Bahria Town to the Talwaar Chowk and then Eiffel Tower, it is located at the walking distance of 5 to 7 minutes.
In spite of ideal location, this block of Bahria Town Lahore is beautifully designed with top-notch facilities and feature. The multiplex cinema, state-of-the-art Mosque, a Bahria Town School, and food court are located close to it.
10 Marla Residential Plots in Ghaznavi Ext
Ghaznavi Block Ext. is providing a chance to the interested clients to buy 10 Marla plots at the reasonable rates. The cutting of 10 Marla plots is falling in the price bracket of Rs. 58 lac to 65 lacs. The prices of the 10 Marla plots in Ghaznavi Ext. vary as depending on the location of the plots. These 10 Marla plots in Ghaznavi Ext. are quite economical if make a comparison of prices with other blocks.
Investment Potential & Ideal for Residence – Ghaznavi Block Extension
For those buyers who desire to buy the 10 Marla residential plots in Bahria Town where all the top-notch facilities and features are available to them than Ghaznavi Block Ext. is the right choice. So many attractions and facilities of Bahria Town will be provided to its residents.
Another great option is to make the investment in these 10 Marla residential plots and earn a handsome profit with it. The increasing popularity of Sector F is giving a positive sign to investors to buy these 10 Marla plots at reasonable prices. As soon as the development is completed, the prices of the available property in Ghaznavi Block Ext. will definitely increase.  
For further details and updates, stay in touch with Universal Property Network