Bigger Size of 2000 Sq. Yards Plots Cuttings in Precinct 3 – Latest Updates for You
by UPN
February 6, 2019
0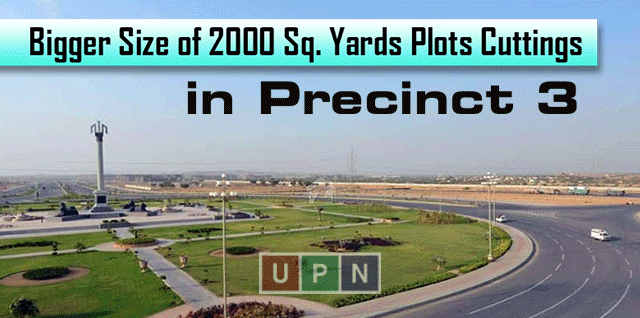 Bahria Town Karachi is an outstanding housing project of the country that is designed with world-class amenities and the unmatched facilities in it. It is very clear that the starting blocks and the sectors of any housing project always catch the attention of investors and buyers. Like the same Precinct, 3 have significant importance in Bahria Town Karachi. This Precinct has played a vital role in building the very first impression of this largest housing project just after its inception.
Bigger Sizes of Plots in Precinct 3
Basically, the plots cuttings of 2000 sq. yards are available in this precinct and the possession is already announced so far. The development of Precinct 3 is about 90% to 95% completed. These plots of 2000 sq. yards were launched on the easy installment plan that is already completed and now the plots are available with own price.  Let's discuss the further details.
Outstanding Location and Approach
Precinct- 3 is one of the hot-favorite precincts among all the other precincts for its nearest approach to the Main Entrance of Bahria Town Karachi. It is positioned at the difference of 500 Meters from the Main Entrance. It is located at the Main Jinnah Avenue, situated at the left side.
It is located opposite to Begum Akhtar Rukhsana Hospital, Iqbal Villas and Quaid Villas are adjacent to it.  Theme Park is located opposite Precinct 3. The 2-BED, 3-BED, 4-BED Apartments are located at the walking distance. So it's outstanding location and easy approach makes it's the wonderful Precinct of Bahira Town Karachi.
Precinct 3-Plots of 2000 sq. yards & Updated Prices
This precinct is all comprised of 2000 sq. yards plots in it. If we discuss it's booking, these plots were launched at the price of 1 crore 85 Lac on the easy payment plan of 4 years. The payment plan of four years has been completed so far. The current market value of this 2000 sq. the yard is from 3.5 crores to 5 crores. There is a difference in the prices of plots depending on the location.
Precinct 3- Amazing for Residence and Rental Income
These plots of 2000 sq. yards are simply the best opportunity for end-users. As Precinct- 3 is designed with all the trademark facilities of Bahria Town so it's an amazing option to buy your plot and start the construction of your dream residence at the peaceful atmosphere. If you are interested in buying a plot for construction and selling it out for profit, it is definitely a great decision. You can also rent out the property to get handsome monthly rent. It is quite clear that investing in the plots of 2000 sq. yards of Precinct-3 will definitely be a life-changing opportunity.
For booking and to get more information, feel free to contact Universal Property Network