Biggest IT Shop in Bahria Town Lahore
by UPN
January 27, 2022
0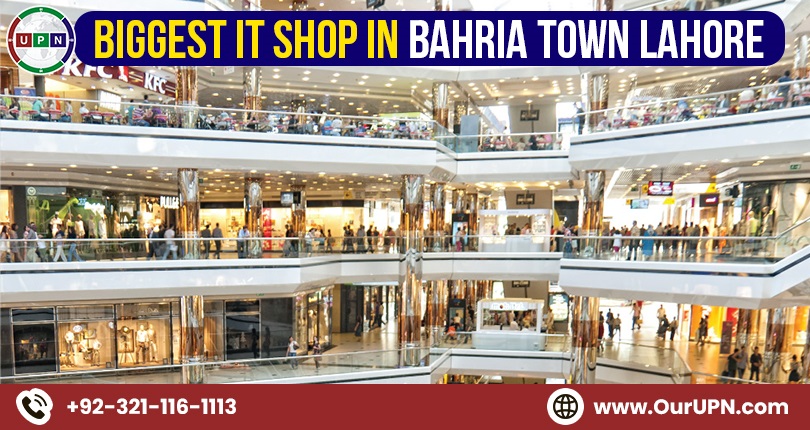 Are you looking to buy a laptop or desire to upgrade your desktop? Also, you are searching for the latest hands-free or do you want to switch to earbuds? Then, let's plan your visit to Bahria Town Lahore! Why? Because the biggest IT Shop in Bahria Town Lahore is finally opened for everyone.
Congratulations to all the residents and visitors of Bahria Town as this recent opening of one of the renowned IT shops is definitely big news. Below in this latest blog, we are sharing the complete details of this latest addition on the land of Bahria Town but first have an overview of:
Importance of IT
Nowadays, Information Technology is playing a vital role in every business, whether it is a small, medium, or large industry. This information technology benefits companies in several ways, especially allowing them to work more efficiently and maximize productivity. In other words, the success of any business is incomplete without the use of IT.
Undoubtedly, several small to medium-sized IT shops are offering services in Bahria Town Lahore. But still, there was a need for a mega-development, a proper IT setup. By keeping in view, the increasing demands of people and facilitating them in the best manner, IT International Shop is finally operational.
Increasing Development and Population in Bahria Town Lahore
Bahria Town Lahore is an exclusive international standard housing society. Covering a large area, it's a well-developed project with a wide range of properties. Equally attractive for buyers and investors, Bahria Town is a fully-facilitated place. Features six sectors and several blocks; Bahria Town Lahore is a complete city within the city. According to a recent estimate, more than 17,000 families reside there, and the numbers are increasing rapidly. At the same time, thousands are houses ready, and many are developing in grey structures. All the living facilities are available in Bahria Town Lahore, and undoubtedly, this addition of IT international Shop is amazing.
Biggest IT Shop in Bahria Town Lahore – Location
IT International Shop is now operational at the prime location. It is located close to Grand Jamia Mosque Bahria Town Lahore. Moreover, the actual location of this biggest IT Shop is the second floor of Cakes n Bakes. Therefore, one can easily access it from multiple routes, especially from the main entrance of Bahria Town on Canal Road Lahore.
This is the first shop by this business chain in Bahria Town Lahore. However, they are already operating their huge setups at Hafiz Center Lahore and Warehouse in Canal City Lahore.
What is IT International Shop Offering?
It's a complete IT setup where you will find:
Computers of All Types and Their Accessories

Latest and Used Laptops and Their Accessories

Gaming Systems and Gadgets

Handsfree and Chargers

 Data Cable and Hard Drives

 CD Rom and EarPods

Repairing Services

Different Type Wires and Much More.
In simple words, this biggest IT shop in Bahria Town Lahore is the one-stop solution to all your information technology needs. You will find all these computer and gaming accessories and reasonable prices. Even they are offering 15 days opening warranty of used items. This is really surprising because IT usually stores only warranty cards on new products.
Upcoming IT Hub in Bahria Town Lahore
The next IT Hub of Bahria Town Lahore is impressively developing in Jasmine Grand Mall. Located on the fourth and fifth floors of this project, it will be a massive project with all the IT accessories under one roof. Once operational, it will surely facilitate the residents of Bahria Town and the societies in the surroundings in the best manner. It is located at the prime location of Sector E. 
So, what else can be attractive for you? Schedule a visit to the biggest IT Shop in Bahria Town Lahore and buy your desired product at surprisingly low rates.
Please contact Universal Property Network For More Information click here or visit our youtube channel further assistance