Lowest Prices Shops in Bahria Town Lahore – New Deal
by UPN
February 25, 2022
0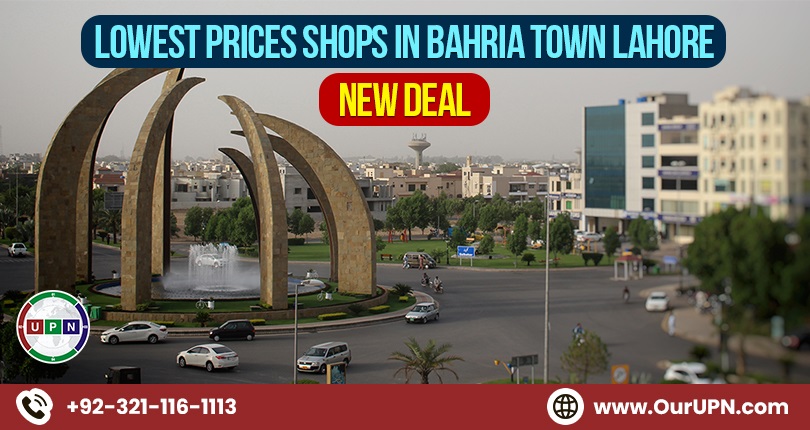 Bahria Town Lahore is a beautiful, well-developed housing venture that features all the top-notch facilities. This society holds significant importance in the real estate sector of Pakistan. People prefer it for the high-standard lifestyle that comes with lots of comforts and for profitable returns. Yes, Bahria Town Lahore features a range of opportunities for business and commercial investments. Undoubtedly, this society is full of options that perfectly meet investors' needs. However, these days the latest properties available are the lowest prices shops in Bahria Town Lahore.
These shops are located in several top-class projects offering a range of opportunities at different prices. Also, the ease of payment in installments further boosts their value. Further details are:
Pearl One Tower Lahore
Pearl One Tower is the first fully automated residential apartments project in Bahria Town Lahore. It's a masterpiece featuring the tallest building. Peal One Tower also has a huge mall that comes with outstanding amenities. It's a project by Abdullah Bin Sabayyal Pvt. Ltd (ABS Developers).
Pearl One Tower is located in Iqbal Block near Grand Jamia Mosque and close to Eiffel Tower Bahria Town Lahore. Moreover, it offers the lowest prices shops in Bahria Town Lahore at the prices of:
| | | | | | |
| --- | --- | --- | --- | --- | --- |
| Size in Sq. Ft | Booking Price | Monthly Installments | Installments Every Six Months | At Possession | Total Price |
| Counter Outlet (350) | 1,100,000 | 100,000 | 100,000 | 300,000 | 3,800,000 |
| Shops (250) | 2,000,000 | 150,000 | 400,000 | 900,000 | 7,500,000 |
| Shops (400) | 3,600,000 | 250,000 | 475,000 | 1,500,000 | 12,000,000 |
| Shops (600) | 5,400,000 | 400,000 | 600,000 | 2,200,000 | 18,000,000 |
It's a beautifully developing project where the return on investments is high.
Pearl One Eiffel
It's another high-standard development by the well-known ABS Developers. Pearl One Eiffel is quite similar in features and structure; however, the location is much more attractive. This project is located in Sector E Bahria Town Lahore. The actual location of this project is Tauheed Commercials. Pearl One Eiffel is offering properties at reasonable rates. It offers a range of residential apartments on installments.
Moreover, people looking for shops can easily at the lowest prices. Yes, Pearl One Eiffel shops in Bahria Town Lahore are also affordable and come with a flexible payment plan of 4 years. Therefore, buying in this project is beneficial for both business and investment gains. People looking for a luxury lifestyle by paying in installments can also go with the option of apartments available in it.
Lowest Prices Shops in Bahria Town Lahore
Bringing you another opportunity to invest in Bahria Town Lahore by offering a new deal of shops. These are the lowest prices shops located at the prime location. These shops are available in an impressively developing plaza. The actual location of this project is Iqbal Commercial, where you will already find several high-rise commercial and mix-used ventures are developing. Currently, this developing plaza is offering you a basement of 36000 sq ft at surprisingly the lowest rates.
The latest price per square foot in that area is around 10 – 12 thousand. However, we offer you an attractive basement at the price of 5,000 per square foot. The total amount of this basement is 1.80 crores. Therefore, you can easily buy it with some of the down payment and remaining in installments as the payment plan is available.
These are the two spacious basements you can purchase confidently to set up your business. Also, buying is beneficial for capital growth and rental gains.
So, what are you thinking about? Buy these affordable prices shops in Bahria Town Lahore to get the best value for your money. Investment in Pearl One Tower, Pearl One Eiffel, or Iqbal Commercials' developing project is completely your choice. But here we assure you that your investment will be safe and the returns will be as per your expectations. All these are ideally located projects with reasonable rates. Providing a chance of golden investment. Moreover, you can also choose the apartments available in them. These residential and commercial options are perfect to become a part of this luxurious Bahria Town Lahore.
Please contact Universal Property Network for the complete details of these project especially the current payment plans and investment analysis. You will surely find our services the best in the town.
Please contact Universal Property Network  For More Information click here or visit our youtube channel further assistance