Book Apartment Facing Beaconhouse University Lahore
by UPN
January 6, 2023
0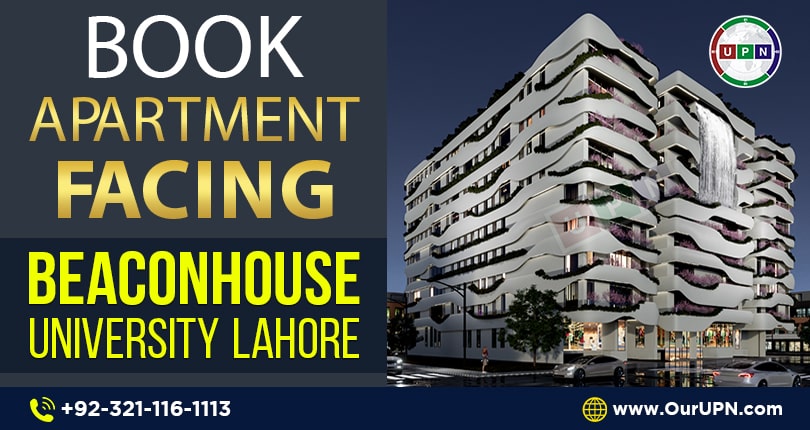 Do you want to invest in the best residential apartments in Bahria Town? Apartments facing Beaconhouse University in Bahria Town Lahore are available here. These apartments are available in Waterfall Towers. This project was recently launched in Bahria Town and offers residential apartments and suites on installments.
In this latest blog, we will discuss the complete details of apartments facing Beaconhouse University in Bahria Town Lahore.
About Developer
Waterfall Tower is a high-rise project by Alif Holdings Pvt. Ltd. in Bahria Town Lahore. They have launched 16 commercial projects, and 12 of them have been successfully delivered. Some of their projects are under construction. Waterfall Tower is their first residential project; there is no commercial property. This project has residential apartments facing Beaconhouse University in Bahria Town. The developer launched this project according to the budget of the clients and investors.
Location
These apartments facing Beaconhouse University are situated in a prime location in Bahria Town Lahore. You will reach Bahria Town Lahore in 2 minutes while traveling from Adda Plot. You will undoubtedly find this location attractive for a residence. People who are searching for the best place to live in Lahore will find this location attractive.
Opposite the Beaconhouse National University

9 minutes from Lake City

18 minutes from Defence Road

20 minutes from Lahore Ring Road

32 minutes from Allama Iqbal International Airport Lahore
Apartments Facing Beaconhouse University
This stunning structure consists of three beautiful towers and covers 4 Kanal areas of land. This project has 200 luxury apartments and business suites. The names of these towers are:
Central Tower

Eastern Tower

Western Tower
There are a total of eight floors, and each floor has magnificent features, apartments, and residential suites of various sizes. There are one-bedroom and two-bedroom apartments available. The sizes of these apartments are:
1128 square feet

1159 square feet

1137 square feet

1203 square feet
Basement
The basement is reserved for the parking area. Waterfall Towers contain plenty of parking in the basement.
Ground floor
The ground floor contains a cafe, a reception area, and two-bedroom apartments with delightful entrances. This cafe offers a calm environment where you can relax and have fun with your family or friends.
First floor–fourth floor
The first floor to the fourth floor contains two-bedroom apartments and residential suites for sale. These apartments are designed with modern techniques.
Fifth floor–eighth floor
The fifth floor to the eighth floor contains 1-bedroom apartments for sale on installments. These apartments are best for small families. Everything is designed by highly qualified architects and designers.
Rooftop
There will be a thematic restaurant with an impressive view on the rooftop. This view will be the most relaxing and peaceful for families.
There is a gap between these three towers. This gap is especially for individual balconies and ventilation systems. Every resident will enjoy the fresh air and outside view from these apartments. These qualities enhance the beauty of the apartments facing Beaconhouse University in Bahria Town.
Main Attractions of Apartments Facing Beaconhouse University
The two main attractions of these apartments are:
Waterfall View

Beaconhouse University
Waterfall View
The main attraction of these apartments facing Beaconhouse University is the waterfall. This waterfall view starts from the top to the bottom. This view will be from the eighth floor to the fifth floor. This attraction will enhance the beauty of this project. Due to its waterfall view, this project is highly demanded by clients and investors.
 Beaconhouse University
The second main attraction of this project is Beaconhouse University. This university is located opposite these apartments. The students of this university can also take advantage of these apartments. Many students can also live in these apartments. For the best education, you can send your children to this university.
Payment Plan of Apartments
The payment plan for apartments facing Beaconhouse University is easy and convenient. These apartments come with two-year installment plans. The booking starts with a 30% down payment. At the time of possession, you will pay 12% of the total amount to get possession. These apartments are the best of residences, where you can find all the necessities of life.
You can easily purchase an apartment within your budget. You can enjoy rental income after two years of completion for as long as you wish.
Features
There are smart and modern facilities for the residents in the apartments facing Beaconhouse University in Bahria Town Lahore. These amenities are designed to meet international standards. Some of them are:
·       24-hour security
·       One-bed and two-bed apartments
·       waiting area for guest
·       Reception area
·       Separate prayer area
·       Family-friendly cafe
·       High-speed elevators
·       Individual balcony
·       Ventilation systems
·       Fire extinguisher systems and smoke sensors
·       Nearby restaurants and grocery stores
·       Parking area in the basement
·       Garbage collection system
Reasons
to Invest
These apartments facing Beaconhouse University are the most demanding due to their location and luxuries. This project is suitable for investors who are looking for apartments in Bahria Town. You can buy this property on easy installments. In terms of location, project design, facilities, and cost, these apartments are heartwarming. Your investment in this project will be 100% secure. Some main reasons to invest in this project are:
Beautifully located in Bahria Town Lahore

A huge parking area in the basement for residents

The apartments have comfortable living with a modern lifestyle.

A thematic restaurant on the roof where you will spend time with your family. The rooftop also contains a club and gym.

On the ground floor, there is a separate cafe area where you can enjoy it with your friends.

Every luxurious apartment has its own balcony and separate ventilation system

Affordable booking amount and easy installments for two years

High investment returns are expected in the coming days

Nearby many restaurants, shopping malls, and grocery stores are available.
Please contact Universal Property Network For More Information click here or visit our Youtube channel for further assistance.