Gold Souq Bahria Town Lahore – Latest Update 2023
by UPN
January 7, 2023
0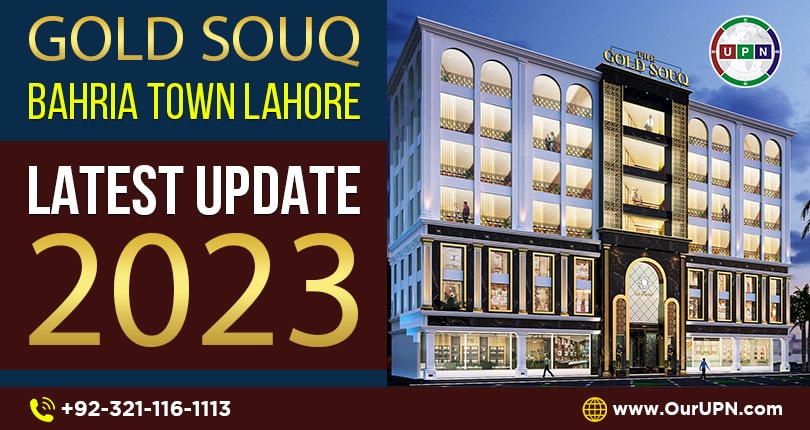 Another landmark project by Q-Links developers is the Gold Souq Bahria Town Lahore. This Gold market in Bahria Town Lahore represents a new vision for gold trading in this city. This project was inspired by the Dubai gold market, which has a wide range of gold businesses. The main goal of this project is to serve the jewelry businesses. Customers will appreciate having everything they need in one location.
In this blog, we will discuss the Gold Souq Gold Market in Bahria Town Lahore.
Location
The Gold Souq Bahria Town Lahore is conveniently located in Violet Block. It is located on Main Boulevard 210 ft. Road, Bahria Town Lahore. It is near the Eiffel Tower replica. It is also in front of the Jasmine Grand Mall on Jinnah Avenue. The main gate of Bahria Town Lahore is only an eight minutes drive from the gold market.
Structure
This is a three-sided open building in Bahria Town Lahore. These shops are specially made for the gold business. This project covers an area of approximately 24 Marla of land. This building consists of five floors. There are a total of 56 commercial shops available. The shops are available from the basement to the second floor, and the remaining floors contain apartments.
Basement
The basement contains 18 gold shops of various sizes.
Ground floor
The ground floor has 14 shops of different sizes for sale. These shops are designed to meet the needs of a wide range of investors.
First and second floors
The first and second floors contain 17 commercial shops each. The availability of these shops is limited, and the demand is high.
Third floor–fifth floor
One-bedroom studio apartments are available from the third floor to the fifth floor. These apartments are designed to be the ideal place to live, complete with all the luxuries. 
Sizes of Shops
The Gold Souq Bahria Town Lahore contains different sizes of shops. The sizes are:
103 square feet

115 square feet

154 square feet

166 square feet

253 square feet

165 square feet
Payment Plan
The Gold Souq comes with a three-year installment plan. These shops' prices depend on their locations, such as MB-facing shops, lobby shops, and standard shops. Prices start from 3,500,000/- and up to 20,000,000/-. The booking is from 30% of the full amount. The remaining amount will be payable in 36 installments. The 20% amount will be charged at the time of possession.
One-bed Studio Apartments
There are one-bedroom studio apartments available in the Gold Souq Bahria Town Lahore. These apartments are available from the third floor to the fifth floor. The size of these apartments is 380 square feet. These apartments enjoy an Eiffel Tower view and a top view of Bahria Town. Due to Jasmine Grand Mall, the residents find all the necessities of life in one place. This is an ideal location for a residence. The payment plan for these apartments is available in three yearly installments. The cost of a single studio apartment is:
Total amount: 4,650,000/-
30% booking amount: 1,485,00/-
20% on possession: 990,000/-
36 years installments: 68,750/-
Feature
The gold shops have world-class amenities. Some of them are:
24-hours security

 

CCTV cameras

Modern architecture

Unique design

Backup power

Fire extinguish system

Escalators and elevators

Parking space
Why invest in the Gold Souq – Gold Market in Bahria Town Lahore
You will be happy after investing in the Gold Souq Bahria Town Lahore. This project will be a golden opportunity, as it has numerous advantages. The gold shop is a perfect investment option and a masterpiece in the business market. The most prominent feature of this project is its location in Bahria Town. Some of the reasons to invest are:
The Gold Souq is conveniently located in Bahria Town.

The location is easily accessible, and the surroundings are beneficial.

This is the best commercial project by Q-Links' developers.

Your investment will be 100% safe.

Shops are available in different sizes.

Booking starts with a 30% down payment.

Easy installment plan for three years.

You will get the best return from this project.
Please contact Universal Property Network For More Information click here or visit our Youtube channel for further assistance.