Buy 4 and 8 Marla Commercials in DHA Lahore Phase 8
by UPN
June 24, 2023
0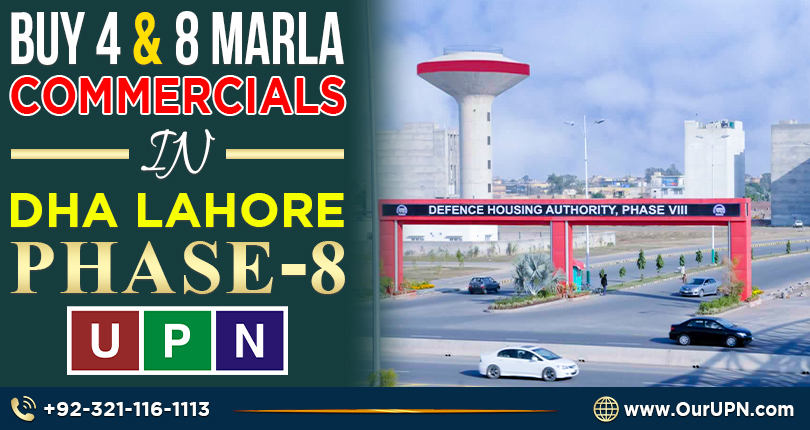 Introduction
DHA is the outstanding housing society in Lahore that has the most appealing location and offers a variety of exceptional commercial properties. The commercials in DHA Lahore Phase 8 shine as golden investment opportunities. These commercials are excellent for generating rental income and profits. DHA is an amazing project that attracts people with its outstanding features, top-notch amenities, and prime location in Lahore. In Phase 8, you will find 4 Marla and 8 Marla commercials specifically designed for investment and business purposes. You can buy these commercials according to your needs and budget.
In this blog, we will discuss Commercials in DHA Lahore Phase 8. We will go through the benefits and purposes of these commercial properties.
Plots – Commercials in DHA Lahore Phase 8
DHA Phase 8 stands out as the premium phase, offering two sizes of commercial plots:
4 Marla Commercial plots
8 Marla Commercial plots
These commercials in Phase 8 have prime locations and exceptional features. They present an ideal investment opportunity with a multitude of purposes, allowing you to earn profits in various ways. Consider the following possibilities:
These commercial plots provide an opportunity to do business. Whether it's a shop, commercial store, restaurant, or office space
You can sell the plots at a higher price, earning a handsome profit on your investment.
You can construct a commercial building on these plots and rent it out to earn a monthly income.
These commercial properties in DHA Lahore Phase 8 are the best investment opportunities for financial growth. Whether you choose to start your own business, sell the property for a profit, or generate rental income, these commercial plots hold a high potential for success.
Building – Commercials in DHA Lahore Phase 8
DHA Phase 8 offers various commercial properties, including buildings and plazas, available in two distinct sizes:
4 Marla Commercial Building
8 Marla Commercial Building
The commercials in DHA Lahore Phase 8 are well-suited for offices, general stores, shopping malls, and excellent spaces for various business purposes. Investing in commercial buildings in this phase will be an ideal investment opportunity. It will generate high profits. If you have a flexible budget, it is highly recommended that you consider investing in these commercials in Phase 8.
Buying and Selling
We offer you a wide range of options for both buying and selling commercial properties. If you are interested in purchasing commercial property in DHA Phase 8, contact Universal Property Network. Our team will provide you with expert guidance to help you make the best choice for your future.
On the other hand, if you already have commercials in DHA Lahore Phase 8 and want to sell them, we can provide you with the best guidance. We will help you determine the best time to sell when the market is at its peak. This way, you can make a better profit from your DHA commercial properties. Universal Property Network will ensure that you receive valuable advice and support throughout the selling process.
Conclusion
DHA (Defence Housing Authority) is a luxurious housing project that offers golden investment opportunities. The 4 Marla commercial property is an excellent choice for people with a limited budget for investment. Furthermore, the 8 Marla commercial property is more suitable for those with a flexible budget. Both properties have the potential to generate significant income. Investing in these commercials in DHA Phase 8 is a wise choice. Don't miss the opportunity to make a profitable investment in this exceptional project. Moreover, these Commercials in DHA Lahore Phase 8 offer both convenience and profitability.
Please contact Universal Property Network For More Information click here or visit our Youtube channel for further assistance.