5 Marla Plots in DHA Lahore – Complete Details
by UPN
February 16, 2023
0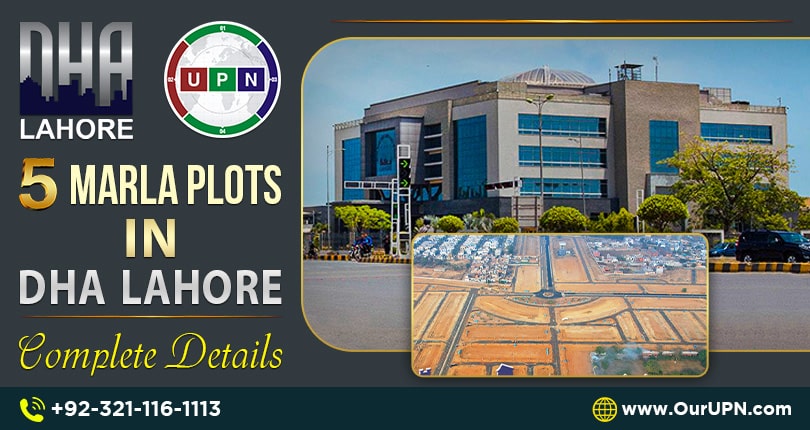 Do you want to buy 5 Marla plots in DHA Lahore? Are you looking for the best investment that will benefit you? Then, be ready as we have the latest details for you. A lot of people want to buy property in DHA Lahore especially looking for the attractive 5 Marla plots. We also receive hundreds of queries asking about the best phase of DHA Lahore to invest in 5 Marla plots in Lahore. But before searching for the right option, you will have to think about these things i.e.,
Budget
Buying Depends on Location and Area
Purpose of Buying Matters (Residence or Investment)
Check for Balloting and Possession Details
Let us discuss the best options below:
5 Marla Plots in DHA Lahore
If you want to invest in a file of 5 Marla at the lowest budget, then, DHA Phase 10 will be the best choice for you. Here the 5 Marla files cost 54 – 55 lacs. On the other hand, the same size files are available in DHA Phase 9 Prism at the price of 65 lacs. Buying 5 Marla files in DHA Phase 9 Prism will be better than investing in DHA Phase 10.
However, if you have a budget of 65 lacs to 80 lacs, we suggest 5 Marla plots of DHA Phase 9 Prism. These plots are located in a beautifully developed J Block.
If you have a budget of 1 crore or above and you are searching for a right 5 Marla plot for construction purposes, we suggest buying in DHA 9 Town. Here the 5 Marla plots' prices are starting from 1 crore. But a good location plot of 5 Marla will cost you around 1.40 crores.
DHA Phase 9 Town is the recommended option for residence. It is located ideally and has beneficial surroundings. All the living amenities are available and a good number of families are living there.
DHA Phase 8 Y Block is also a good option to buy 5 Marla plots in DHA Lahore. The prices of plots in Phase 8 are affordable because it's one side has Ring Road Lahore while the other side has a local residence. The plots in this phase are also deep. But the price range is 75 lacs to 90 lacs.
DHA Phase 7 Y Block
This phase also features the best 5 Marla plots for sale. Here the prices of the plots are reasonable and investment is beneficial for both capital growth and construction in the future. However, when we compare it with Phase 9 and Phase 9 Prism, these options look better.
Ideal Investment Opportunities in DHA Lahore
If you are looking for an excellent investment in DHA Lahore, we completely recommend buying in:
DHA Phase 9 Prism R Block – This block has possession.
DHA Phase 9 Prism K Block – Possession will be handed over soon. Rates will increase in the coming months.
These two options of DHA Lahore for 5 Marla plots are highly beneficial especially if you Overseas Pakistani. Buying there will be budget-friendly and the returns will be good. You can also consider these options to construct your dream house in the coming years.
Other Available Options
DHA Lahore is full of options. It has many phases and blocks where you will find numerous plots for sale. Starting from the residential plots of 5 Marla to the commercial plots, farmhouses land, and apartments, DHA Lahore properties are the best. People with a desire to live a comfortable and peaceful lifestyle, always prefer DHA. But if you are want to save some investment or searching for budget-friendly options, we recommend you DHA Phase 9 Prism, DHA Phase 9 Town, and DHA Phase 8 Y Block plots. These are the ideal options with secure and profitable investment returns.
Frequently Asked Questions
Here are the answers to the commonly asked questions
Which are the best plots to buy in DHA Lahore?
All the properties in DHA Lahore are attractive. However, the demands for 5 Marla plots for sale are high.
Which phase of DHA Lahore offers the best 5 Marla plots?
This society is full of opportunities. However, DHA Phase 9 Prism, DHA Phase 9 Town, and DHA Phase 8 will be ideal choices.
Please contact us through WhatsApp, Contact Us form, or visit our UPN Youtube Channel for further assistance.