Buy Plots Near Rafi Cricket Stadium Karachi – Profitable Investment  
by UPN
September 20, 2021
0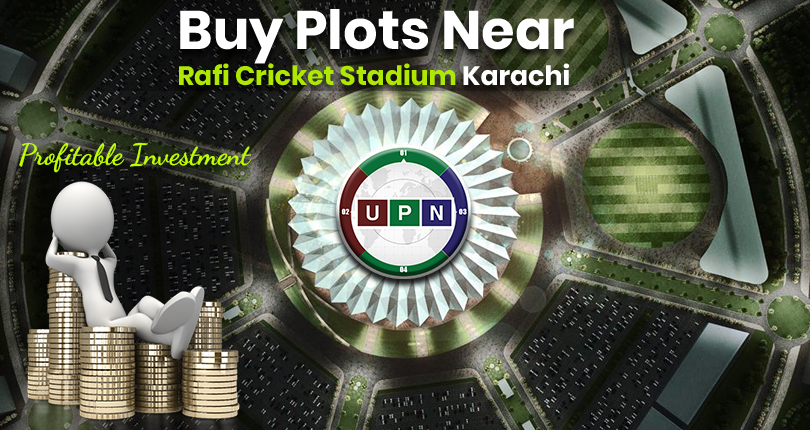 Do you want to invest in Bahria Town Karachi? Are you searching for profitable investment opportunities in this mega project? Planning to buy affordable plots where you can invest less and earn more? Then, be ready to buy plots near Rafi Cricket Stadium Karachi.

Undoubtedly, the prices of property in Bahria Town Karachi are increasing day by day. There are many precincts where the plot's prices are at their peak. However, there are some of the best precincts in Bahria Sports City where buying is more beneficial than your expectations. Let's discuss further:
Plots Near Rafi Cricket Stadium Bahria Town Karachi
The residential plots near Rafi Cricket Stadium Bahria Town Karachi are available in the sizes of:
250 Sq Yards
500 Sq Yards
1000 Sq Yards
These plots are located in Precinct 33, Precinct 34, Precinct 40, Precinct 37 and Precinct 38. Why these precincts only? Because the chances of price appreciation in these precincts are high as compared to other precincts. All these precincts are located in the surroundings of Rafi Cricket Stadium, a major attraction in Bahria Town Karachi.
It's an international standard development; once it gets operational will catch the attention of everyone. Soon, this stadium will be available for international matches so, the prices of properties located nearby will surely increase.
Keeping this fact in view, Bahria Town has recently launched a new deal of commercials in Precinct 36. These are Stadium Commercial plots available in several sizes. These commercial plots are available with the construction permission of multi-purpose projects.
Plots Near Rafi Cricket Stadium – Current Prices Vs Prices in Coming Years
The current prices of 500 sq yards plots near Rafi Cricket Stadium are starting from 65 lacs. But in the coming 2 – 3 years, these plots will be available in 1.5 crores.
Similarly, the latest prices of 250 sq yards plots are around 50 lacs to 65 lacs. Soon, the same plots will be available in the price bracket of 1 crore.
Not only these but the 1000 sq yards residential plots in Precinct 38 will cost you around 1 crore. These are the best bigger size plots; you can buy for investment purposes.
Why Should You Buy for Residence or Investment?
Well, the construction of houses is started in Precinct 33, Precinct 34 and several other precincts of Bahria Sports City. People are constructing their houses confidently as all the living facilities are available in the surroundings. However, the plots' prices are still affordable, making these the best options for investment.
The plots near Rafi Cricket Stadium are equally suitable for investment returns and constructing your dream house. No doubt, the returns on investment in these plots is very high.
Contact us for further assistance.
Please contact Universal Property Network  For More Information click here or visit our youtube channel further assistance