Capital Smart City Development Update – 2023
by UPN
May 31, 2023
0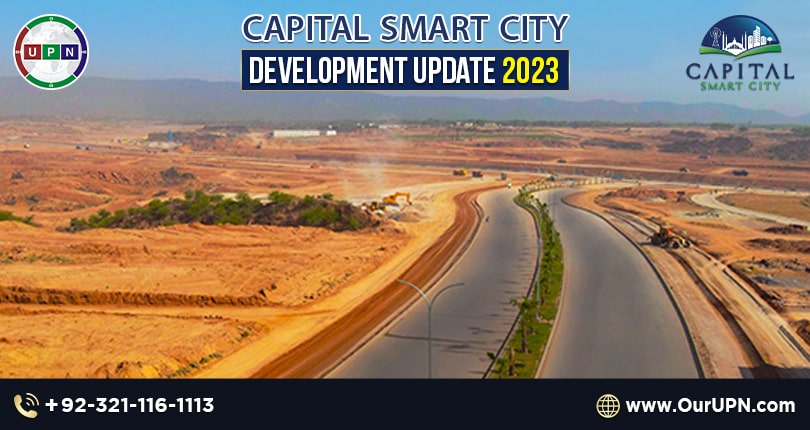 Introduction
Capital Smart City is a prominent player in Islamabad's real estate sector, shining brightly with its exceptional features and smart attractions. This remarkable housing society is like a work of art in progress, captivating the attention of everyone. Located ideally, it has picturesque landscapes, state-of-the-art amenities, and numerous attractions that add to its allure. When it comes to properties for sale, Capital Smart City presents an array of options that are truly captivating. Whether you are an investor seeking lucrative opportunities or a buyer searching for your dream home, this society has something extraordinary to offer to everyone. Capital Smart City development is progressing rapidly, with over 175 heavy machineries tirelessly working day and night to ensure the timely completion of this grand project. The latest details of its development are provided below, have an overview!
Capital Smart City Development Update
Capital Smart City development is making significant strides towards its completion. Also, the progress on the CSC Interchange is moving quickly, with nearly 40% of the work already completed. Access 1, an important entry point to this society, is bustling with the presence of numerous heavy machinery working attentively. Moreover, the beautiful main boulevard, which serves as the centerpiece of the society, is nearing its final stages of completion, showcasing meticulous attention to detail and aesthetics.
In addition to the infrastructure developments, the construction work on Ring Road East and Ring Road West is also in full swing. The road asphalt work is underway, ensuring smooth and convenient transportation within the city. Moreover, the water treatment plant is being constructed to provide a sustainable and reliable water supply for the residents. The sales gallery is also developing speedily. It will serve as a hub for potential investors and buyers, offering them a comprehensive understanding of the available options and features in Capital Smart City.
Capital Smart City Development in Progress
Furthermore, the development includes the establishment of the Smart Stem College for both boys and girls, emphasizing the importance of quality education within the community. The executive block mosque, along with other facilities, is being meticulously designed to cater to the spiritual needs of the residents. The Villas in Overseas Block are progressing well, offering luxurious living spaces for those seeking a premium lifestyle. Similarly, Overseas Prime is also witnessing significant progress. It makes it an appealing option for those looking for high-quality residential options in Capital Smart City.
Project Wise Development Update of Capital Smart City Islamabad
Undoubtedly, Capital Smart City development work is progressing speedily. But to keep CSC members updated with the latest development updates. Moreover, the management has recently uploaded a video. As per the recent details:
Incubation Center:
Developing rapidly with the groundwork already completed.
A hub for innovation and entrepreneurship, fostering the growth of startups and technological advancements within the city.
Rehab Medical Center:
Grey structure nearing completion.
A modern healthcare facility that will offer advanced medical services to residents. So, ensures their well-being and convenience.
Jamia Masjid Capital Hills:
Currently under development.
A majestic mosque that will serve as a spiritual centre for the community. It provides a serene place for prayer and reflection.
Lake View Heights:
Under construction.
A residential project that promises breathtaking views and a tranquil environment for its future residents.
Harmony Residential:
Grey structure ready.
A residential development is known for its harmonious design and aesthetic appeal, offering luxurious and comfortable living spaces.
Silicon Village:
Developing speedily.
A technological hub dedicated to promoting innovation and fostering a thriving tech community within the city.
LA MER
Currently under process.
An upcoming project that is set to bring a unique and vibrant addition to this society.
Executive Block C:
Development work has started.
Expanding the range of housing options within Capital Smart City. It provides residents with more choices for their dream homes.
Executive Block E:
Progressing steadily.
Another residential block under development, offering a variety of housing options to cater to diverse preferences.
Overseas East:
Development work complete.
A residential sector specifically designed to cater to overseas buyers, providing a well-established community within the city.
So, these updates showcase the continuous development and expansion of Capital Smart City. It brings a range of amenities and options to enhance the quality of life for its residents.
Final Words
In summary, the recent developments in Capital Smart City show exciting progress towards creating a fantastic urban community. The city is becoming more sustainable, technologically advanced, and vibrant. Many projects are taking shape, like the Incubation Center, which is growing quickly, and the Rehab Medical Center, which will be completed soon. New residential areas, mosques, and recreational spaces are also being built. These developments reflect a commitment to innovation, convenience, and high-quality living. Also, it is ideal for the people who will live there. Capital Smart City is on its way to becoming an extraordinary place to live, combining modernity, natural beauty, and smart infrastructure. With these latest developments, the future looks promising and full of opportunities for everyone. It serves the best for who becomes part of this special community.
Frequently Asked Questions
Here are the answers to commonly asked questions:
What is Capital Smart City?
Capital Smart City is a visionary residential project located at the prime location of Islamabad. Furthermore, it is situated on Main Chakri Road, a short distance from New Islamabad International Airport.
What are the key features of Capital Smart City?
Capital Smart City offers a range of features, including smart infrastructure, sustainable initiatives, state-of-the-art amenities, advanced security systems, and connectivity through smart grids and dedicated interchanges.
What is the progress of infrastructure development in Capital Smart City?
Infrastructure development in Capital Smart City is progressing rapidly. The construction of roads, bridges, utilities, and access points is well underway. Moreover, it provides a strong foundation for the city's growth.
What sustainability measures are being implemented in Capital Smart City?
Capital Smart City emphasizes sustainability and eco-friendly practices. It incorporates energy-efficient buildings, green spaces. Also, water conservation methods, waste management systems, and a focus on minimizing the environmental footprint.
Are there different types of properties available in Capital Smart City?
Yes, Capital Smart City offers a diverse range of residential, commercial, and mixed-use properties to cater to the needs of buyers and investors.
What are the latest Capital Smart City development updates?
Several projects are currently underway in Capital Smart City, including the construction of the Incubation Center, Rehab Medical Center. Moreover, Jamia Masjid Capital Hills, Lake View Heights, Harmony Residential, and blocks are developing
Is there a focus on education and healthcare facilities in Capital Smart City?
Yes, Capital Smart City is dedicated to providing quality education and healthcare facilities. It includes schools, colleges, and medical centres. Also, it has a state-of-the-art healthcare infrastructure to cater to the educational and healthcare needs of residents.
What is the status of overseas development in Capital Smart City?
Capital Smart City offers specific blocks and projects for overseas residents. The Overseas East development work is complete, and other blocks, such as Overseas Prime, provide high-quality residential options for overseas buyers.
Please contact Universal Property Network For More Information click here or visit our Youtube channel for further assistance.