Capital Smart City Launched New "Overseas Prime Block"
by UPN
September 30, 2020
0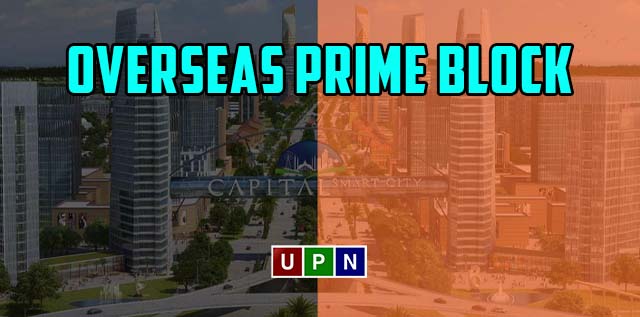 Capital Smart City has recently introduced a new Overseas Prime Block at its ideal location. It's a smartly planned and appealing addition to this high-end community. Overseas Prime Block is designed to provide a luxurious lifestyle with the most scenic views. It is not just a new block but a complete package with highly attractive properties, advanced facilities, and eye-catching features. Overseas Prime Block will have a heart-winning exclusive waterfront view and 18-hole golf course.
As the name depicts, Overseas Prime Block is completely designed for Pakistanis living abroad and want to buy the best residential properties. But at the time of its launch, the society is offering something really special for you! What's the surprise is? Here are the details:
Overseas Prime Block Capital Smart City
Recently launched, Overseas Prime Block is reserved for Overseas Pakistanis. But Capital Smart City is also offering local investors an opportunity to invest in the properties for sale in Overseas Prime Block till 3rd October. Yes, the society will not ask you to prove foreign residence for booking plots in Overseas Prime Block. If you are interested, don't miss out on the opportunity and book your property before the deadline.
Attractive Features of Overseas Prime Block
Capital Smart City as a whole is designed with unmatched facilities and unique features, and no compromise is made on quality. But this Overseas Prime Block will bring more attractive features and amenities for its future residents.
This block is designed with maximum scenic views. Overseas Prime Block is situated at the highest elevation, so its residents will enjoy the mesmerizing waterfront. Moreover, its designer Peter Harradine has designed fabulously to have the beautiful views of Khairi Mountain Range and the 18-hole PGA Standard Golf Course.
The natural lakes and beautiful rivers of Capital Smart City will also be visible from this Overseas Block. Not just that but some of the other attractive features are:
The Ferris Wheel
Water Sports Area
The Ferris Wheel
F-2 Race Tracks
Artificial Beach at Lake View Terraces
Dancing Fountains of Crystal Lake district
Moreover, this block will have a dedicated entrance named as Smart Broadway on Main Chakri Road.
Plots Offered in Overseas Prime Block
Overseas Prime Block offers residential plots of 7 Marla up to 4 Marla.
Here are the details of plot sizes available and the payment plan:
| | | | | | |
| --- | --- | --- | --- | --- | --- |
| Size of Plots | Unit Price | Down Payment 10% | Confirmation 10% |  Monthly Installments(42) |  Half Yearly Installments (7) |
| 7 Marla | 3,230,000 | 323,000 | 323,000 | 30,760 | 184,583 |
| 10 Marla | 4,245,000 | 424,500 | 424,500 | 40,430 | 242,565 |
| 12 Marla | 4,695,000 | 469,500 | 469,500 | 44,715 | 268,280 |
| 1 Kanal | 6,365,000 | 636,500 | 636,500 | 60,620 | 363,708 |
| 2 Kanal | 12,500,000 | 1,250,000 | 1,250,000 | 119,050 | 714,274 |
Note: You will have to pay10% extra for Corner Plot, Park Facing Plot, and Plots on Main Road.
Moreover, Plots on Main Boulevard will be charged 15% Extra.
Capital Smart City is offering a 10% rebate on lump-sum payment and a 5% rebate on 50% payment.