Capital Smart City Launches Low Cost Plots and Apartments on Installments – April 2020
by UPN
April 25, 2020
0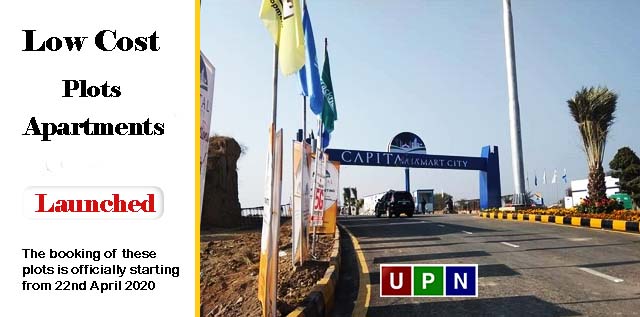 Capital Smart City Islamabad is once again bringing you the most-awaited, budget-friendly deal of plots and apartments in it. The first Smart City of Pakistan has recently launched low-cost small size plots and apartments on installments that are ideally located. Capital Smart City is actually an expensive residential society that's why many buyers cannot easily invest in it. In a bid to cater to the low-income property buyers, Capital Smart City has finally announced these low-cost plots and apartments in its newly launched block "The Harmony Park".
The booking of these plots is officially starting from 22nd April 2020, however, you can also pre-book these plots and apartments easily.
Let's have a look at some important details!
Newly Launched Plots and Apartments in Capital Smart City Islamabad
Capital Smart City is exclusively offering the residential plots of 3.5 Marla and 3.5 Marla apartments. This latest and the modern housing society is now launching a new block " The Harmony Park" and these apartments and small size plots will be located in it. The official booking of these newly-launched properties is starting from 22 April 2020.
The development work of this block will be started soon. In addition, the living facilities and standard of The Harmony Park will be the same just like the rest of the society. But the only difference will be in the prices of property. 3.5 Marla residential plots and 2-bed apartments in Capital Smart City are now available with an easy installment plan of 3.5 years.
However, it is important to mention here that this is the only block with low-cost residential units, so the availability of these plots and apartments are very limited. It is recommended to reserve your unit as soon as possible so that you do not lose out on this lucrative investment opportunity for short term gain.
Low-Cost Plots at Capital Smart City – Prices and Payment Plan
The residential plots and apartments in The Harmony Park Block are available on the flexible payment plan of 3.5 years. Booking of these plots is starting with just a 10% down payment followed by 10% confirmation charges after 30 days. However, the remaining amount is payable in monthly or quarterly installments. The complete prices and the payment plan details are:
| | | | | |
| --- | --- | --- | --- | --- |
| Property Type | Total Price | Booking | Confirmation | Monthly Installment |
| 3.5 Marla Res. Plot | 1,550,000/- | 1,55,000/- | 1,55,000/- | 14,000/- |
| 3.5 Marla Apartment | 2,690,000/- |   PKR.2,690,000/- | 2,690,000/- | 22,000/- |
Note: You can either choose the monthly installment plan or quarterly installment plan.
Location of the Harmony Park in Capital Smart City Islamabad
Capital Smart City is ideally located near the Islamabad International  Airport. But the exact location of this newly-launched block "The Harmony Park" is not yet unveiled.  It is expected that this block will be located in the proximity of Executive Block. So,  it will be easily accessible through Chakri Road.
For further details and information contact Universal Property Network!
Check out our site for more detail. Latest News