Capital Smart City Possession Blocks – Complete Details
by UPN
September 24, 2022
0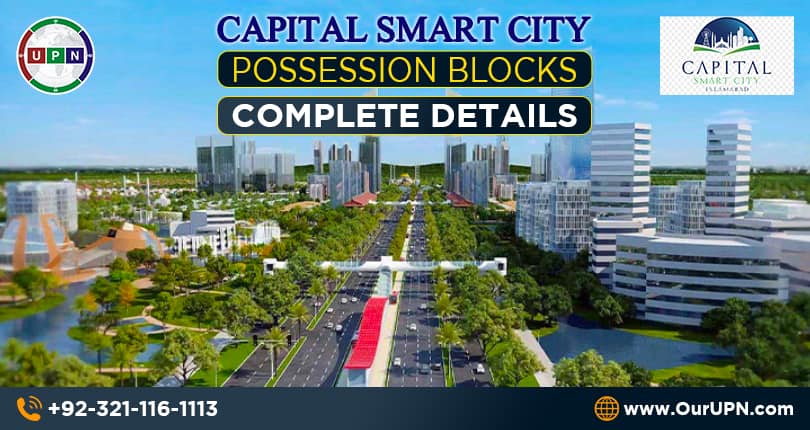 Capital Smart City management has finally announced the most-awaited possession of the developed blocks. This society has already a list of blocks where the construction over plots is allowed. However, the Overseas East Sector F, Executive Block Sector B, and some sectors of Overseas Prime are the recent addition to Capital Smart City possession blocks.
Congratulations to all the plot holders of this appealing project especially the members who confidently own plots in these properly planned and developed blocks. Now they can apply for the possession of their plots and can do construction to shape their dream into reality. Following are the complete details:
Capital Smart City Possession Blocks
This first smart city project of Pakistan and Islamabad is popular since its inception. However, it has become trending after the speedy development of the site. Both buyers and investors are finding it a suitable option for buying property. Now, this recently announced possession in some blocks further boosts its charm and worth. Possession of plots is available in:
Possession Announcement in Overseas East Sector F Block
Executive Block Sector B
Overseas Prime Block (A to Sector H)
It is important to mention that possession in sectors A, B, C, D, E, G, H, J, and K of the Overseas East Block has already been handed over to investors. In June 2021, the society had assigned possession in Overseas East (Sector A to K).
You can get the complete possession information and details from the official website of CSC.
Points to be Noted:
1 – Development Charges, Extra Land Charges, and Prime Location Charges are effective immediately. Extra Land Charges and Prime Location Charges are supposed to the paid in one go. However, due to current economic conditions, CSC Management has decided to split the payment into 04 quarters for the convenience of members.
2 – Development Charges will be paid in 04 quarters. However, for any member who starts the construction work before 31st December 2022, as an extended facility development charges payment plan will be extended to 06 quarters. Moreover, if any member completes the grey structure and outer finishes before 31st March 2023, the development charges payment plan will be extended to 01 quarter.
In this regard, the member has to apply for possession and submit a letter for an extension of the development charges payment plan.
3 – Extra Land Charges will be payable at the time of possession.
4 – Prime Location Charges will be payable in 04 quarters.
Who can apply for possession in Capital Smart City Islamabad?
CSC Members are eligible to apply for possession in Capital Smart City possession blocks i.e., Overseas East Sectors F,  Executive Block-1 Sectors B, and Sectors A to H in Overseas Prime 1  (according to the above-mentioned possession schedule) if they meet the following criteria:
Have a residential plot in the aforementioned sector and block.
They have paid all outstanding plot dues.
They pay all charges that apply to their plot and must be paid at the time of possession.
Conclusion
Capital Smart City is a state-of-the-art, graceful development on the landscape of Islamabad. It appears equally attractive for residence and investment. However, the fast pace development and the before-time possession announcement have made it shine like a twinkling star. This project is now offering ready-to-construct plots in different blocks.
CSC Members can start the construction on their plots or can also sell their properties to earn handsome returns. These Capital Smart City possession blocks are the perfect description of elegance and luxuries. Your investment there will be secure and highly beneficial.
Frequently Asked Questions
Here are the answers to the most commonly asked questions about Capital Smart City Islamabad:
Is Capital Smart City Developing at Good Pace?
Yes, this fabulous housing venture is developing speedily. Anyone can confidently visit the society's site to experience the advanced and fast pace development physically.
Are Capital Smart City Plots Available with Possession?
A large number of plots in Capital Smart City are now available for possession. Investors looking to start construction in this society can confidently make a profitable plot deal. These plots are located in several blocks and sectors of CSC.
Is Capital Smart City Investment Secure?
Of Course, your buying in CSC is 100% secure because of the society's complete approval by authorities.
So, what are you still waiting for? Choose the desired option in this exceptionally planned venture and close a profitable deal by contacting UPN. We are always here to provide with the properties of your dreams, desires and demands.!
Please contact Universal Property Network For More Information click here or visit our Youtube channel for further assistance