Cheapest Commercial Plots in Talha Block Bahria Town Lahore – New Deal
by UPN
March 21, 2021
0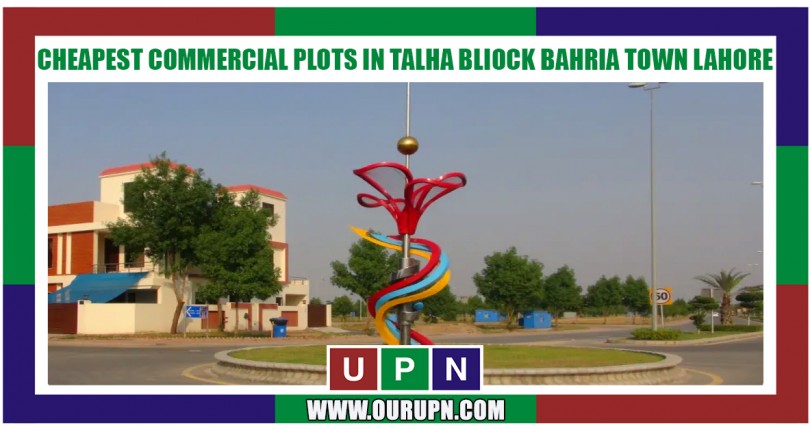 Bahria Town Lahore is an exclusive housing society in Lahore where people are provided with contemporary living. It features state-of-the-art planning, an ideal location, and modern facilities. Bahria Town appears to be the dream destination to reside in Lahore. But at the same time, it's a place with countless opportunities for investment and businesses. The demand for Bahria Town commercial plots is very high. To meet these high demands of commercials as well as to provide investors with the best opportunities, Bahria Town has launched a new deal of commercial plots in Talha Block.
It's not only the new deal of commercials, but you can also call them the lowest price commercial plots of Bahria Town Lahore. Let's know more!
Talha Block – New Commercial Plots Launched
Bahria Town Pvt. Ltd is offering you a golden opportunity by launching a new deal of 5 Marla commercials. These commercials are located ideally in Talha Block Sector F Bahria Town Lahore.
The launching prices for the 5 Marla commercial plots are 1.55 crores to 1.65 crores. These are the prices for general plots; category plots will cost you around 2 crores. Available on open forms, you can buy these commercials on the map with numbers. These are a total of 85 commercial plots.
The access to Talha Block commercials is from two different routes such as:
One is from Adam Bhatti Avenue to Talha Block.
The second is from Canal Road after making an entrance in Sector D, crossing Overseas B Extension.
The development of Talha Block's new commercial plots will benefit the residents of this block and beneficial for the residents of Ghaznavi Block, Shershah Block, and Shershah Block Extension.
Investment Potential and Comparison with Other Commercials
The 5 Marla commercial plots of Sector C are fully occupied. An only a limited number of options are available. These plots of Sector C will cost you between 6 crores to 8 crores. On the other hand, the same category of plots at a distance of only 4 KM is available in 1.55 crores. The launching prices of the plots are low, but it has huge potential. These Talha Block commercials' prices will be the same as other commercial projects by the next 2 to 3 years.
So, if you are looking to make a fruitful investment in Bahria Town to make huge returns, you can choose these cheapest commercial plots of Talha Block. Currently available at the lowest prices but you will earn huge, even more than your expectations.
Don't miss out on this golden opportunity, and contact Universal Property Network  and For More Information click here or visit our youtube channel further assistance