Checklist for Investment in Housing Societies of Islamabad and Rawalpindi
by UPN
May 8, 2018
5 Comments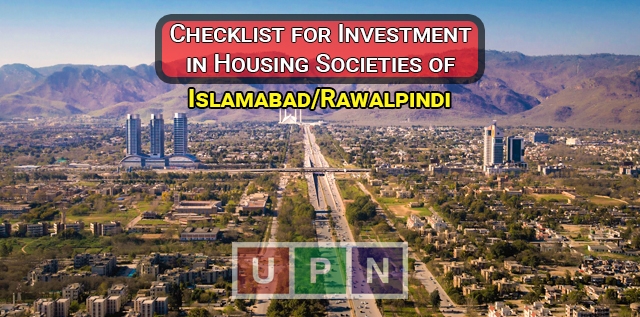 In the past few months, some new housing societies have been launched in Islamabad, Rawalpindi and their outskirts. The development of New Islamabad International Airport has paced up property market of twin cities and urged developers to come up with new living options. Now buyers are purchasing plots or constructed properties in these housing projects either for living or investment. Where there it is a great opportunity for them for living and investment, the risk factor is also involved. Buyers must be aware of all the facts to cross check either it is a secure investment or not. Following are some points buyers must check before investing in housing societies of Islamabad and Rawalpindi.
Checklist for Investment in Islamabad/Rawalpindi Housing Projects
Buyer should visit the housing scheme/society and see the difference between development activities on site and claimed in advertisement. Also see the distance of society from city's downtown.
Checkout if the company is registered with SECP and Registrar of Firms of not. Also check that if the company is eligible to set up a housing society.
Verify that housing society/scheme has acquired all land or not from concerned authority RDA/CDA.
Ask for registration number of the housing society along with attested copy of approved map.
For NOC attestation, contact TMA/RDA/CDA
Checkout if there is any case registered against this housing society in NAB or any other institute/court.
Developers often don't include development charges in advertisement and deliberately hide it. Before investment get all details regarding this matter.
Always check current status of electrification, Sui gas, water connection, telephone installation and sewerage.
Buyer must observe amenities like school, masjid, park and hospital on site and verify it according to the advertisement. More often developers offer plots on the areas reserved for amenities.
Payment should always been done via bank and receipt must be received.
Save address and contact numbers of main and sub-offices of housing society.
To get more details, always contact concerned authorities. Pass this detailed information to maximum people for the sake of awareness. Keep visiting Universal Property Network (UPN) to get all information and updates of realty sector.