Citi Housing Kharian – Location Map, Payment Plan, and Complete Details
by UPN
July 1, 2022
0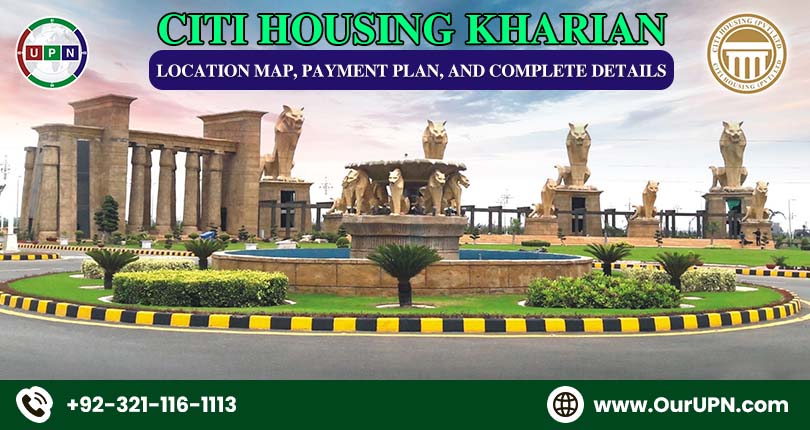 Citi Housing Kharian is a new international standard project by Citi Developers. Designed to offer Gold Standard Living in Pakistan, this project features a high level of features and amenities. Launched recently, it's the greatest addition to the land of Kharian, providing people with a modern lifestyle. It's a new but popular development where buyers and investors can invest confidently. The primary reason for launching this society is to provide people with an opportunity to live a standard lifestyle in Gujrat. It's a world-class project with premium attractions, enough to win someone's heart. Planned smartly, Citi Housing offers low-price properties rich in profits, good for residence and investment growth. Further details of this project are:
Citi Housing Kharian Location Map
Location is the most prominent feature that a buyer considers before buying property in any new housing project. Citi Housing Kharian location is attractive and easily accessible. This society is located on District Gujrat in Kharian Sarai Alamgir. Some of the best housing societies are located nearby, such as New Metro City and The Grand City. The main G.T Road is at a distance of 0 Km. Following are the distances from Citi Housing Scheme:
It is only 8 Km from Sara e Alamgir main city
The distance is 9 Km from Kharian
At the same time, it is 11 Km from Jhelum City
Lala Musa City is around 28 Km.
Gujrat City is 42 Km distance.
Many of the top residential ventures and commercials are lying nearby.
The overall location of this society is prime and strategical. It provides investors and builders with a chance of easy purchase with a safe and secure investment. This place is outstanding in term of location that is the most attractive thing in this society.
Citi Housing NOC
Citi Housing Kharian (old name Golf Residencia) is 100% approved by the Tehsil Municipal Authority (TMA). However, after changing the new name, the developers of this project have already applied for approval of this project.  Helpfully, it will soon get approved again. This will surely make it a legal project, bringing great feelings of satisfaction and happiness to its investors.
Citi Housing Kharian Project Plan
The master plan of this latest society is planned exceptionally. It is designed by experienced professionals to make it an attractive development in the area. Citi Housing Kharian spreads over a large area and will be developed in different phases. The total area of this society is almost 10,000 – 14,000 Kanal. The vision behind this housing society is to present a venture with an innovative and refined lifestyle to people. It features a state of infrastructure, modern developments, and lots of wonderful facilities.
The entire area of this society is divided into several blocks where you will have easy access to mosques, educational facilities, parks, healthcare, cinemas, commercials and much more. Most importantly, the roads are wide and carpeted with green belts alongside. At the same time, this project will have the enchanting Theme Park offering the best recreational facilities to its residents.
The blocks in Citi Housing offer the best properties for sale in both the residential and commercial categories. These sizes are planned to facilitate people as per their requirements. Following are the plots for sale in this latest project:
5 Marla Residential Plots
7 Marla Residential Plots
10 Marla Residential Plots
1 Kanal Residential Plots
2 Kanal Residential Plots
Moreover, the commercial plots for sale in this society are planned to be developed with retail shops, plazas, and other markets. The details of commercial plots will be available soon. Near future, you can get 2 Marla and 4 Marla commercials.
These commercial markets will be enough that the residents of Citi Kharian don't have to leave society in search of any facility. Everything will be available on their doorsteps.
Citi Housing Kharian Payment Plan
When it comes to buying a property, especially in any new or developing housing society, people invest in installments. Also, the biggest desire of residents is reasonable rates. Citi Housing Kharian's developers understand this fact very well. That's why they are offering all the best residential plots in Citi Housing at surprisingly affordable rates.
Yes, here you can happily purchase the 5 Marla, 7 Marla, 10 Marla, 1 Kanal, and 2 Kanal residential plots with easy booking and 3 years Installments plan. The down payment to book the plot is only 4.50 lacs. The rest of the amount will be payable in 12 quarterly installments. Following are the complete prices details of the plots:
5 Marla Plots Prices
The total amount of 5 Marla plots for sale in Citi Housing is 2,295,000/-. Moreover, the down payment of the plot is 450,000/- only. The remaining amount will be payable in 12 quarterly installments of 153,750/- each. The payment plan of the plot spans over 3 years.
7 Marla Plots Prices
The total amount of 7 Marla residential plots is 2,990,000/-. The down payment of the plots is 650,000/- only. Moreover, the rest of the plot amount will be payable in 12 quarterly installments of 195,000/- only. The payment plan of the plot spans over 3 years.
10 Marla Plots Prices
The 10 Marla plots' total amount is 4,250,000/- only. The booking of the plots starts from 750,000/-. The rest of the amount will be payable in 12 Quarterly installments of 291,667/- each. The payment plan of the plot spans over 3 years.
1 Kanal Plots Prices
The total amount of 1 Kanal plot is 7,950,000/- only. The down payment of the plots is 1,250,000/- Moreover, there are 12 quarterly installments of 561,667/- each. The payment plan of the plot spans over 3 years.
2 Kanal Plots Prices
The total amount of 2 Kanal plots is 14,990,000/- only. The booking amount of these plots is 2,000,000/- and the 12 quarterly installments of the plots are 1,082,500/- each. The payment plan of the plot spans over 3 years.   The complete payment plan of the plots is:
Citi Housing Kharian Payment Plan
| | | | |
| --- | --- | --- | --- |
| Plot Size | Total Price | Down Payment | 12 Quarterly Installments |
| 5 Marla | 2,295,000 | 450,000 | 153,750 |
| 7 Marla | 2,990,000 | 650,000 | 195,000 |
| 10 Marla | 4,250,000 | 750,000 | 291,667 |
| 1 Kanal | 7,990,000 | 1,250,000 | 561,667 |
| 2 Kanal | 14,990,000 | 2,000,000 | 1,082,500 |
Please Note:
Development charges are included in the prices.
There are no processing charges on the booking of plots
There is a 5% discount on full payment while you have to pay 10% extra for the preference plot, i.e. corner, facing the park, main boulevard.
Facilities Available
This Citi Housing Scheme is undoubted a great addition to the real estate sector of Gujrat. It is a fully facilitated housing project with easy access to every amenity. Its residents will live their life confidently in the womb of the facilities. Here are the best facilities of this society:
Beautiful and Wide Entrance
International Standard Golf Course
Futuristic Amenities
Replica of Taj Mahal
Grand Jamia Mosque and Mosque in Every Block
Replica of Minar-e-Pakistan
International Level Educational Facilities
Wide Carpeted Roads and Green Belts
Spacious and Lush Green Parks
Eye-Catching Lakes and Mesmerizing Hills
24/7 Health Facilities
Best Shopping Malls
Spa, Gym facilities and All Sports Facilities
Proper Commercial Market and Community Centers
Sports Complex
Good Sewerage System
24/7 Security with CCTV Cameras
Water Supply and Electricity Supply
Restaurants and Hotels
Replica of Eifel Tower.
Safari Park
Different Swimming Pools
3D Cinema
Provision of Sui Gas
Dancing Fountains and Much More
Citi Housing Kharian will be an incredible choice to live and enjoy a happy lifestyle. This society offers the best facilities for peaceful and comfortable residences. At the same time, you will enjoy your investment with high profit in returns.
Frequently Asked Questions
Is Citi Housing Scheme Approved by Authorities?
Yes, it is approved by TMA and all other concerned departments.
Who are the Developers of this Society?
It is a project by Citi Developers owned by Major Amir.
When the Possession of Plots will be available?
The possession of plots on installments will be handover within 1 year of booking.
Is the Location of Citi Housing Kharian Prime?
Yes, it is located on Main G.T. Road and easily accessible from multiple routes.
Is Investment Worth in Citi Housing Kharian?
Buying the plots for sale in Citi Housing Scheme are 100% beneficial to consider. Buyers can consider it for residence and investment gains without any hesitation.
Please contact Universal Property Network For More Information click here or visit our Youtube channel for further assistance.