Reasons to Invest in Citi Housing Kharian
by UPN
August 13, 2022
0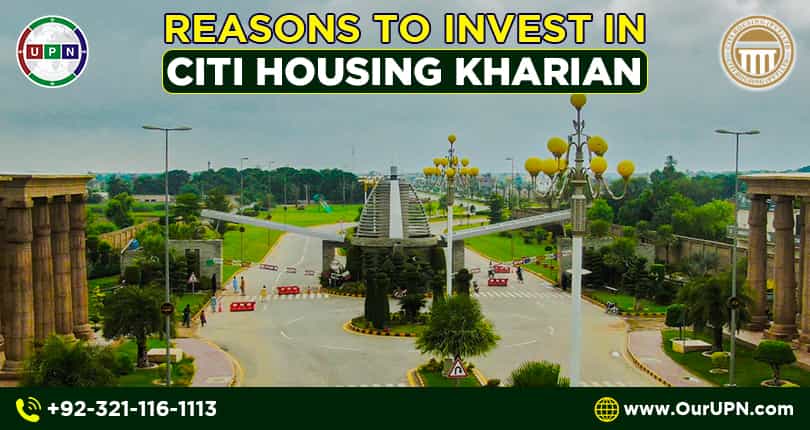 Citi Housing Kharian is a new, large-scale project located near Sarai Alamgir and Kharian. The magnificent society is advertised as being unique to the area and a destination for modern living. There are several reasons to invest in Citi Housing Kharian as it has numerous attractive features. Many investors have already expressed interest in Citi Housing Kharian, and its future appears to be more promising than anticipated. Starting from the premium location to the best developers, planning, and reasonable properties, everything makes this place exceptional. 
Invest in Citi Housing Kharian
In this latest blog post, we will discuss the best reasons to choose this top-class venture for residence and investment. So, let's explore the details together:
Excellent Developers of Citi Housing Kharian
The Citi Housing Group's project, Citi Housing Kharian, is one of the most anticipated in that locality.  The company's owner Amer Malik, says he would turn Citi Housing into a name synonymous with luxurious, cutting-edge living. Citi Housing Group has consistently made every effort to create a top-notch living environment. With numerous excellent projects in the past, including Citi Housing Jhelum and Citi Housing Multan, Citi Housing Group has built a solid reputation. Another huge accomplishment for Citi Housing Group will be Citi Housing Kharian. Being the project by one of the top developers in the country, this place is exceptional. Now we are giving the batch to invest in Citi Housing Kharian because of its best developers and management. 
Prime Location of Citi Housing Kharian
Another major reason to invest in Citi Housing Kharian is its prime location. This project is situated in a prominent area in Kharian. Citi Housing Kharian is situated on the main GT Road, which quickly connects it to all of the other cities. Undoubtedly, this project's worth instantly increases by its location on GT Road because it connects to several major and well-developed areas. The actual location of this project is 9 KM away from the center city of Kharian and Sarai Alamgir. One can easily approach it from multiple cities without any hassle.
Affordable Prices and Payment Plan
Citi Housing Kharian is one of the best options to invest in as it has kept its payment plan and costs affordable for the average person. In comparison to all the amenities offered by the community and other societies, Citi Housing Kharian's pricing is very reasonable and economical. You can avoid the stress of monthly instalments by choosing Citi Housing Kharian's simple three-year instalment plan with quarterly payments. This is undoubted a major reason to invest in Citi Housing Kharian, as everyone wants to buy low-cost plots with flexible plans.
Top-Notch Facilities
Citi Housing has always won hearts by offering its investors and buyers budget-friendly deals. However, they never make any compromise on the quality and amenities. Like the previous top-class developments, Citi Housing Kharian will come with all the elegant amenities. These facilities are attractive and hard to find in any of the other projects. The provision of such attractive facilities within affordability is another major reason to invest in Citi Housing Kharian. The ideal amenities you will enjoy in this outstanding venture are:
24/7 Security System and Surveillance
Main Gate and Wide Entrance
Secure Boundary Wall and CCTV Cameras
24/7 Availability of Electricity as well as Gas
Health Facilities as well as Top-Class Education System
Commercial Markets as well as Shopping Malls
Hotels as well as Restaurants
3D Cinema and Other Entertainment Facilities
Safari Park and Other Parks
Complete Sports Facilities as well as Games
Approved NOC
Every investor desire to invest in a legal housing and commercial project so that his investment will be safe. By keeping in view, the desires and demands of people, Citi Developers has launched this outstanding project after getting complete NOC. Yes, Citi Housing Kharian is a NOC-approved project offering incredible living and investment opportunities for everyone. It has approval from TMA. The old name of this project was Golf Residencia. But the approval under the new name is pending. Hopefully, it will get approved soon as all the documentation work is already complete.
Investment in Citi Housing Kharian is highly beneficial. Missing out on the chance of profitable buying at the early stages will surely make you lose. So, be ready to invest in this fabulous project before the prices and payment plan get revised.
Please contact Universal Property Network For More Information or visit our Youtube channel for further assistance.