Commercial Plots in Bahria Town Lahore – Lowest to Highest Prices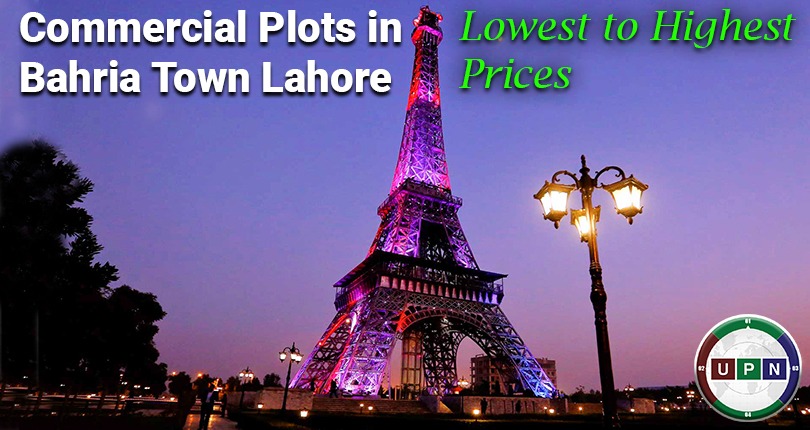 The commercial plots in Bahria Town Lahore are one of the most popular and high in demand properties. Undoubtedly, Bahria Town is a residential housing society but it also it's a complete city within the city where investors love to invest in commercials. Since its inception till today, the demands and as well as commercial opportunities are increasing. Bu still, these options are less as compared to the number of available investors.
In this latest write-up, we will discuss the minimum to maximum prices of commercial plots in Bahria Town Lahore.
Commercial Plots in Bahria Town Lahore – Sizes
The sizes of commercial plots in this beautiful society are starting from 2 Marla to 8 Marla. However, the prices are different as per the sizes and location. For example, 5 Marla commercial plots prices are starting from 1.50 crores to 8 crores.
The highest prices commercial plots are located in Sector C Bahria Town Lahore. It's a commercial hub where all the living facilities are available. At the same time, the lowest prices of commercial plots are available in Sector F.
Available Options in Commercial Plots
Bahria Town commercial plots are equally suitable for business setup, investment, and rental income. However, buying in any of the options is completely your choice. Currently, the commercial plots that are reasonable in prices are good for investment returns are available in:
Alamgir Extension Block
It's a new deal of 5 Marla commercial plots available in the price bracket of 1.50 crores. This deal is launched at 1.30 crores prices but due to high demands and investors interest, prices increase within a month.
Overseas B Block
Here you can buy 3 Marla commercial plots in a 1 crore price range. All the plots are located ideally and have well-developed surroundings.
Talha Block and Tipu Block Commercials
These commercial plots are currently available in the price range of 1.90 crores to 2.20 crores. Only six months ago, these plots cost around 1.60 – 1.70 crores only. Prices increase after the start of development on Shahkam Chowk Flyover.
Commercial Plots in Sector E
Anyone can also buy some of the best commercial plots in Sector E. These commercials are located in the surroundings of the Eiffel Tower. Available in the sizes of 5 Marla, the prices of commercial plots are starting from 3.50 crores to 5 crores. A big difference in the prices is because of the location i.e., front and back.
So, that's all about the commercial plots in Bahria Town Lahore that you can purchase confidently to maximizes your investments.
Contact us for further assistance.
Please contact Universal Property Network  For More Information click here or visit our youtube channel further assistance