Midway Commercial 2 Bahria Town Karachi
by UPN
October 1, 2021
0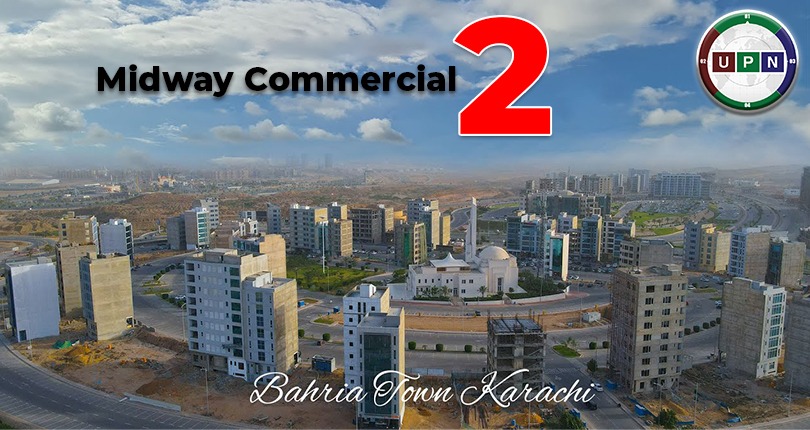 Midway Commercial 2 Bahria Town Karachi is a new development, a new project in this mega society. Also known as Control and Command Commercial, Midway Commercial 2 is a recently launched deal of commercial plots. Enjoying prime location, these are highly-attractive commercial lies in the surroundings of Grand Jamia Mosque. It's a well-develop and have good inhabitation nearby, providing many reasons to invest.
Investors and builders who desires something exceptional, ideal to invest, can now invest in Midway Commercial 2.
Midway Commercial 2 Bahria Town Karachi – Location
As the name depicts, Midway Commercial 2 is a central location project. Like the Midway Commercial A side and Midway Commercial B, this project enjoys prime location in the center of Bahria Town Karachi.
Its location is very close to Grand Jamia Mosque, even it's a Grand Mosque facing project. The actual location of Midway Commercial 2 is close to Ali Block, near Clock Tower, a central point lying in the way of main Jinnah Avenue towards Precinct 10 and Precinct 11.
Midway Commercial 2 Plots for Sale
The commercial plots for sale in Midway Commercial 2 are available in the different sizes. Sizes of the plots are starting from 500 sq yards to 900 sq yards. Even, some of these plots are around 1000 sq yards. All these are on-ground commercial plots available with the construction permission of:
Ground + 12 to Ground + 18 storey
Furthermore, Bahria Town is offering these plots to construct multi-purpose projects. Yes, you can develop a commercial + residential project on Midway Commercial 2 plots.
Midway Commercial 2 Plots Prices
The prices of plots at Midway Commercial 2 are different depending on the sizes and locations. However, the starting prices of the plots are 11 crores. Proving a per Marla rate for these commercial plots will be little bit difficult as some of these plots are 3 lacs per Marla while many are 2.75 lacs per Marla. So, the actual prices of the plots will be available on request.
Booking of plots starts with 50% while the rest will be payable within the next 3 months. Moreover, the possession will also be handover in 3 months of booking.
Investment in Midway Commercial 2 Bahria Town Karachi
Prices of plots at Midway Commercial 2 may seems high, but the location of this project is everything. It's a unique and one of the attractive developments where buying will be 100% beneficial. The plots for sale at Midway Commercial 2 come with bundles of opportunities, making these plots perfect in all the terms.
Contact us for further assistance.
Please contact Universal Property Network  For More Information click here or visit our youtube channel further assistance